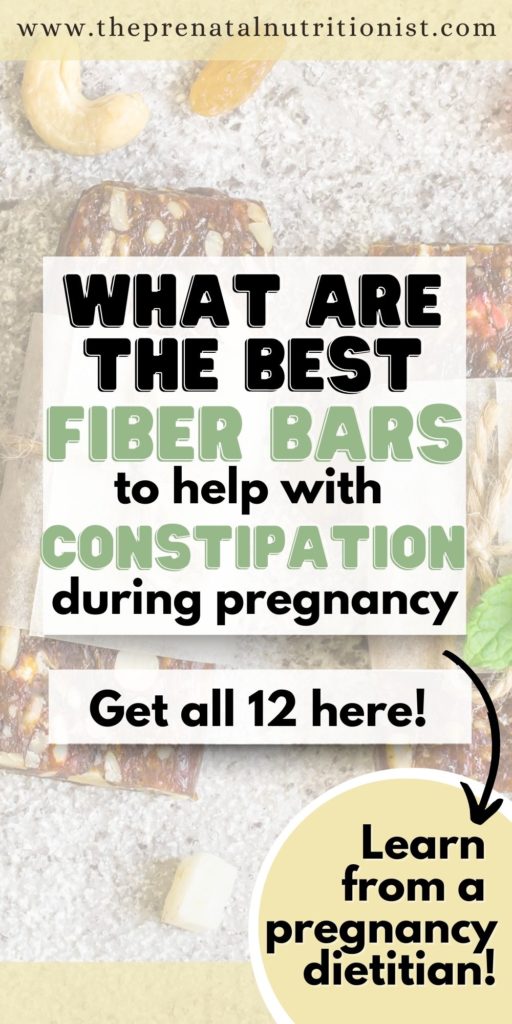 Dietary fiber is a crucial component of a healthy diet during pregnancy, providing numerous benefits for overall well-being. This indigestible plant material works wonders in our bodies, promoting healthy digestion and offering a range of health advantages.
Incorporating plenty of dietary fiber into the diet during pregnancy is also essential. It can help alleviate or prevent common pregnancy discomforts such as constipation, a symptom many expecting mothers commonly experience. Pregnant women can support regular bowel movements and maintain a healthy digestive system by adding fiber to their diet.
So, how much fiber do pregnant women need? Non-pregnant individuals should consume at least 25 grams of fiber daily, although many would benefit from more. Pregnant women should drink at least 30 grams of fiber daily. However, meeting this requirement has proven to be challenging. Only about 5% of Americans are estimated to meet their recommended daily fiber needs. Fortunately, there are plenty of food sources to choose from. Fruits, vegetables, flaxseed, whole grains, legumes, and nuts are all excellent natural sources of dietary fiber.
I do encourage focusing on whole foods first to meet fiber needs. However, I understand fiber bars can be a convenient and tasty way to boost fiber intake for busy expecting moms. It's important to note that not all fiber bars are created equal. Many low-quality options contain artificial sweeteners, added sugars, and little fiber. 
To help you navigate the grocery isles and find the most nutrient-dense choices for you and your little one, I'll share a round-up of the 12 best fiber bars for pregnancy (that may also help with constipation!).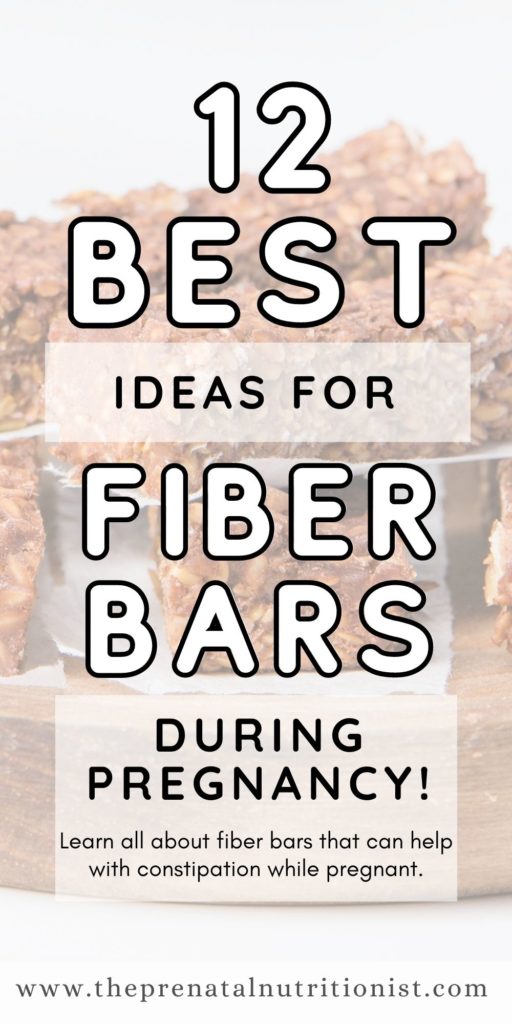 12 Best Fiber Bars For Constipation
This high-fiber bar is a decent choice for constipation relief. It contains a substantial 12 grams of fiber per serving, helping to regulate bowel movements during pregnancy. This bar has about 4g of added sugar, which is on the lower end compared to most options on the market. I'd recommend eating it alongside a meal or a source of protein like hard-boiled eggs for a snack to support optimal blood sugar balance. 
Coconut Joy Fiber Bars are a pregnancy-friendly option with the High Fiber Delight Bar. With 11 grams of fiber per serving, this bar provides a balanced combination of soluble and insoluble fiber, supporting regular bowel movements. There is limited data on chicory root or inulin consumption during pregnancy. Avoid supplements with these ingredients. The amount found in a bar like this is unlikely to do harm as it's likely to be similar to the amounts found naturally in foods like onions and artichokes, which are safe for pregnancy.
The Primal Protein Bars are an ideal bar choice for pregnancy. They deliver 15 grams of fiber AND 15 grams of protein per bar. This choice's combination of protein, fiber, and healthy fat creates a well-balanced bar. Additionally, the protein in this bar is from grass-fed beef and cage-free chickens. It's also dairy-free for those that need this option. Primal Protein Bars would make a great snack choice for pregnancy.
Aloha Bars are an excellent choice for pregnant women seeking a high-fiber snack. The Chocolate Caramel Pecan Protein Bar flavor boats a whopping 10 grams of fiber per bar to contribute to regular bowel movements and help prevent constipation. This protein and fiber bar is vegan and gluten-free and contains 14 grams of plant-based protein per serving. Plus, it's made from mostly whole food ingredients and minimal added sugar, with 4 grams of added sugar per serving. 
The Body Health Mocha Chip Bar stands out with an impressive 11 grams of fiber per serving. This high-fiber bar contains a soluble and insoluble fiber blend to support a healthy digestive system. Just to let you know, the mocha flavor does have 10 mg of caffeine. While caffeine does not need to be eliminated for most individuals during pregnancy, it's still important to be mindful of this. Additionally, some individuals experience bloating and gas when consuming sugar alcohol. Overall, it's a high-fiber snack option to support constipation relief. 
Larabars are made up of minimal and recognizable ingredients like dates, apples, and almonds. They are plant-based and free from artificial sweeteners. The exact grams of fiber will vary slightly depending on the flavor but range from about 4-6 grams of fiber per bar. There are many flavors to choose from, and they even have a protein version of their original fruit and nut bars that includes an extra protein bump.
The Wholesome Bars get their fiber from nuts and seeds. The Coconut Macadamia Nut flavor has 5 grams of fiber. This is an excellent amount of fiber for a snack choice and to count towards the recommended at least 30 grams of fiber per day goal. The Wholesome Bars also have about 8 grams of plant-based protein per bar for an added protein boost to your day. Plus, these bars are vegan, soy-free, and gluten-free for individuals with food allergies or special dietary needs.
The main ingredient in Over Easy Breakfast is oats! We know oats are a fiber-rich whole grain that is great for pregnancy, making it an excellent choice for a fiber-boosting bar. The Apple Cinnamon flavor has 7 grams of fiber per bar, contributing to a healthy digestive system and overall fiber intake. The 9 grams of protein in these bars comes from egg whites and nuts.

RX bars are an excellent option for those seeking a fiber boost, offering about 5 grams of fiber per bar (depending on the flavor). This fiber boost goes a long way toward meeting your daily recommended fiber intake. The best part about these bars is the super simple, whole-food ingredient lists. Each bar has a handful of real food ingredients. A wide variety of flavors are also available depending on your personal taste preferences. It is an excellent choice for pregnant women looking for a healthy on-the-go bar for pregnancy that offers protein and fiber. 
Dr. Kellyann Collagen Fiber Bars are a great pick-me-up snack bar that also provides a substantial amount of fiber. With a whopping 15 grams of fiber per serving, this bar helps to keep you full while supporting your digestive system during pregnancy. It is made up of coconut coated in a decadent chocolate outer layer and contains only 2.5 grams of added sugar. This fiber bar also contains chicory root fiber, a prebiotic fiber mentioned earlier in this post. 
The Health Warrior Bars provide a modest fiber boost of 4 grams per serving to help you reach the daily quota. This bar also supplies a small bump of plant-based protein and healthy fats for a snack-size package of nutrients. The Health Warrior Bars would pair nicely with a cheese stick or hard-boiled eggs to complete the snack.
Indulge your sweet tooth with the chocolatey, caramel, or peanut butter flavors of the Nakd Protein Bars—a delicious way to increase your fiber intake during pregnancy. With 9-15 grams of fiber per bar (depending on the flavor), this bar combines the benefits of fiber with a good boost of protein and no added sugar. These are naturally sweetened with dates, which may help support smoother labor and delivery when the time comes.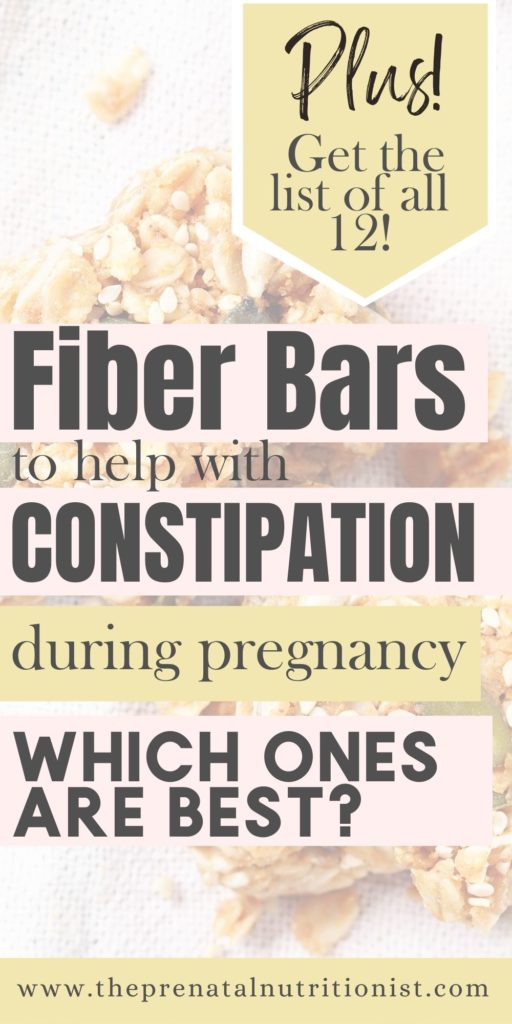 Embrace the power of dietary fiber to reduce constipation and promote overall well-being. 
First, focus on high-fiber foods, like fruits, vegetables, and whole grains. When incorporating fiber bars into your diet to boost fiber intake and help reduce constipation during pregnancy, consuming them in moderation and alongside a balanced diet is essential. Aim to include a variety of high-fiber foods for pregnancy, and make sure to drink plenty of water to support the movement of fiber through your digestive tract.
When increasing fiber intake, it's super important to do it slowly and drink lots of fluids! 
For more information on meeting fiber needs during pregnancy (and hundreds of other nutrition topics for preconception + pregnancy), check out The Prenatal Nutrition Library (TPNL) and explore my free 1-week meal plan. The free meal plan and all meal plans inside TPNL include delicious, easy, and high-fiber options to support your healthy pregnancy journey.
Meeting fiber recommendations with high-fiber snacks and meals is just one aspect of a healthy pregnancy. Listen to your body, nourish it with nutrient-rich foods, and enjoy this special time in your life. And along the way, make my blog your regular go-to guide for all things food and nutrition during pregnancy. 
I wish you a healthy and happy pregnancy journey!