7 Foods for Your Breastfeeding Diet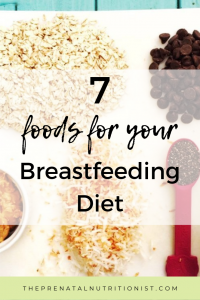 Just to get this off the table, a healthy diet is NOT required to be able to breastfeed, HOWEVER, it is optimal to eat a well-balanced diet, just like it is best to eat healthy at any stage in your life! The better your nutrition is the better you will feel, the better you will be able to provide for baby, and some nutrients in your breast milk will be higher. Below you will find 7 foods for your breastfeeding diet.
These foods are beneficial to add to you breastfeeding diet and provide nutritious milk for your sweet new babe!
1. Chicken
Chicken is a classic meal that provides quality protein, B vitamins, and iron. It is very versatile, freezer friendly, and not too expensive.
2. Oats
Have you heard oatmeal will increase your milk supply? While this may be true for some, it is NOT true for everyone. Oat based energy bites, oatmeal, or oatmeal raisin cookies might all be foods to try, but don't go too crazy if you don't feel like it is working. 
3. Broth
Traditionally foods during the postpartum period are warm and comforting which means soups, stews, and nourishing broths of all kinds. 
4. Roasted Squash
Try butternut, acorn, or delicata. Cut into cubes and roast in the oven with your favorite herb like thyme. Squash is the perfect healthy carb choice and high in potassium. 
5. Herring
Herring is similar to sardines. It contains DHA (an omega-3 fatty acid) which is really important while breastfeeding because although outside the womb, your babies brain is still developing and DHA is critical in the development.  
6. Pot Roast 
Ditto from #3. Pot roast is filling and can be made in large batches to eat on for days, which is important when you have a newborn! Slow cooked meats are a must during the postpartum period. 
7. Water
Okay, this isn't a food, but let's just call breastfeeding what it is, a marathon, which means you NEED to HYDRATE!
These 7 foods for your breastfeeding diet will provide you with the nutrition you need.