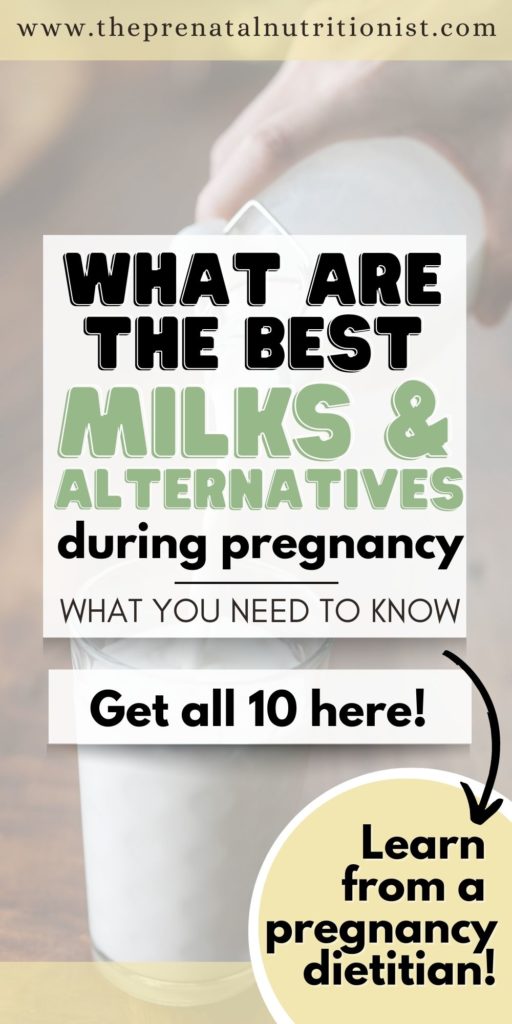 Pregnancy increases the demand for several nutrients, including protein, fluids, and iodine. The body gets better at absorbing calcium during pregnancy, keeping it consistent with outside pregnancy recommendations at 1000 mg per day (unless you were deficient before pregnancy).
Nutritionally, milk is one of the best dairy products for expectant mothers because it provides several of these necessary nutrients. It's also a common pregnancy craving and a versatile option for pregnancy. 
Navigating which milk to choose for pregnancy can be a challenge. There is a new milk alternative popping up every week… I'm sharing a round-up of different types of milk and milk alternatives that are safe for pregnant women and can help them meet their nutritional needs. This is not an all-inclusive list; many other milks on the market are also safe for pregnancy.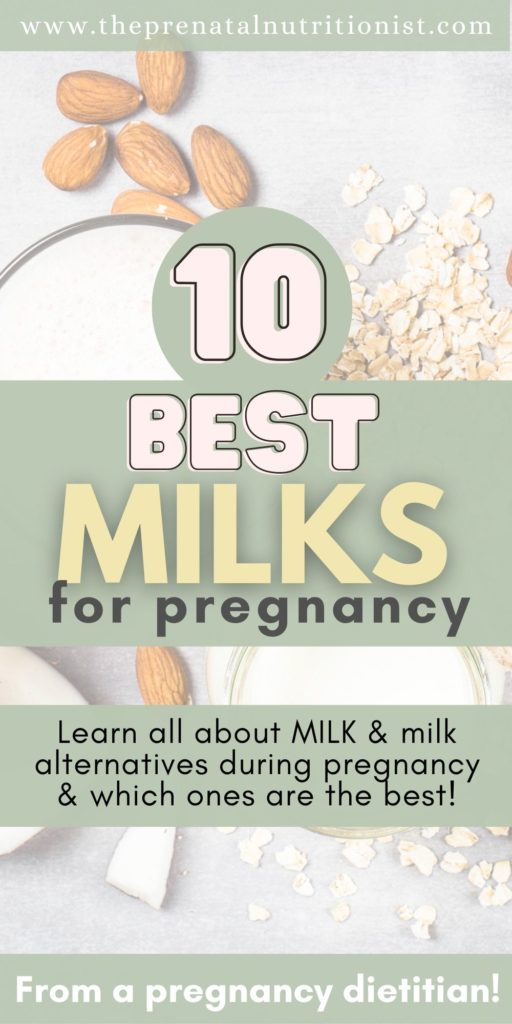 10 Best Milk (and Milk Alternatives) For Pregnancy
"Is it OK to drink almond milk during pregnancy?" Yes, although some have more quality ingredients than others! Silk Almond Milk is one safe almond milk option for pregnancy. You'll be pleasantly surprised to discover that Silk Almond Milk's thick, smooth, and creamy texture resembles real milk. Even the unsweetened varieties taste delicious. (Speaking of delicious, click here to sign up for my FREE one-week meal plan for pregnancy!). 
Almond milk is often fortified with calcium, vitamin A, vitamin D, and vitamin B12. It's also a great source of vitamin E. Although it contains less protein than cow's milk, it's free from dairy, lactose, soy, gluten, and casein for those that need this option. 
Oat milk is another fantastic dairy milk alternative for expectant mothers when a dairy-free alternative is needed. Califia Farms Oat Milk is a great oat milk option for pregnancy. I recommend trying oat milk if you want a more creamy texture than almond milk. Just like almond milk, it's important to note that oat milk's nutrition is much different from cow's milk. However, most brands are fortified with nutrients like calcium. 
Califia Farms Oat Milk is an unsweetened, plant-based alternative made from oats, sunflower oil, and sea salt. It's free from nuts, dairy, gluten, soy, stabilizers, and gums. Of note, oat milk might not be the best choice if you have gestational diabetes since it is higher in carbohydrates. One cup of oat milk is around 15 grams of carbs. 
Try coconut milk if you crave a drink with a flavor different from other non-dairy milk. It might become your favorite drink during early pregnancy when battling morning sickness or food cravings. Coconut milk also works well in smoothie recipes.
So Delicious Unsweetened Coconut Milk doesn't have an overwhelming "coconutty" flavor like many coconut-flavored beverages. (Although coconut water can also be great for pregnant women!) It's a much more watered-down coconut flavor.
So Delicious Unsweetened Coconut Milk is fortified with many essential nutrients for pregnancy, including vitamin A, calcium, vitamin D, vitamin B12, magnesium, and selenium.
Silk Organic Unsweetened Soy Milk is one of the most popular and widely available soy milk on the market. Silk uses whole-harvested soybeans to produce high-quality soy milk with an enjoyable flavor and texture. It's an alternative milk drink for pregnant women because it contains soy protein, calcium, vitamins, and minerals. Plus, compared to some other milk alternatives, soy milk has a higher protein content. 
Silk Soy Milk is free from dairy, gluten, casein, peanuts, artificial colors, and artificial flavors. The unsweetened variety contains zero added sugar and 4.5 grams of fat per cup.
Good Karma Unsweetened Flaxmilk + Protein is another plant-based milk alternative for pregnant women to consider. Each serving provides 8 grams of vegan protein and 1200 mg of omega-3s, and added calcium, vitamin A, vitamin B12, and vitamin D.,  Keep in mind the type of omega-3s found in flax is ALA, not DHA. DHA is the type we need to directly support a baby's brain development. 
Good Karma Unsweetened Flaxmik + Protein is free from nuts, dairy, lactose, soy, and gluten. This flax milk has more protein compared to other dairy-free milk alternatives. It's often considered more environmental-friendly than almond milk because flax requires significantly less water to grow than almonds.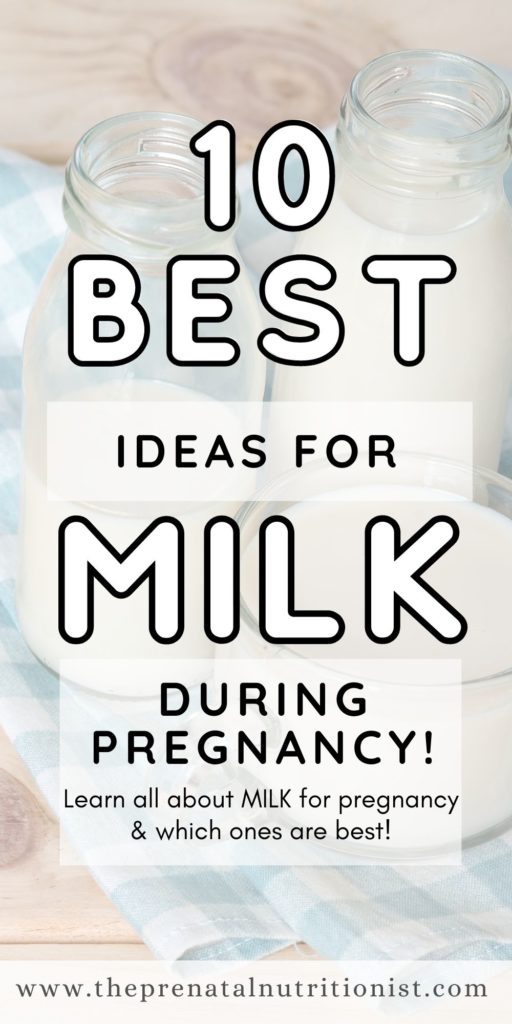 Cow's Milk
If you tolerate dairy products, cow's milk is a GREAT option for pregnancy. We recommend choosing whole-milk and full-fat dairy products to support a healthy pregnancy and fertility. Cow's milk is rich in calcium, iodine, vitamin D (naturally occurring in whole milk), and protein. Vitamin D is added back to low-fat cow's milk. There are very few food sources of vitamin D, so the fact that milk is one of them is crucial. 
It's not essential to include dairy in your pregnancy diet, but if you can have it and enjoy dairy foods, they are a great source of several vital nutrients in pregnancy. Additionally, consuming whole milk and other full-fat dairy products has been shown to help women conceive. (Learn more + sign up for The Prenatal Nutrition Library to search hundreds of topics, foods, and common questions for a quick evidence-based answer so you know what you eat is safe!)
It's recommended only to consume pasteurized cow's milk during pregnancy. Unpasteurized milk products, like raw milk, are more likely to cause foodborne illness. Pasteurization helps to kill harmful pathogens like listeria. While listeriosis is rare overall, it is very serious. Listeriosis infection could cause miscarriage, illness, and other serious complications. 
Lechia offers another flavorful and nutritious milk alternative for pregnant women to enjoy. This plant-based milk is an excellent option to add to smoothies or cereal. It's a great source of calcium and offers 800mg of plant-based omega-3 per serving. It also has 1g of fiber to add to your daily total. 
Lechia's unsweetened Chia and Flax Milk have zero sugar and no dairy, lactose, soy, gluten, or carrageenan. 
Milkadamia Macadamia Milk is a plant-based vegan milk made from macadamia nuts. It's free from dairy, soy, gluten, and carrageenan. Macadamia nut milk is one alternative many haven't tried or heard of yet. The unsweetened variety has zero grams of added sugar. 
Milkadamia is fortified with vitamin D, calcium, A, riboflavin, B12, and zinc. Milkadamia Macadamia milk is excellent for mixing and blending into various pregnancy-friendly recipes. If you're looking for delicious recipes for pregnancy, check out The Feel Good Pregnancy Cookbook!
Many people with difficulty digesting cow's milk turn to goat's milk. Meyenberg Ultra-Pasteurized Goats Milk is a great milk option for expectant mothers. It contains more potassium than cow's milk and has no added sugars or other ingredients like in some plant milk. 
A one-cup serving of Meyenberg Goats Milk provides 8 grams of protein. It also contains calcium and vitamin D! 
Original unsweetened hemp milk from Pacific Foods is a nutritious plant-based milk with a smooth, creamy flavor. It is a good source of plant-based omega-3 ALA, just like whole hemp seeds. It's also a good source of calcium, plus some magnesium and vitamin D. 
Pacific Foods Hemp Milk is lactose and soy-free for those with dietary restrictions.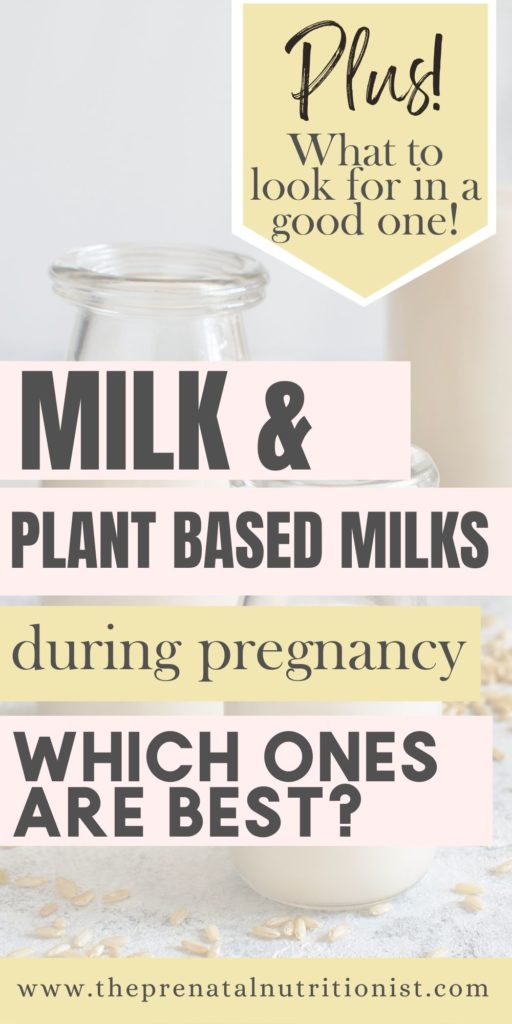 Which milk(s) do you plan to drink during your pregnancy?
I'd love to know which type of milk you prefer and why! Share in the comments! Remember, if you tolerate cow's milk, it's an excellent option for pregnancy. It provides more protein than most milk alternatives and is a good source of both calcium and iodine. It is also one of the few food sources of vitamin D. The options listed above are great if you prefer a dairy-free alternative. If you are dairy-free, it's crucial to incorporate other sources of protein, calcium, and iodine into your diet. 
For more information on prenatal nutrition, head to the blog and sign up for The Prenatal Nutrition Library. When you join the library, you will unlock HUNDREDS of guides on nutrition topics for preconception and pregnancy. TPNL is the first searchable database and app for food during pregnancy, so check it out!