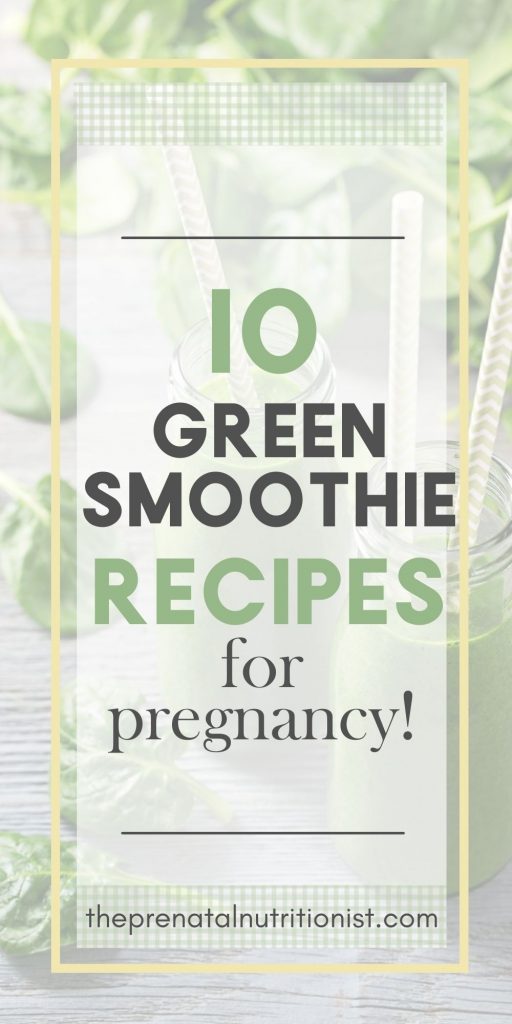 Yummmm…who doesn't love a delicious and refreshing smoothie? Whether made with milk, Greek yogurt, a milk alternative, or water as a base, smoothies are always a treat! Smoothies are also a scrumptious, nutrient dense, convenient, and healthy way for pregnant women to boost their intake of greens, essential vitamins, and minerals and support a growing baby!
Smoothies are also a fantastic way for expecting mothers to stay hydrated. Plus, they are versatile and often well-tolerated during the tough times of morning sickness, nausea, tiredness, and food aversions.
It's ideal for balancing carbs, protein, and healthy fats in your smoothie – just like other meals and snacks! If your smoothie doesn't have at least 15-20 grams of protein, you can add a boost of protein like hard-boiled eggs, nuts, or jerky on the side. Then, add a tablespoon or two of your favorite nut butter or coconut oil to your smoothie.
This helps to keep smoothies more blood-sugar friendly and keep you full and satisfied. Business happens, so you may want to grab a smoothie at one of your favorite local spots. When purchasing smoothies at local shops or bars, be mindful of overall sugar and added sugar content, and remember everything we mentioned above!
When making homemade smoothies, you can control every ingredient and make each to your preference. Plus, homemade smoothies are super easy to make. Most take less than 10 minutes to whip up! There are tons of smoothies out there that are safe to consume during pregnancy.
So, let's dive in and talk about ten amazing green smoothies perfect for pregnancy.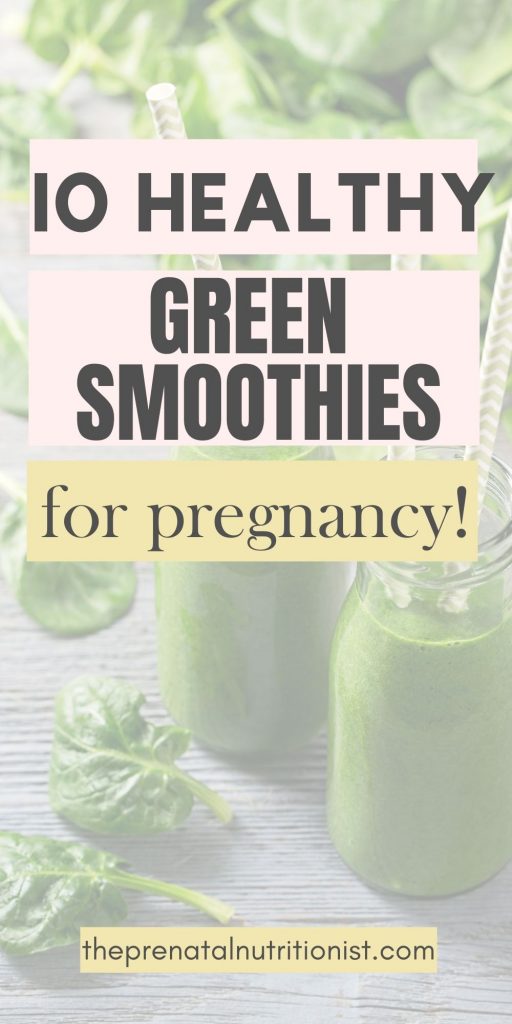 10 Green Smoothies For Pregnancy
Smoothies are a fantastic breakfast idea for pregnant women, and there is no better way to start a summer day than with this refreshing green smoothie! This smoothie takes less than 5 minutes to prepare, and the ingredients include one celery stalk, one banana, a handful of spinach, 2 tbsp almond or peanut butter, 1/2 cup Greek yogurt, and 1 cup water. Just throw everything in the blender, and blend to your desired consistency. To thicken the texture, add ice cubes or extra Greek yogurt!
This refreshing smoothie recipe contains plenty of essential prenatal vitamins and nutrients, like folate, potassium, fiber, and vitamin B6. These nutrients provide many benefits during pregnancy, like supporting growth and development, reducing nausea, and keeping you regular in the bathroom.
Okay so this one might not be green, but it is a dairy-free, gluten-free, nut-free, and vegan smoothie recipe that is perfect for any expecting mother with dietary restrictions. The sunrise smoothie requires only five ingredients and provides a significant boost of fiber to keep you feeling energetic and full. However, it is a little lower in protein, so a good one to have alongside a meal. The ingredients are frozen mixed berries, hemp seeds, banana, carrot turmeric juice blend (from Trader Joe's), and pasteurized honey or stevia. Combine all ingredients into your blender and blend until desired consistency!
The sunrise smoothie has a good boost of vitamin C, omega-3 fatty acids, and potassium. Plus, the hemp seeds add a few grams of protein. Potassium is an important mineral and electrolyte that helps with fluid balance, bone health, and more. Omega-3 fatty acids are essential to consume during and outside of pregnancy.
However, remember, hemp seeds, flaxseeds, and many other plant-based sources of omega-3s contain ALA, not DHA, so they should not be the sole source of omega-3 in the diet.
The "Tropical Dream," "Wonder Woman," and "Strawberry Fields" smoothies by the American Pregnancy Association are included in our roundup of green smoothies today because they sound so delicious and pack in the nutrients. These smoothies are an excellent source of vitamin B6, which supports a baby's brain and nervous system development and may help alleviate nausea and vomiting. Each of these three smoothies contains honey. It is best practice from a food safety standpoint to choose pasteurized honey during pregnancy.
So, let's begin with the Tropical Dream smoothie! This smoothie contains banana, avocado, spinach, pineapple, mango, honey, ice cubes, and coconut milk or pineapple juice. Depending on your preference and availability, you can use frozen or fresh fruit. Before using it, wash all fresh produce in any smoothie recipe. Note: you might want to add a source of protein as this one might not keep you complete that long! These hemp seeds are a good option!
This smoothie has so many benefits because it includes so many good-for-you foods! The ingredients provide antioxidants, vitamins A, C, and K, fiber, calcium, and more! Avocado itself has tons of different benefits for expecting mothers. And the sweet taste of these smoothies can also help to satisfy and control those sugar cravings. So again, add extra protein to this smoothie recipe or pair it with a protein-packed side to keep it blood-sugar-friendly!
The name of this smoothie speaks for itself! The Wonder Woman smoothie is made to keep expecting mothers feeling full, strong, and energized throughout the whole day. This is the perfect smoothie to get you going in the morning. And you can even whip it up the night before to save yourself some time. This smoothie includes banana, sunflower seed butter (or nut butter), honey, blueberries, spinach, ice cubes, and nut milk.
Blueberries are a delicious food containing many essential nutrients needed during pregnancy like fiber, vitamin C, vitamin K, manganese, and potassium. Plus, they are a great low-glycemic fruit choice. The bananas provide vitamins B6 and C, potassium, and magnesium. The nutrients in this smoothie recipe may provide several benefits for expecting mothers, like increased energy, reduced constipation, reduced muscle or leg cramps, and more! Add a boost of protein by pairing this smoothie with scrambled eggs on the side, or add Greek yogurt, protein powder, or collagen peptides powder.
The Strawberry Fields smoothie sounds delicious, right? Strawberries make an excellent addition to a meal or snack for pregnant women, and this smoothie is a deliciously sweet way to eat them! Ingredients include spinach, strawberries, pineapple chunks, sunflower seed butter, honey, banana, flax seeds (ground are best!), and nut milk as the base. Some other nut milk you can use is cashew, flaxseed, hazelnut, or almond milk! Just throw everything in your high-speed blender and mix to your desired consistency.
Flaxseeds and sunflower seed butter take this smoothie to the next level and give a significant nutrition boost. Flaxseeds are a good source of fiber and healthy fats. They may also help with constipation, managing blood sugar, and helping expectant mothers maintain a healthy weight gain during pregnancy. Sunflower seed butter is an excellent source of vitamin E, a powerful antioxidant and good for the skin. They also provide some protein and healthy fats to keep you going and energized. I would add a scoop of protein powder to this one!
If you're ever in a rush or need a quick pick-me-up, this 5-minute green smoothie is an excellent choice! This recipe is super simple to whip up and takes only 5 minutes to prepare! You probably already have all the ingredients you need right at home. The recipe calls for a leafy green like spinach or kale, avocado, coconut milk, greek yogurt, frozen pineapple or mango (or both!), an orange, and lemon juice. And, to spruce it up, you can feel free to add mint, ginger, or even some protein powder, for an extra energy punch!
Adding lemon juice to your smoothie has many benefits during pregnancy. Lemons are high in vitamin C and are a source of fiber. They may also help to reduce nausea during pregnancy. Plus, lemons are a great way to add flavor to smoothies and other dishes!
With minimal ingredients, this superfood pregnancy smoothie is super easy to prepare and requires only 10 minutes of your busy schedule to make. Similar to how smoothies can be a great breakfast or snack option, they can also be a great addition to one of these healthy lunch ideas for work! The ingredients for this green superfood smoothie are kale, avocado, frozen pineapple, banana, chia seeds, and water. For this recipe, you could also use milk or Greek yogurt instead of water for a thicker texture and to boost the protein content, depending on your preference.
The simple combination of leafy greens, fruits, and seeds in this smoothie provides many benefits during pregnancy. Pineapple, banana, and avocado boost fiber, potassium, and other nutrients! Chia seeds are an exceptionally healthy addition to this recipe because they contain fiber, protein, calcium, and healthy omega-3 fatty acids. Research also shows chia seeds are a rich source of antioxidants and may be helpful for both heart health and blood pressure.
Are you ready to have that pregnancy glow full-time? This smoothie contains tons of vitamins and minerals that are excellent for your skin, hair, nails, and body. Plus, this recipe is gluten-free, dairy-free, and vegan-friendly if you have any dietary restrictions. You can whip up this smoothie in 10 minutes or less. You'll need spinach, cucumber, mint leaves, ginger, chia seeds, raspberry-lemonade magnesium powder, mango, coconut water, nut milk, collagen peptides powder (optional), and ice cubes.
Coconut water is a great source of fluids and electrolytes. This makes it an excellent drink to replenish the body after a workout or tough days of nausea and vomiting. Hydration is essential for healthy skin, too! The combination of coconut water, cucumber, mint, and spinach contains tons of antioxidants and nutrients beneficial for skin health too. After this smoothie, you're sure to feel glowing and vibrant.
This emerald green smoothie recipe is a perfect fit for any meal of the day, and it is super dynamic because you can choose your base. This recipe calls for spinach, flax seeds, hemp seeds, frozen mango, avocado, banana, and a base of your choice. Your base could be milk, nut milk, or Greek yogurt – it's completely up to you and your preferred taste!
No matter which base you use – milk, nut milk, Greek yogurt – this emerald green smoothie will be a good source of calcium, omega-3 fatty acids, fiber, and more! Plus, seeds like hemp and flax are excellent sources of protein and fiber too. And, just like you can choose your base, you can also feel free to choose additional add-ins like other tropical fruits, protein powder, or nut butter.
Talk about a green smoothie – this smoothie contains almost 100% green ingredients! This mega green smoothie has spinach, green grapes, avocado, cucumber, ginger, lime juice, and coconut milk. This smoothie can help give expecting mothers a mega boost of greens while maintaining a delicious taste. Plus, you can whip up this tasty treat in under 10 minutes! Bump up the protein of this smoothie meal by pairing it with a protein-rich side like hard-boiled eggs, nuts, or jerky.
Grapes are not usually included in smoothies, but they are a great addition to this recipe. It's a common myth that grapes are unsafe during pregnancy. On the contrary, they pack in tremendous nutritional value and are safe during pregnancy! Grapes are a good source of potassium, are high in vitamin C, have antioxidants, are beneficial for heart health, and can help to reduce constipation. They also contain lutein and zeaxanthin for eye health!
Benefits Of Green Smoothies While Pregnant
May help during times of nausea.
Smoothies can be a life-saver throughout pregnancy for a variety of reasons. During the first trimester, when nothing sounds appealing, smoothies can be a way to boost nutrients and fluids in an easier-to-digest manner.
It can help combat food aversions.
Throwing in a handful of spinach to a smoothie doesn't alter the taste when you include plenty of other ingredients and increases the nutrient content. If vegetables are not appealing in any fashion, both spinach and frozen cauliflower rice don't alter the flavor of smoothies but provide folate, fiber, vitamin C, and more.
Quick and easy to make.
Throw everything in a blender and push blend. Yep, that's it! You can even make several "smoothie packs" in individual stasher bags and put them in the freezer for the week. Then all you have to do is add a liquid of your choice and blend. Get a cute to-go cup and drink your morning energy and nutrients for your baby on your drive to work or school.
Note: this blog has some affiliate links, which means at no additional cost to you, I will make a small commission if you click and purchase something.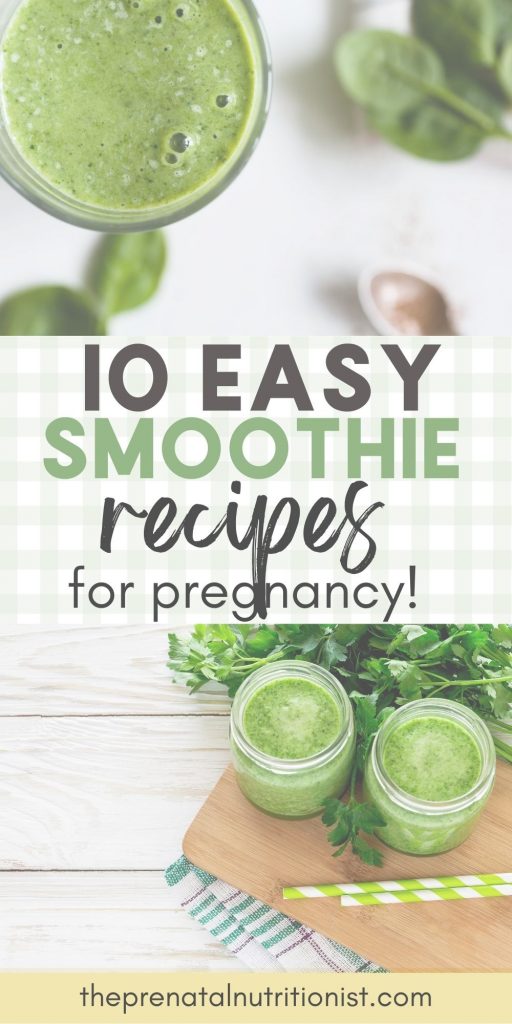 Try green smoothies during pregnancy!
As you can see, green smoothies can be full of nutritional value, vitamins, minerals, protein, and much more! And the best part is, they are delicious! Homemade smoothies are one of the best drinks for early pregnancy when morning sickness hits. But they're also a perfect addition during any trimester and great for replenishing the body postpartum.
We hope we've inspired you to try making one of these healthy smoothies for pregnancy at home, and we hope you love it! If you have any questions, be sure to drop them below! For more awesome and delicious pregnancy-friendly meal and snack ideas, check out the annual membership to The Prenatal Nutrition Library. Annual members of the library receive five 30-day trimester-specific meal plans! You can download the app for free to check it out!