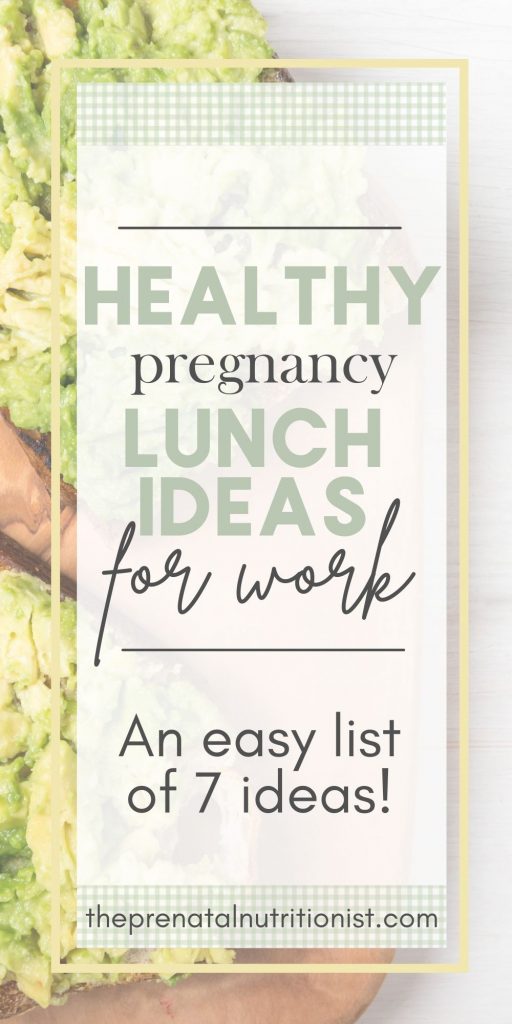 You've probably heard this a million times by now… But you should eat a nutritious diet while pregnant! This is the key to a healthy pregnancy and the most support for your growing baby.
Studies show that eating healthy, balanced meals affects both the health status of the pregnant woman and the unborn child. The diet even has an impact on cognitive brain development and the origin of most health conditions that show during adulthood like diabetes. The bottom line is: a healthy pregnancy diet is essential for a safe and enjoyable pregnancy journey. Plus can even help with morning sickness and other ailments like heartburn!
Lunch can be an easy meal to skip, whether you are in the office, working at home, or out running some errands. Some people may even swap it for a plate of fast food because it can seem more convenient at the time. However, pregnant women have to meet increased nutritional needs which are best done through food prepped at home.
Expectant mothers need to eat enough protein, carbohydrates, healthy fats, minerals, and vitamins. While during the first trimester most people don't have to intake any extra calories, in the second and third trimesters you may actually need to do so. That means you will have to add a few extra calories to your meals or eat another snack for the day. Missing a meal as important as lunch is also missing the chance to give your baby more nutrients!
As you can see, I'm a huge fan of lunch around here, well, all meals actually. Today's post is all about how to make healthy lunches that you can take anywhere with you. Keep reading to learn some of our favorite healthy pregnancy lunch ideas for work!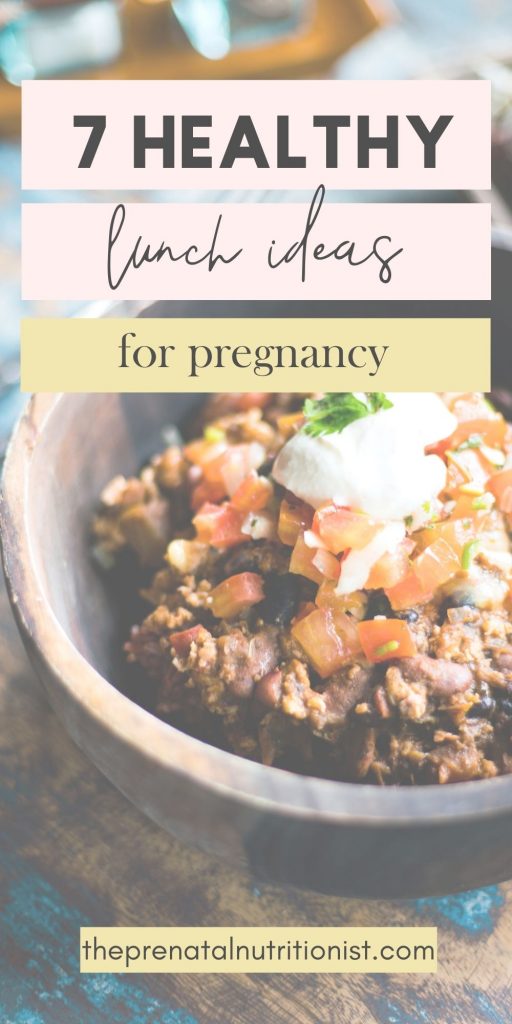 Healthy Pregnancy Lunch Ideas For Work
Classic Avocado Toast
You may consider avocado toast breakfast, but it can easily be made into lunch as well.  You can prepare avocado toast in less than 10 minutes and enjoy a balanced lunch at work afterward. Of course, this is also meal-prep friendly so you can take it on the go. Avocado toast is nutritious enough to cater to the needs of many pregnancy meals. One toast is high in fiber, protein, healthy fats, and complex carbs!
The basic ingredients for an avocado toast are whole wheat or sourdough bread, smashed avocado with lime or everything but the bagel seasoning, and eggs. You can make your egg in any style you prefer, hard-boiled, scrambled, or fried.
To make your avocado toast, start by toasting the bread. While the slices are in the toaster, cook the eggs (2-3 to make the protein more of a lunch portion!) and make the avocado paste. When every component is done, just put your toast together! You can pack it in a to-go container for work later or make it fresh if you work from home. To jazz it up further, add sliced tomatoes, hemp seeds, or feta cheese.
Chicken Salad Sandwich with Greek Yogurt Dressing
Chicken salad is another lunch staple. While store-bought chicken salad sounds convenient, it's not recommended for pregnant women since it has meat that might not be properly cooked or sitting at the right temperature in the fridge section. This is why we recommend making your own chicken salad sandwiches at home and bringing that to work instead! This is a light and well-balanced lunch. I recommend an avocado oil-based mayo or the Greek yogurt dressing below.
I'll share a super-easy way to make chicken salad sandwiches at home. You'll just need some leftover roasted chicken, apples, lettuce, red onion, and bread, pita, or a wrap. For the dressing, greek yogurt, salt and pepper, lemon juice, and garlic powder will work wonders. Now all you have to do is mix the dressing ingredients until a smooth paste forms. Then make your sandwich however you like best!
Turkey Skewers with Peanut Butter Sauce
Now we're getting into more adventurous territory. While still easy to prepare, turkey skewers are a fun way to mix things up when eating lunch at work. The prep time is 30 minutes, but you'll want to marinate the turkey for at least an hour to get the most flavor. This meal has around 320 calories per serving. It's also very high in protein and healthy fats and has a good amount of complex carbs. Adding adequate protein at lunch will help you stay full until dinner!
The main ingredients for this healthy lunch are turkey, garlic, peanut butter, honey, coconut milk, olive oil, salt, and pepper. You'll need to make the marinade and the peanut sauce. Then just cook the marinated turkey on the grill and save the sauce as a dip. This will make them extra meal-prep friendly for eating at work!
Kale and Sweet Potato Salad
Kale skyrocketed in popularity a few years ago, and I love it for pregnant women! Of course, sweet potato is another amazing health food for pregnant women. This vegetarian salad is amazing for eating at work during the fall, summer, and spring months. To make it a full meal, but still vegetarian, add 1/2 cup edamame or tempeh, and 1/4 cup quinoa. If you aren't vegetarian, adding grilled chicken breast will be perfect.
So, how easily can you make this kale and sweet potato salad? It's really simple, actually! The must-include ingredients are kale, sweet potatoes, red onions, garlic, raisins, sunflower seeds, and olive oil. Just mix up all the ingredients and add protein! The dressing can be as simple as salt and olive oil or as complex as your tastebuds desire.
Tuna and Cheddar Cheese Wrap
These wraps are a 10 minute, no-fuss kind of deal! Tuna and cheddar are a bold flavor combination that will not let you down. When you put them together in a whole wheat wrap, you end up with a high protein, high calcium meal that has good complex carbs and a decent amount of fiber as well.
Of course, you'll need tuna, and skipjack is the best option since it is the lowest in mercury. Make sure to get BPA-free canned tuna as canned food is not the best choice for pregnancy (read more on the subject HERE).
The rest of the ingredients are cheddar cheese slices, whole wheat wraps, scallions, olive oil or avocado oil mayonnaise, lettuce, grape tomatoes, and salt and pepper. The cooking process takes no time, as all you need to do is wrap all the ingredients together. Then enjoy!
Home-made Burrito Bowl
Burritos are commonly found in fast-food restaurants and cafeterias, but can easily be made at home. For a homemade take on this lunch classic, we suggest trying a bean burrito bowl! It has all the beloved Mexican flavors in a plating that's less messy for eating at work. One of these bowls can be prepared in just 30-minutes!
The main ingredients for this easy lunch are diced chicken or ground beef, black beans, cumin, cilantro, brown rice, cabbage, avocado, shredded cheese, and diced tomatoes. To make a burrito bowl, first cook the beans, meat, and rice. Next, place all ingredients together in a travel-friendly bowl and save it for your lunch break!
Greek Salad Pita Pockets
These stuffed pitas are truly a winner! You can make them into a pita pocket or keep them as a salad. Pita bread is absolutely delicious and practical for eating lunch on the go, and salad is pretty easy to pack. If you are craving something Mediterranean this is definitely it!
The process of making these stuffed pitas is as easy as it sounds! You'll only need whole wheat pita bread, grilled chicken breast, cucumber, red onions, olives, feta cheese, grape tomatoes, and greens. Combine these ingredients with a simple vinegarette then just make your stuffed pita sandwich!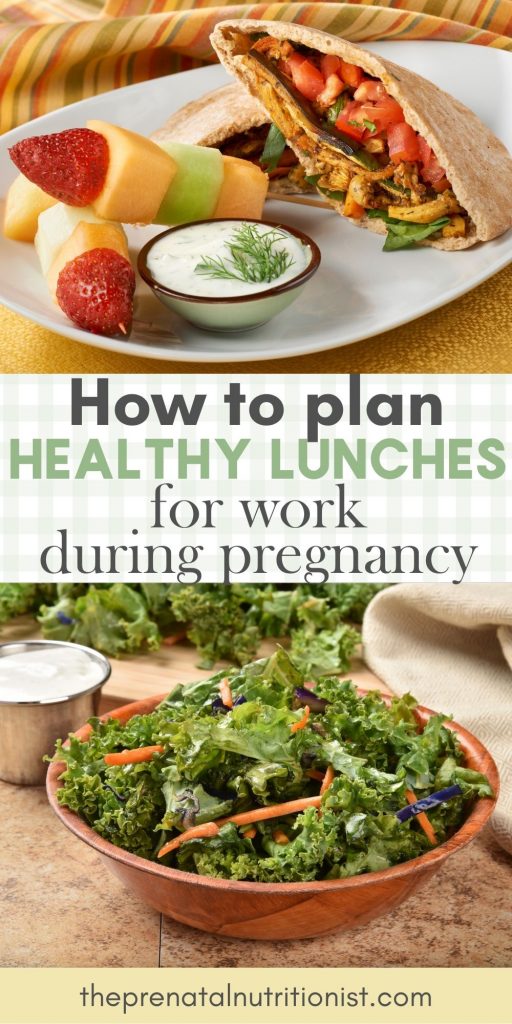 What are your favorite pregnancy meals to have for lunch at work?
Now you have the scoop on the best healthy pregnancy lunch ideas for work! With all of this inspiration for future meal-prep recipes, there's no excuse not to bring your own lunch to the office. It's okay if you eat out every once in a while, but this is the best move for your health and for the growing baby!
For more delicious pregnancy recipes, check out this list of super healthy breakfast recipes for pregnancy. We also have trimester-by-trimester meal plans available inside The Prenatal Nutrition Library!