I'm sure we've all heard by now just how important breakfast is and how we shouldn't skip this meal; this is definitely more true during pregnancy. This first meal kick starts the day for you, hopefully in a good way. It supplies your body with the energy it needs to get through it. For these reasons, eating breakfast is a crucial part of any healthy pregnancy.
Both the expectant mother and growing baby need the essential nutrients and energy boost that this first meal of the day provides. Fueling your body with proper nutrition also helps to reduce brain fog and helps to ease and avoid morning sickness. These are all good reasons why eating a healthy breakfast is a priority during pregnancy.
So, what is a healthy breakfast? For starters, and I'm very sorry, it's not ideal to run off a cup of coffee and banana. This breakfast is lacking in many ways! Instead we should add foods high in vitamin C, fiber, protein, whole grains, and minerals like calcium and iron. Those are the components of a healthy breakfast! 
If you are feeling a bit lost on what to eat for your first meal as a pregnant woman, this post is for you. I'm going to be sharing a roundup of my favorite quick and easy healthy breakfast ideas. These are all great nourishing meals perfect for expectant mothers that are tasty too! Let's get right into these pregnancy breakfast ideas! 
BUT FIRST, don't miss this deal: 50% OFF your first month of The Prenatal Nutrition Library (code: 50OFF), the first searchable app for food during pregnancy, so you know what you eat is safe and nutritious for you and your baby. Plus, get access to trimester-specific meal plans so you know you are meeting your needs!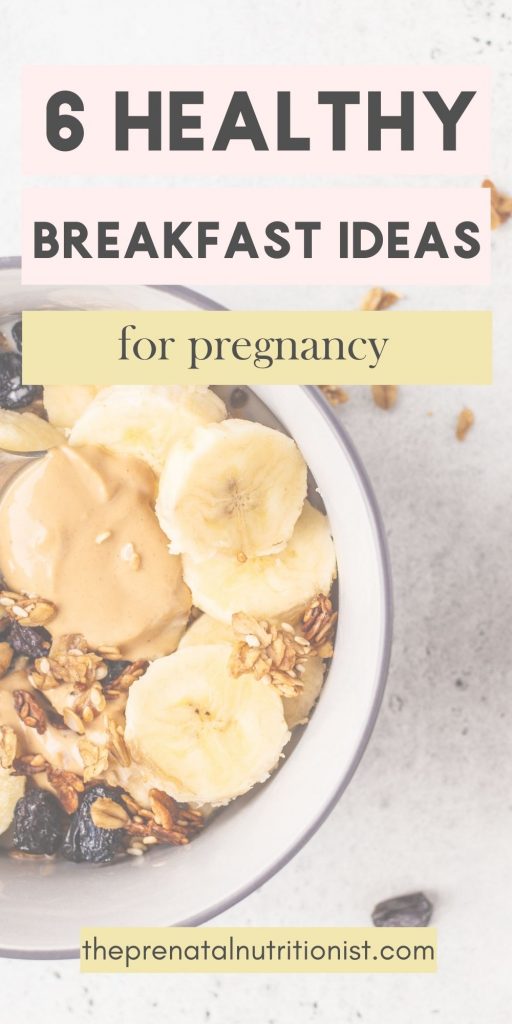 Healthy Breakfast Ideas for Pregnant Women
Peanut Butter Overnight Oats
This one is always a crowd-pleaser and it's super easy with minimal prep time! Overnight oats are brilliant for those busy mornings when you have to rush out of the house or just don't feel like cooking breakfast. Just make it the night before and you are ready to go! This healthy breakfast idea is easy to eat and low in sugar, making it perfect for expectant moms. Peanut butter is loaded with protein, healthy fats, and vitamin E. Oats are rich in fiber, manganese (a nutritious mineral!), and vitamin B1. 
For this recipe you will need oats, peanut butter, almond milk, chia seeds, collagen powder, and a dash of maple syrup. Once you have gathered all the ingredients, simply place them into a bowl or cup and mix well until everything blends together. Cover and place the mixture in the fridge to enjoy in the morning. The next day, check if the oats need a little more almond milk. Once the texture suits your liking, enjoy your meal! 
Refreshing Green Smoothie
A green smoothie is packed with nutrients and only takes about two-minutes to make.This is a fantastic healthy breakfast and perfect for the summertime. You can even make it the night before to get yourself off the hook in the morning. Yes, please! 
The ingredients for this green drink are celery, banana, spinach, almond or peanut butter, Greek yogurt, and water. Sounds super healthy, right? Because it is! This breakfast recipe is packed full of folate, potassium, fiber, and vitamin B6. These are all key nutrients for pregnant women, it might even help keep nausea at bay. The greatest news is that all you need to do is place the ingredients in a blender and give it a good mix. Done in a flash and filled with healthy greens!
Yogurt Parfait 
Yogurt, specifically, Greek yogurt is a great way to get protein in outside of eggs in the morning, unless you are dairy-free. Dairy-free yogurts are usually lacking in protein and most other nutrients. Dairy yogurt is high in calcium, iodine, vitamin B12, potassium, and probiotics. Many studies show probiotic "milk" consumption has benefits during pregnancy like reducing childhood allergies. 
You will need plain Greek yogurt, chia seeds, your favorite berry, almond butter, a low-sugar granola, and optionally, a drizzle of honey. Choosing plain yogurt at the store lowers the added sugar content and instead allows you to sweeten it on your own. 
Making this breakfast is simple, to start add 6 – 8 ounces of yogurt to a bowl. Mix in 1 tbsp of almond butter. Top with chia seeds, berries, granola, and a drizzle of honey. Enjoy! This one also makes a great snack or healthy dessert after dinner. 
Cereal With Milk And Fruits
Cereal is a breakfast classic. Now let's make it a healthy pregnancy meal! Ditch the sugary mixes and look for whole-grain, high-fiber alternatives to get your carbohydrate-powered energy boost without all the processed stuff. Always read the ingredients list while shopping for cereal. The lower the added sugar, the better, and the more fiber (5 grams or more) the better! Give granola, muesli, and bran flakes a try. Those are all good options for this breakfast recipe. 
The ingredients are pretty self-explanatory in this case. Choose your preferred healthy cereal, milk or nut milk, and some fresh fruit or even dried fried. Mix it all in a bowl and you have your morning meal sorted out in five minutes! This will provide you and your growing baby with key nutrients like calcium, fiber, potassium, and vitamin B6.
Tuna Omelette
Want a savory 15-minute recipe? This tuna omelet has your back! Sure, scrambled eggs are nice, but an omelette just gives any morning immaculate weekend brunch vibes. Tuna provides an amazing amount of omega-3 fatty acids and protein, while the eggs add choline and vitamin A to your meal. Leaving the tuna out of this omelette is okay, too. Eggs are a great every day choice for pregnancy!
You will need eggs, canned tuna, red and green bell peppers, cream cheese, sea salt, black pepper, and chives. First, saute the peppers in a frying pan with a dash of avocado or olive oil. Then mix them with the tuna and cream cheese in a small bowl. In a separate bowl, beat the eggs together. Now it's time to incorporate the two mixtures on a medium pan, alternating a little of each and flipping it after 5 minutes. Transfer the omelette to a plate and add the chives, black pepper, and sea salt as a garnish. Done!
Whole-Wheat Apple Pancakes
This is another iconic breakfast recipe except it has a healthy twist. Pancakes can and totally should be part of a healthy pregnancy, there's just a few tweaks we need to make. For example, we're going to use whole wheat flour instead of all-purpose flour. Whole wheat flour is filled with folic acid, manganese, selenium, and more. Apple is an excellent source of healthy carbohydrates and fiber. Delicious, warm, and perfect for a cozy morning!
You will need apple puree (you can easily make it at home!), whole wheat flour, coconut oil, almond milk, coconut sugar, and cinnamon. If you want any topping suggestions, maple syrup, fresh fruit, and apple compote are all amazing options. 
Make the pancakes by placing the cinnamon, flour, and coconut into a bowl and mixing it well to take out any lumps. Then, mix through the coconut oil, milk, and apple puree until a smooth batter forms. Once you have your mixture at the desired consistency, heat a little coconut oil or butter in a pan over medium heat. Now all you have to do is cook your apple pancakes!
Blueberry Oat Breakfast Loaf
This one is for all the meal preppers out there! Breakfast loaves were practically made for the busy expectant moms who want to have a healthy pregnancy. Blueberries are delicious, low in calories, and provide antioxidants and protein. Oats give you all that fiber and protein I mentioned before. You can bake this blueberry oat breakfast loaf on Sundays and make the batch last throughout the week! 
The ingredients are whole wheat flour, vanilla protein powder, rolled oats, ground almonds, baking powder, blueberries, maple syrup, almond milk, melted coconut oil, and coconut sugar. This might be a more elaborate breakfast recipe but you'll know why in the end.
To make this delicious loaf, start by mixing all the dry ingredients in a bowl until there are no lumps. Pour in the wet ones and mix to form a smooth batter. Once the mixture is even, stir in the blueberries. Careful not to turn the batter blue! Then, put your mixture into a lined tin or pyrex bread loaf baking pan and bake for 45 minutes at 350 degrees Fahrenheit. Once you reach this bake time, test the readiness by inserting a knife into the loaf until it comes out clean. Once cooked, remove from the oven and enjoy! You can always double the recipe to meal prep for the entire family.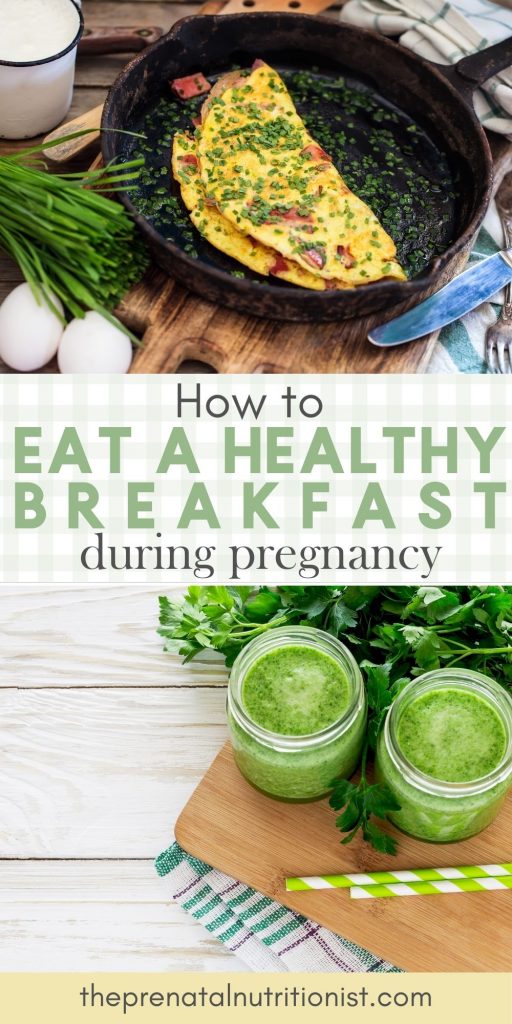 Which healthy pregnancy breakfast ideas will you be cooking?
Those were some of my favorite breakfast ideas to eat during pregnancy! Now that you know these delicious recipes, I hope you have new, fun ideas to make your breakfast filling. If you are looking to add more protein to your breakfast, you can always add in boiled eggs! Plus, you always want to make sure you are giving your growing baby all the nutrients needed and start the day with enough energy for the both of you. Enjoy your next breakfast, ladies!
To ensure you are meeting your nutrition needs during every stage of pregnancy, we've crafted trimester meal plans that are pregnancy dietitian approved just for you! You can access these as a member of The Prenatal Nutrition Library! They include grocery lists and key foods to focus on per trimester, click here to get your simple yet tasty menu (don't forget about our exclusive offer, use code 50off for 50% your first month!)