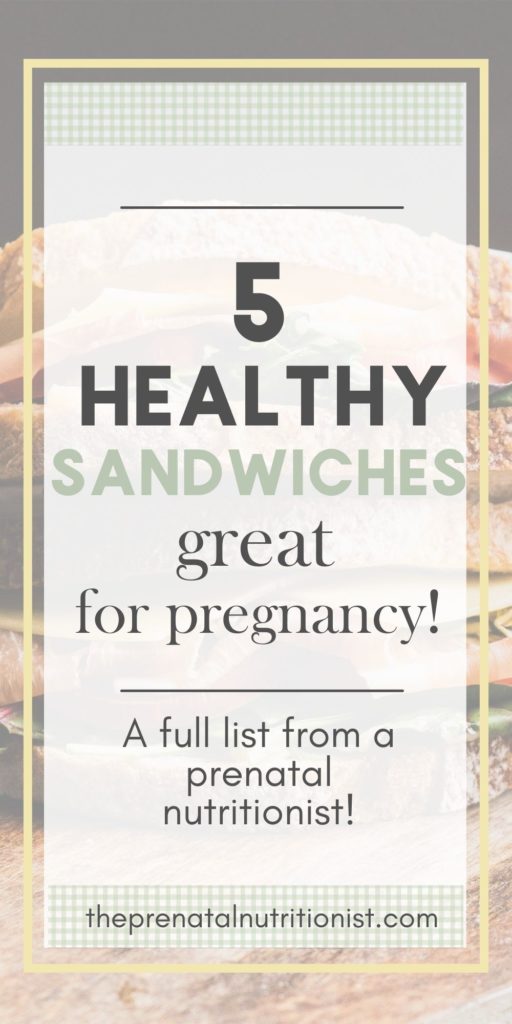 Sandwiches are perfect for on-the-go lunches, quick snacks, and more. However, while peanut butter and jelly or a turkey sandwich are great classics, it's easy to get stuck in a "sandwich rut" if you don't have other ideas in your back pocket.
To provide some new sandwich inspiration, I'm sharing a round-up of healthy sandwich ideas that are delicious and satisfying but packed with nutrients that pregnant women need. So then, the next time you go to make a sandwich, you'll know exactly how to put together a great one.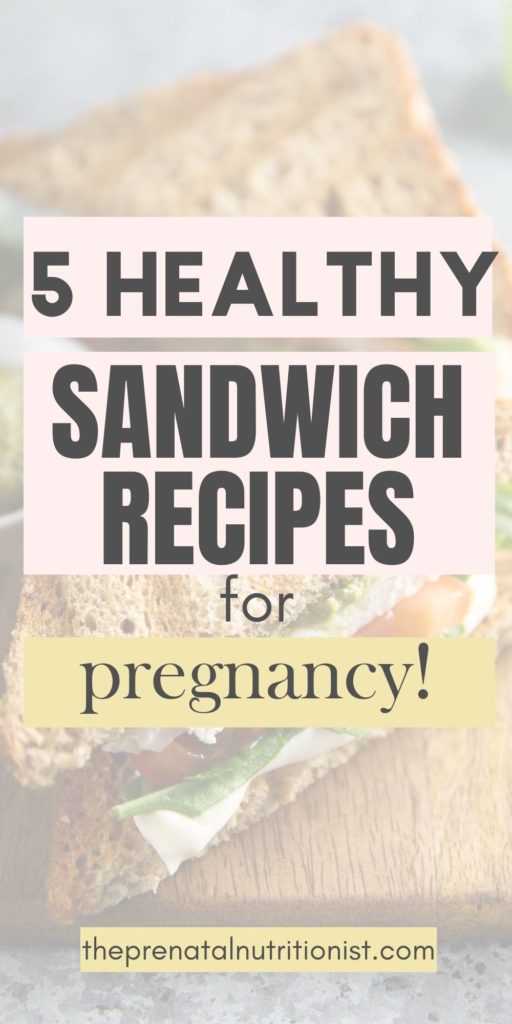 5 Healthy Sandwiches For Pregnancy
You can easily elevate a classic BLT by adding fresh avocado. Avocado is practically a pregnancy superfood (if superfoods were real!) because it's loaded with an abundance of nutrients. Avocado is an excellent source of healthy fats, fiber, magnesium, vitamin K, vitamin B6, potassium, and calcium. Wow!
Plenty of great whole wheat and sprouted bread options are good sources of fiber and B vitamins. Using those varieties in this recipe ensures you can enjoy a super-filling BLT with an avocado sandwich that packs in loads of nutrients! Each sandwich will contain more than 10g of protein and several grams of fiber!
This recipe for a Chicken Caesar Salad Sandwich is a fantastic way to use leftover chicken or fresh rotisserie chicken. Please just be sure to implement proper food safety practices and ensure the chicken is cooked properly to reduce your risk of ingesting potentially harmful bacteria.
Once you put together the Chicken Caesar filling, you can stuff it into a pita as the recipe instructs or swap the pita for another whole wheat bread option. Caesar salad dressing from the grocery store is pasteurized and completely safe for pregnancy. This recipe (including the anchovies) is a great protein, omega-3, vitamin C, calcium, and fiber source. Plus, it's super filling!
There are many myths about hummus during pregnancy. The best practice is to make it yourself at home. If you choose to purchase store bought hummus, be sure to check expiration dates and use it quickly after opening. Fortunately, a Veggie and Hummus Sandwich is a fantastic pregnancy lunch idea or snack. Your ingredients list can be as long or as short as you want, depending on which vegetables you want to include. Just be sure to avoid raw sprouts!
If you don't eat meat, make sure to include a side of yogurt, make a yogurt spread for your sandwich, or include a sprinkle of hemp seeds. This meal will be a great source of protein, dietary fiber, vitamins A and C, non-heme iron, potassium, folate, and more. The more vegetables you use, the more variety of nutrients you consume!
Apple And Nut Butter Sandwich
An apple and nut butter sandwich is a quick and easy pregnancy lunch idea. It's a fun twist on the classic PB&J. Simply stack thinly sliced apples on a slice of whole wheat bread, then slather your choice of nut butter on the other slice. Put the two slices together and enjoy! Almond butter and peanut butter are excellent choices for this sandwich!
This sandwich might be a good option when you are struggling with nausea or morning sickness since it is void of meat and veggies. In addition, each sandwich is an excellent source of dietary fiber, folate, healthy fats, protein, vitamin C, and potassium. 
A tuna salad sandwich is a traditional lunch that can also be enjoyed during pregnancy. This version is made with greek yogurt instead of mayonnaise which adds extra protein and calcium. Plus, with celery and onion mixed in, you only need one sandwich to feel satisfied and energized for the rest of your afternoon. This recipe uses albacore tuna, but you could also opt for skipjack tuna, which is the lowest in mercury.
Three ounces of skipjack tuna is 24 grams of protein. One can is usually around 5-6 oz. You may need to eat the whole can to be full especially in the later stages of pregnancy. In addition, it's a great source of protein, fiber, vitamin A, omega-3s, vitamin C, calcium, and iron. You can learn more about the safety of tuna for pregnancy inside the Prenatal Nutrition Library.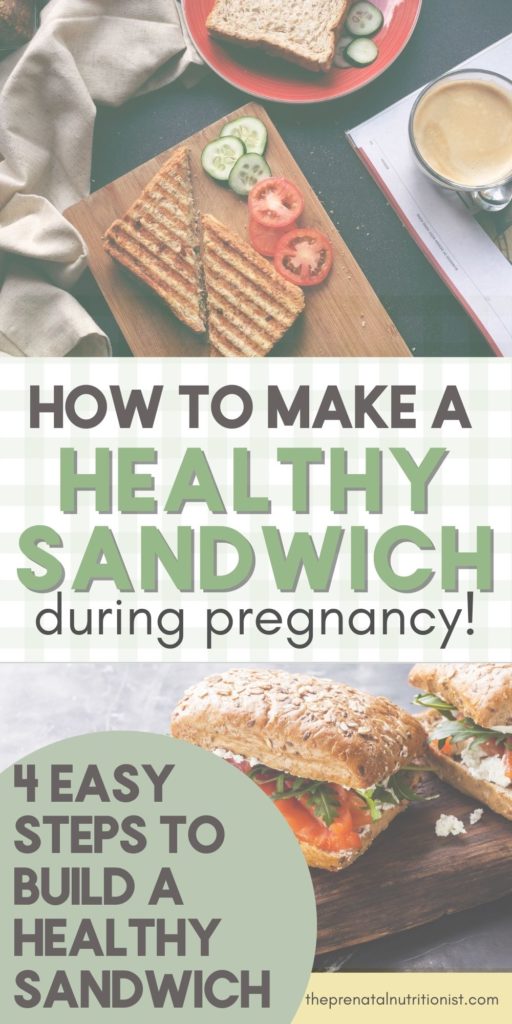 How To Make A Healthy Sandwich Step By Step
Step 1: Start with whole wheat, whole grain, sprouted grain, or sourdough bread. 
Many types of bread on the market are safe and nutritious options for pregnancy. The options listed above provide vitamins and minerals that are important during pregnancy. They are also excellent sources of fiber. Learn how to choose the best bread for pregnancy here. 
Step 2: Add some protein.
Protein is an essential part of a healthy pregnancy diet. To add protein to your sandwich, consider using chicken breast, canned tuna, salmon, eggs, bacon, or deli meat. You can also use meat like turkey, pork, and steak as long as the meat has been cooked and stored correctly. Cheese and hummus are great non-meat sources of some protein too, but won't be enough for a full meal. 
Step 3: Add healthy fat. 
An easy way to increase the nutritional value of your sandwich is to add healthy fat. Fresh avocado makes a great choice. If you're not a big avocado fan, try olive oil, a fatty fish, or plain whole-milk Greek yogurt. Cheese or nut butter also provides healthy fats.
Step 4: Load up on veggies.
When building a healthy sandwich, there's no such thing as too many vegetables. So pile on the lettuce, tomato, cucumber, spinach, red onion, peppers, carrots, cabbage, and more. The more vegetables you put on your sandwich, the more nutritious and satiating it will be.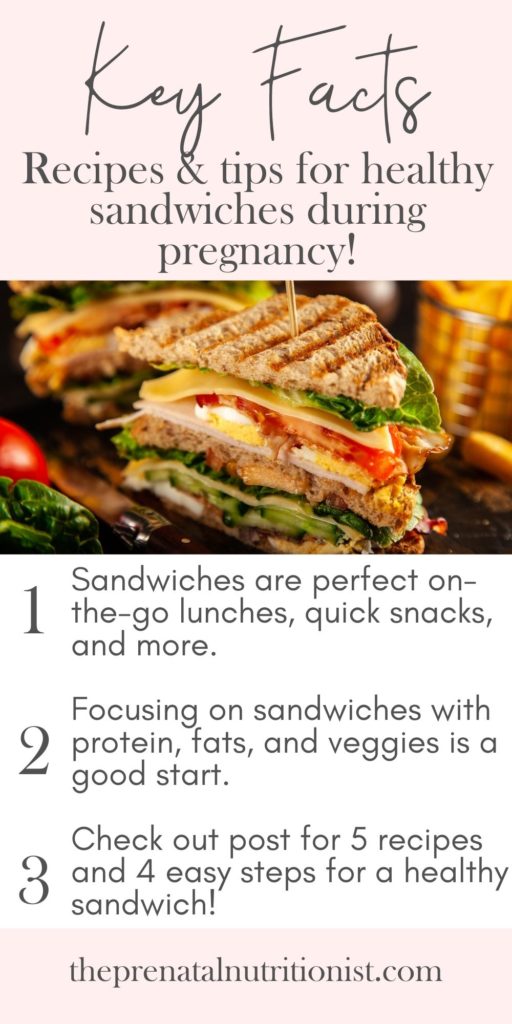 What ingredients do you use to make a tasty, healthy sandwich?
You may have a few go-to sandwich recipes that always hit the spot or a favorite ingredient you like building your sandwich around. Tell me about it! 
Then, check out The Prenatal Nutrition Library (TPNL) for all the information you need to maintain a healthy pregnancy and support your growing baby! We cover the details on deli meats during pregnancy, soft cheese, lunch ideas, and more. TPNL is your one-stop hub for ALL things prenatal nutrition that provides evidence-based, clear recommendations to ensure pregnant women have a feel-good pregnancy!
The Prenatal Nutrition Library has trimester specific meal plans so you don't have to figure out what to eat every week and you will know baby is getting the nutrients they need. Click here!