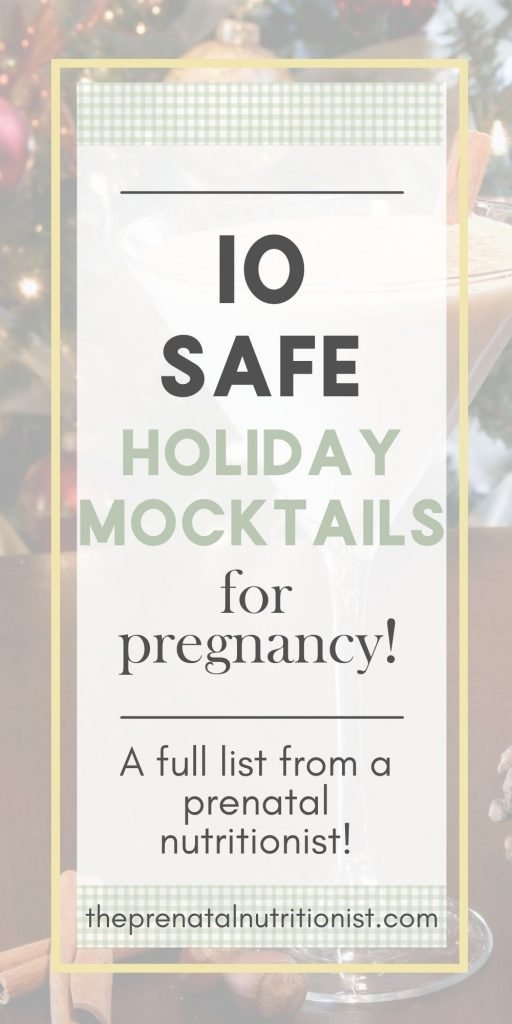 Being pregnant during the holidays means having another reason to celebrate the season. But it is important to be careful with what you eat and drink. The holidays aren't an exemption. If you have a favorite alcoholic drink that you usually sip on at holiday parties, you need to find something else to drink while pregnant, but that doesn't mean you have to feel left out. Rather than throwing a maraschino cherry into a glass of lemon-lime soda (a Shirley Temple!) and calling it a night, treat yourself to one of these delicious holiday mocktails.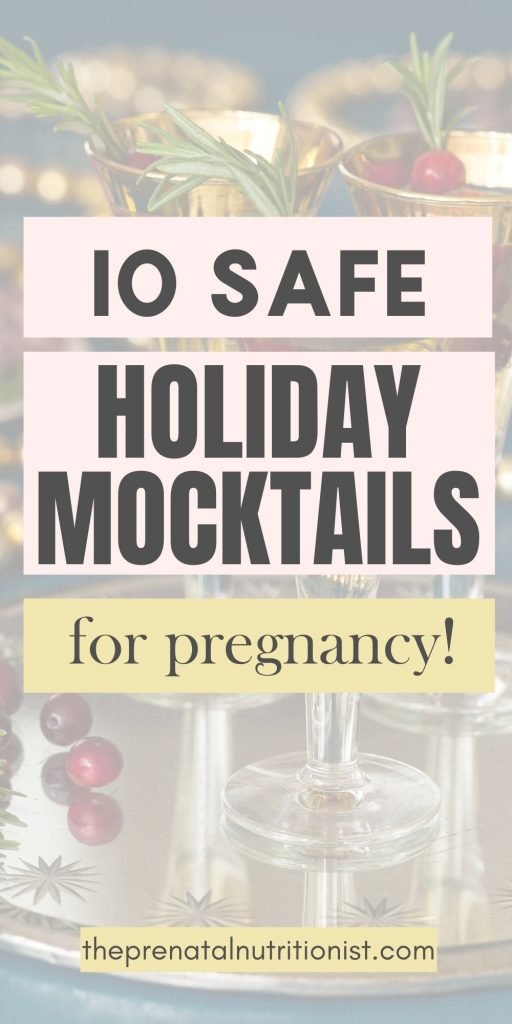 Below is a round-up of delicious holiday mocktails that taste just as good as alcoholic cocktails!
Holiday Mocktails Pregnancy Safe & Approved
What Are Mocktails?
Mocktails are non-alcoholic mixed drinks that look and taste like craft cocktails without alcohol. They are made using many of the same ingredients as cocktails, including sodas, fruit juices, fresh fruit, and garnish. In addition, bartenders use the same tools and mixology techniques to make them as they would with a mixed drink. You're then meant to enjoy and savor the mocktail the same way you would a traditional cocktail.
Are Mocktails Safe During Pregnancy?
Most mocktails are safe to drink during pregnancy because they don't contain any alcohol. In addition, some mocktails, also called "virgin cocktails," are good for you because they have fresh ingredients loaded with beneficial vitamins and minerals, like pomegranates or pomegranate juice. 
That said, there are a few things to consider when drinking mocktails during pregnancy. For one, some concoctions contain higher amounts of sugar that you would do better to limit, especially if you have gestational diabetes or blood sugar issues going into pregnancy. And second, be aware that some mocktails are made with sodas that contain caffeine. The general recommendation is to keep caffeine consumption at 200 mg or under per day during pregnancy. 
10 Holiday Mocktails Pregnancy Safe & Approved
Moscow Mule
The Moscow Mule is one of the more popular mocktails, and the classic recipe is perfect for a winter holiday party. 
Ingredients
½ cup club soda

½ cup ginger beer or ginger ale (non-alcoholic)

1 T simple syrup

2 T fresh lime juice (or the juice of 1 lime)

3 mint leaves (torn, optional)

Crushed ice
Instructions
Pour the club soda, simple syrup, and lime juice into a cup (or a lined copper mug if you have one), then add the mint leaves. Fill the cup about halfway with ice, then pour the ginger beer over the ice. Garnish with mint leaves and a lime wedge.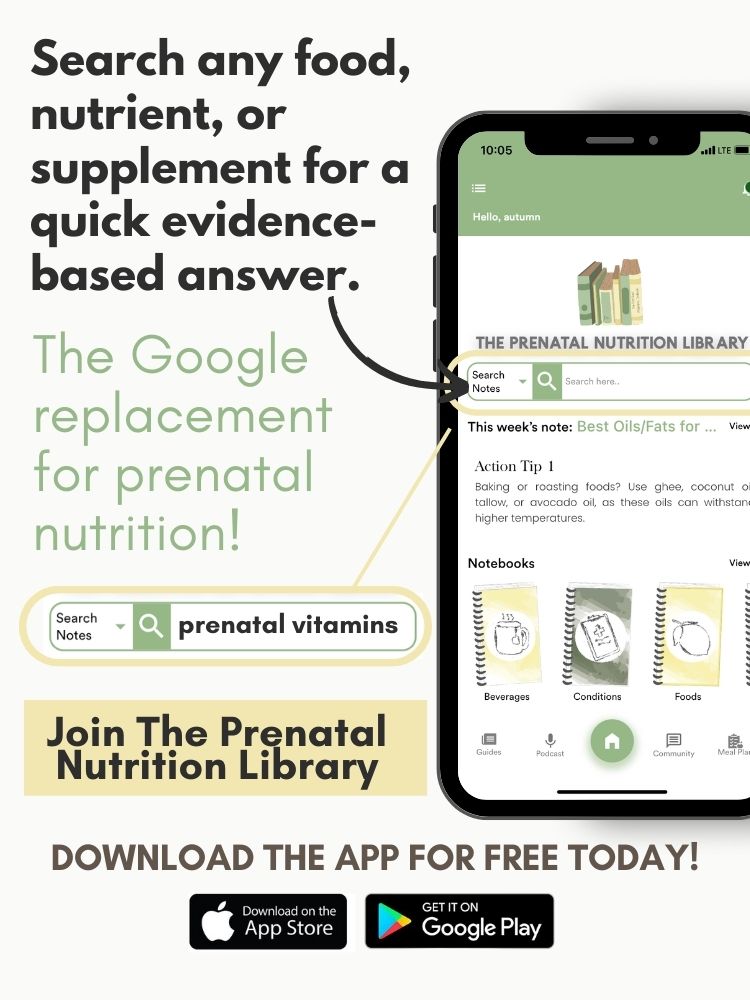 Non-Alcoholic Mai Tai
The non-alcoholic Mai Tai is another excellent holiday party mocktail. This refreshing punch tastes just like a sweet Mai Tai, only without the rum. It's a great option if you plan on hosting a summer or tropical-themed party this year. The alcoholic version includes an ounce of rum, but this pregnancy-approved option omits it. 
This Non-Alcoholic Mai Tai is tasty and chock full of vitamin C. It looks pretty too!
Ingredients
1 oz pineapple juice

1 oz orange juice

1 T grenadine

½ oz simple syrup
Instructions
Add all the ingredients to a cocktail shaker with ice, then strain into a cocktail glass over ice. Finish with a splash of soda water and an orange rind. 
Non-Alcoholic Hot Toddy
If you usually enjoy a warm cocktail during the holidays, look no further than this recipe for a non-alcoholic Hot Toddy. It's the ultimate, comforting mocktail to sip on during the holiday season. 
Ingredients
1 C hot tea

1 T honey

1 t lemon juice

1 cinnamon stick (or ½ t ground cinnamon)

½ t cloves

½ t ground nutmeg

1 lemon wedge, as garnish
Instructions
Add honey, lemon juice, and spices to a warm mug. Slowly pour in the hot tea, then stir well. Garnish with a lemon wedge. 
Cranberry Pomegranate Bellinis
Cranberry Pomegranate Bellinis are fun, festive, and perfect for a holiday party. A true bellini uses Prosecco, an Italian sparkling wine, but you can easily make this recipe pregnancy-friendly by swapping the Prosecco for seltzer water. The drink will look the same regardless and taste just as delicious. Just be sure to drink this one in moderation to lower your sugar intake!
Ingredients
For the simple syrup:
½ cup unsweetened 100% pomegranate juice

½ cup unsweetened 100% cranberry juice

1 C sugar
For each bellini:
1 oz simple syrup

5 oz seltzer water (such as La Croix) 

Squeeze fresh lime juice

Whole cranberries or slices of lime for garnish
Instructions
For the simple syrup:
In a small pot, stir the pomegranate and cranberry juices. Continue stirring as you mix in the sugar. Place the pot over medium-high heat and bring it to a boil. As soon as the mixture begins to boil, lower the temperature and simmer for 5 minutes, constantly stirring until the sugar has dissolved completely. Pour the syrup into a jar and then cool it in the fridge. 
For each bellini:
Into a champagne flute, pour 1 oz of the simple syrup, then top with 5 oz of seltzer water. Squeeze in a few drops of fresh lime juice. Lastly, garnish with lime slices and whole cranberries.
Pomegranate Candy Cane Mocktail
Here's a tasty, fun mocktail, great for people of all ages. Not to mention, it's quick and easy to put together. With this recipe, you can make a bunch ahead of time, then when you're ready to party, pour yourself a glass, garnish with a candy cane, and you're done!
Ingredients
32 oz 100% pomegranate juice

2 C sugar

2 8oz cans sparkling water (flavor optional)

8 candy canes 

Ice
Instructions
For the grenadine:
In a saucepan, bring the pomegranate juice to a boil. Reduce the heat and simmer until the juice has reduced by half (15-20 minutes). Add in the sugar and stir until the sugar has completely dissolved. Pour into a jar, then place in the fridge until chilled completely. 
For the mocktail:
Into a cocktail glass or holiday cup, pour ½ cup of the flavored water, then 1-2 tablespoons of the homemade grenadine. Fill with ice, stir carefully, then finish with a candy cane.
Non-Alcoholic Apple Cider Martini
This might be my favorite mocktail recipe! Apple cider is especially popular in the fall, but with this Apple Cider Martini mocktail, you can enjoy a chilled version during the holiday season. One important thing to remember when making this drink: apple cider is unfiltered apple juice that is unfermented. Not all kinds of apple cider are pasteurized. Avoiding unpasteurized apple cider is strongly recommended during pregnancy, so check the label for a pasteurized option when shopping for ingredients.
Ingredients
2 T simple syrup

1 C apple cider (PASTEURIZED), chilled

Ice for mixing

Cinnamon sugar for the rim

Apple slice or cinnamon stick (optional) for garnish
Instructions
First, you'll need to pour the cinnamon sugar onto a plate or into a shallow bowl. Next, wet the rim of your martini glass with apple cider, then dip it into the cinnamon sugar. Then, add the cider and simple syrup to a martini shaker filled with ice. Shake for about 15 seconds, then pour into your prepped martini glass. Finally, add an apple slice or cinnamon stick as garnish.
Seedlip Spice Sour
Here's a modern mocktail that truly looks and tastes like a classic cocktail, despite having no alcohol in it. The key ingredient is Seedlip Spice 94, a non-alcoholic spirit that adds familiar flavors like allspice and cardamom to your drink, with a bitter finish mimicking an alcoholic beverage. 
The original drink recipe shared by Seedlip calls for egg white, but to make this mocktail safe for pregnancy, we omitted it. 
Ingredients
1.5 oz Seedlip Spice 94

1 oz lemon juice

Dash of sugar

1 dash of white wine vinegar
Instructions
Pour all the ingredients into a cocktail shaker over ice. Shake vigorously, then pour into a cocktail glass. 
Paradise City
Straight from The Nomad in New York City, this mocktail tastes like an indulgent mixed drink. It's a great virgin drink for pregnant women to sip on during the holidays. The passion-fruit puree and grapefruit juice, in particular, are antioxidant- and vitamin-rich ingredients. And the splash of cream makes this mocktail feel like a real treat.
Ingredients
.5 oz vanilla syrup

.5 oz passion fruit puree

1 oz grapefruit juice

1 oz cream

2 oz club soda
Instructions
Add the vanilla syrup, passion-fruit puree, grapefruit juice, and cream into a cocktail shaker over ice, and then shake vigorously. Next, pour club soda into a highball glass. Then pour the contents of the cocktail shaker over the club soda until the head of foam has risen above the rim of the glass.
Non-Alcoholic Sangria
Sangria is another popular holiday alcoholic drink. If you thought you needed wine to make sangria, think again! This pregnancy-approved recipe uses sparkling grape juice and brewed tea instead. Remember that black tea contains caffeine, so that would need to be considered in the context of your total caffeine intake. 
Ingredients
4 C cranberry juice

2 C brewed black tea, cooled

1 bottle (750mL) sparkling grape juice (red or white)

1 orange, sliced

1 C fresh cranberries

5 cinnamon sticks

Ice 
Instructions
Fill a pitcher with ice. Pour in the cranberry juice, brewed black tea, and sparkling grape juice, then mix. Next, add the orange slices, fresh cranberries, and cinnamon sticks. Stir again, then serve in glasses filled with ice. Lastly, garnish each glass with an orange slice, cranberries, and a cinnamon stick. 
Mock "Champagne" Punch
New Year's Eve sounds like the perfect night to enjoy a mock "champagne" punch. Feel free to make this recipe your own by using your favorite fruity flavor of sparkling water. Strawberry sparkling water tastes delicious in this concoction. When choosing sparkling water, stick to an option without artificial sweeteners and with a BPA-free can.
Ingredients
White Grape Juice
Fruit-Flavored Sparkling Water (1/3 cup)
Raspberries (2-3)
Instructions
Add 1/3 cup of fruit-flavored sparkling water, like Strawberry sparkling water, to your glass. Then, make it festive by using a champagne flute to enjoy your mocktail.
Fill the rest of your glass with white grape juice. It'll end up being about one or two fluid ounces depending on the size of your glass (and your taste preferences).
Finally, top it with a few raspberries or strawberries to finish it off!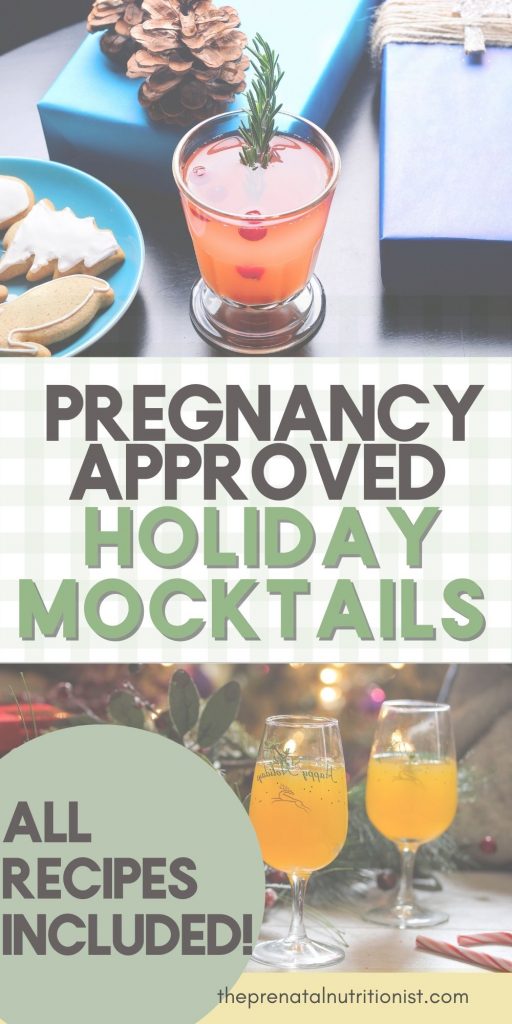 Which mocktail will you be sipping on this holiday season?
Is there a recipe above that stood out to you? Or perhaps there's one that wasn't included that you plan on drinking this year. Tell me about it! 
Remember, no amount of alcohol has been proven safe during pregnancy (hence this list of alternative ideas). So avoid alcohol and choose a mocktail instead. You can read more about alcohol and pregnancy here. 
Check out The Prenatal Nutrition Library for more about enjoying a happy and healthy pregnancy this holiday season. Our entire library, including our Pregnancy Holiday Eating Guide, will help you feel 100% confident in your food choices for two this holiday season!