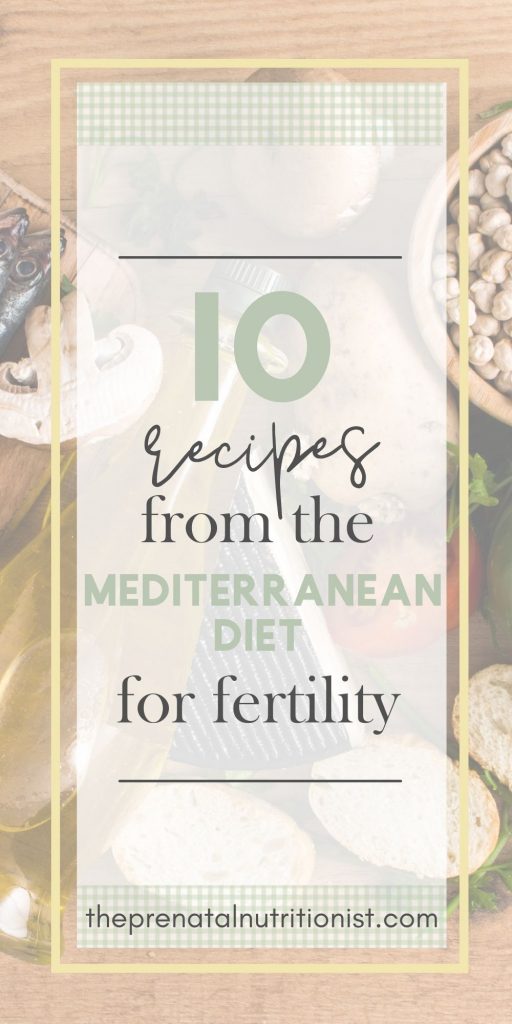 Diet plays an important role in fertility in whichever way you are trying to get to baby. Having a healthy diet is one of the easiest ways you can positively impact your reproductive health. It's one of the many factors that affect fertility that you can actually control!
The Mediterranean diet is inspired by the healthy eating habits of the people near the Mediterranean Sea. The diet is not designed for rapid weight loss, rather it's designed for a healthy diet and lifestyle that is sustainable. Plus, the diet allows for a ton of flexibility on what you can eat. Many of the recipes take cues from famous dishes in Greece, Italy, and Spain.
As the subject of tons of nutritional studies for many years, the Mediterranean diet has been proven not only to be a great weight maintenance option but also a fantastic fertility-promoting diet! Most of the foods/ingredients recommended in the Mediterranean diet – whole grains, olive oil, nuts, fruits, vegetables, high-quality fish, legumes – are foods that directly contribute to fertility health. So, we've put together a list of Mediterranean diet recipes for you below that can help directly increase your fertility!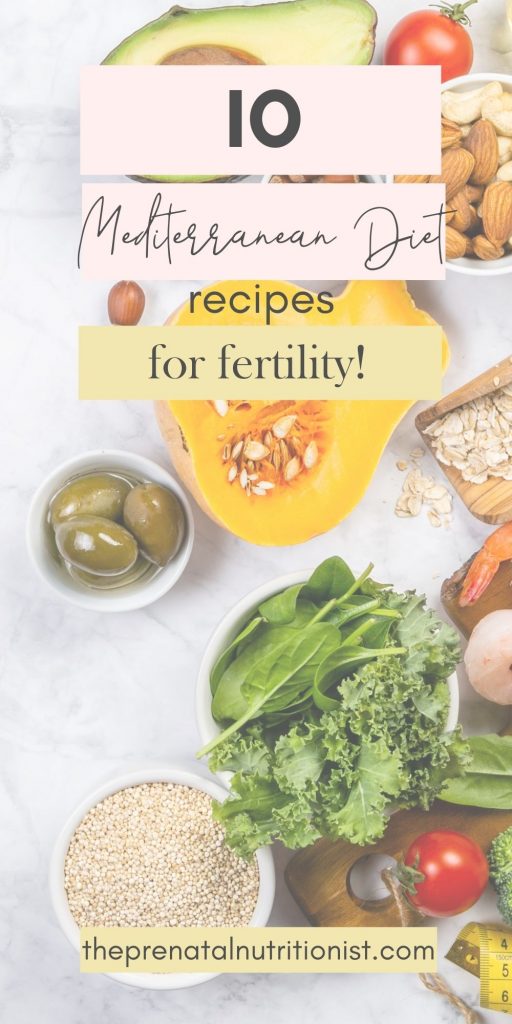 Mediterranean Diet Recipes For Fertility
Avocado Toast
Avocado and whole grains are two of the most popular foods that promote fertility! With that in mind, why not combine them for a healthy and nutritious breakfast to start your day? Just spread some ripe avocado on your favorite whole grain bread, add some additional protein, and you're good to go! Avocados have healthy fats, antioxidants, magnesium, and according to this study, they provide more folate and potassium by weight than any other fruit or vegetable. For protein, add eggs, hemp or chia seeds, sardines, sausage, or tofu. And for extra taste, you can add other toppings like sunflower seeds, radishes, arugula, salt, pepper, or sesame seeds,
Fruit Bowl
For a quick and easy Mediterranean diet breakfast or snack, try whipping up a fresh fruit bowl. Citrus fruits contain high levels of vitamin C, folate, and fluids which are great for enhancing fertility. And other fruits such as pineapple, strawberries, grapes, bananas, and apples contain essential vitamins and nutrients for a healthy body and embryo. Just clean, cut, and combine your choice of fruits and eat up! Consider adding seeds, nuts, and even full-fat yogurt to mix it up.
Mediterranean Salad
You can't go wrong with a Mediterranean-style salad. Salads are super versatile and a great way to incorporate the many different fruits and vegetables that are great for fertility. Start with kale and spinach as your base because both are fertility-positive and nutrient-dense. Then, you can add even more fertility-boosting foods like tomatoes, eggs, cheese, quinoa, broccoli, onions, sweet potatoes, turnips, grapes, pomegranate, and more! Top your salad off with an olive oil dressing and eat up!
Beet & Goat Cheese Dip
Beets, while not everyone's favorite vegetable, are a great source of nutrients for fertility. This beet and goat cheese dip is colorful, full of flavor, and a great way to incorporate beets into your diet. Beets are loaded with fiber, folate, potassium, iron, and more! Plus, goat cheese is highly recommended for fertility as it is packed with calcium, probiotics, and vitamin D. You'll need beets, honey, lemon juice, cream cheese, goat cheese, olive oil, and a whole-grain baguette. For the full recipe and instructions: Beet and Goat Cheese Dip!
Healthy Trail Mix
Trail mix is an awesome snack to help keep you full between meals and get those essential vitamins and nutrients required for healthy fertility. Nuts contain high levels of healthy fats, antioxidants, and vitamin E. You can create your own special trail mix blend with any of these nuts and seeds: macadamia nuts, walnuts, hazelnuts, cashews, almonds, sunflower seeds, and pumpkin seeds. For a little something extra in your trail mix, add some dried fruit like pineapple, dates, or pears.
Mediterranean Flatbread Pizza
Let's be real, pizza is not something anyone wants to give up. And the good news is, you don't have to. There are definitely options that can satiate that pizza craving! Try a DIY Mediterranean diet flatbread pizza made up entirely of fertility-promoting foods. Start with whole-grain dough from your local grocery store and roll it out to your desired thickness. Use extra virgin olive oil as your base and then be sure to add roasted tomatoes or tomato sauce as they are high in lycopene, a powerful antioxidant that promotes fertility. Then, just add your favorite toppings and bake! Some fertility positive toppings could include spinach, onions, garlic, basil, and different whole fat cheeses.
Bean Stew
Legumes such as lentils, beans, peas, chickpeas, and pulses are chocked full of fiber and protein which help promote fertility and a healthy embryo. For those cold, winter days, try whipping up a bean stew! Grab your favorite mix of legumes and spices. With a little water and time, you'll have a warm and delicious soup! Serve over whole-grain rice or with some whole grain bread on the side.
Creamy Sausage Casserole with Tomatoes
This creamy sausage casserole is an awesome Mediterranean diet lunch or dinner option. It is super filling and loaded with protein to keep you feeling full and on the move. Plus, it includes fertility-enhancing foods like tomatoes, onions, cream cheese, and olive oil. For the full recipe, including extra cooking tips and alternative ingredients, check out the full Creamy Sausage Casserole with Tomatoes recipe!
Wild-Caught Salmon & Asparagus
Wild-caught salmon with asparagus is an excellent Mediterranean diet meal that promotes fertility. High-quality fish like salmon is packed with vitamins, minerals, and omega-3 fatty acids. To read all the amazing benefits of eating omega-3 for fertility and pregnancy, check out omega-3 in Pregnancy. Plus, asparagus is great for both his-and-hers fertility. Because it's rich in folate and vitamin K. Read the full recipe at Garden in the Kitchen!
Olive Oil Chocolate Chip Cookies
Who doesn't love a warm and delicious chocolate chip cookie? These olive oil chocolate chip cookies are the perfect dessert for someone on the Mediterranean diet. And the recipe includes only fertility-friendly ingredients. So check out the full recipe here: Olive Oil Chocolate Chip Cookies.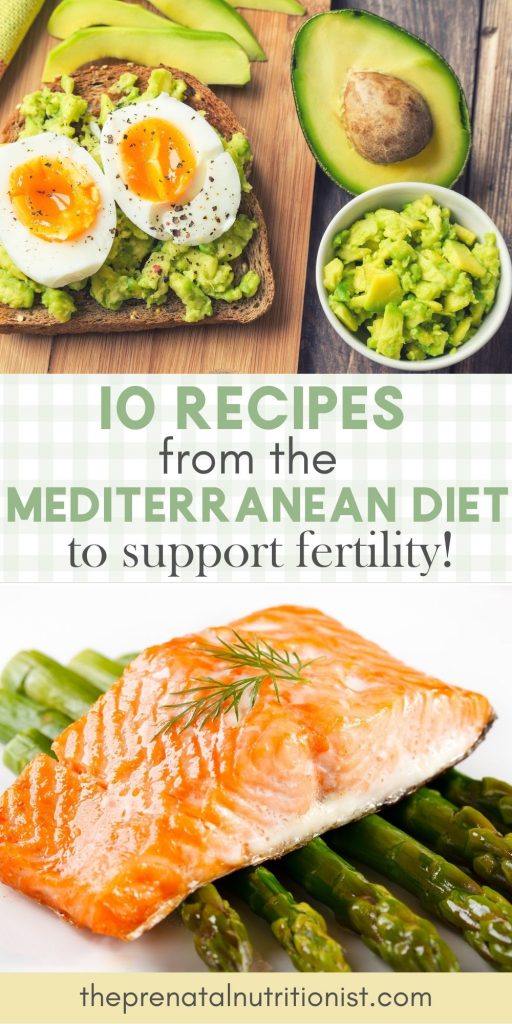 What foods are you eating to improve your fertility?
Those recipes are just the tip of the iceberg when it comes to the large variety of foods that can help promote fertility! So whether you're trying to conceive naturally, or through IVF, incorporating these Mediterranean-style foods into your diet can increase your chances of conception. Nutrition is one factor you can control in your trying to conceive journey. So it is a great area to place your focus on while still allowing yourself to enjoy the foods you love!
If you are looking for a step-by-step guide, join The Prenatal Nutrition Library and follow our preconception meal plan!