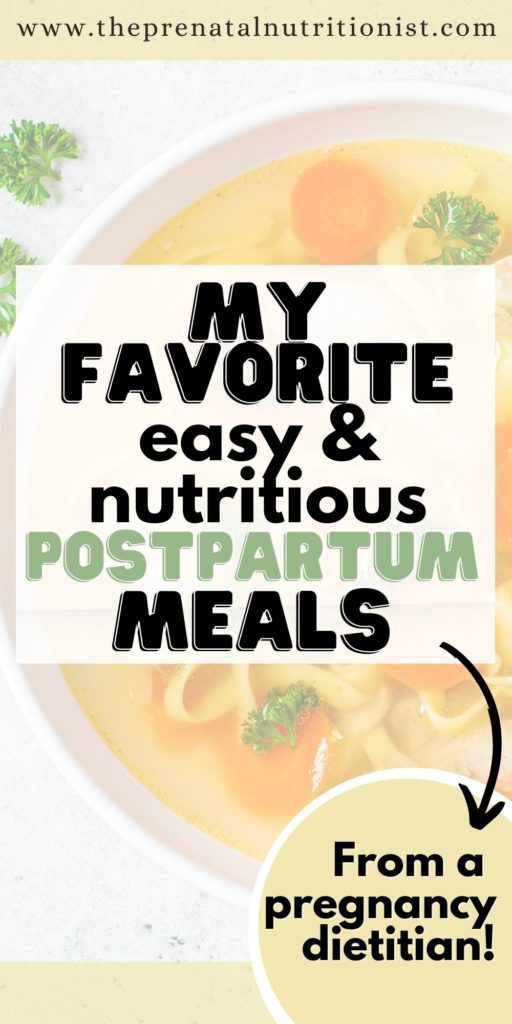 The postpartum period is a critical time for both mother and baby as the new family adjusts to life with a newborn. After the baby arrives, new moms must focus on their recovery while also caring for their baby. Good nutrition plays a crucial role in supporting postpartum recovery as well as supporting breast milk production. 
However, caring for nutritional needs can be challenging when juggling infant care. Planning and preparing postpartum meals in advance ensures new mothers get the proper nutrients as their body heals from childbirth. 
Preparing a few of these recipes ahead of time as freezer meals after batch cooking can also make the transition home with a newborn much smoother. Proper postpartum nutrition and a well-stocked freezer are essential for health and avoiding exhaustion in those early weeks.
In this post, I will discuss what to consider when planning postpartum meals and share 12 easy recipes that new mothers can cook and enjoy during this time. These recipes have high protein, are easy to digest, and provide nutrients important for postpartum recovery. (Try my FREE 1-week meal plan for expecting mothers HERE!)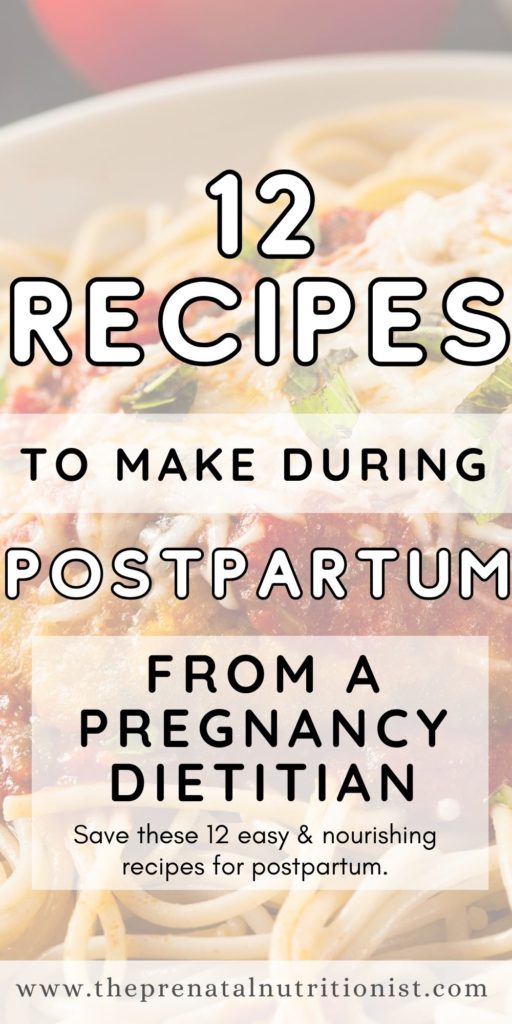 12 Easy Postpartum Meals
The recipes below aim to provide comfort food options that nourish both body and soul during postpartum recovery. As well as provide the much-needed calories to support breast milk production. Choose recipes you enjoy that provide essential nutrients and are easy to access. New moms who are breastfeeding generally need extra calories to support increased nutrient demands. Home-cooked and whole foods will help to support postpartum recovery after a long pregnancy and labor + delivery, too. 
Breakfast Burritos
Burritos make a portable, easy breakfast that can be prepped ahead. Protein-packed burritos can be portioned and frozen, reheating directly from the freezer. Eggs provide protein, vitamin B12, choline, and several other nutrients. Black beans contribute non-iron, fiber, and plant protein. Adding spinach or roasted peppers boosts vitamins and minerals. Rolled into a convenient portable breakfast, burritos help to supply sustained energy throughout the mornings with a newborn.
Ingredients: 
Whole wheat tortillas

Eggs

Beans

Veggies (such as spinach and roasted peppers) 

Avocado
Instructions:
Step 1: 
Scramble your eggs and saute your preferred veggies. 
Step 2: 
Fill whole wheat tortillas with scrambled eggs, spinach or roasted peppers, black beans, and avocado.
Step 3: 
Roll and wrap it tightly.
Step 4: 
Freeze. Then, reheat directly from the freezer. 
Chicken Noodle Soup
Nothing warms the soul like a hot bowl of soup! This cozy soup soothes the stomach and the soul. Chicken supplies protein to support recovery. Noodles, vegetables, and bone broth deliver hydration, carbs, protein, glycine, and vitamins A, C, and K to support healing and milk production. Staying hydrated is one critical component of supporting the breastfeeding journey. Simmered in large batches, extra portions can be conveniently frozen for future meals. 
Ingredients:
Cooked chicken breasts or thighs

Carrots 

Celery

Onion

Garlic

Egg noodles

Bone Broth
Instructions:
Step 1:
Dice vegetables.
Step 2:
Simmer broth with vegetables.
Step 3:
Shred chicken and add to broth.
Step 4:
Cook noodles until tender, and enjoy!
Beef and Vegetable Stir Fry 
Stir fries provide balanced nutrition that is reheated easily. Sautéing sirloin beef strips with broccoli, bell peppers, onions, and garlic takes only minutes. Protein and iron from the beef aid recovery, while antioxidants, vitamins, and minerals from the colorful vegetables promote overall health. Served over brown rice, this complete meal satisfies by providing fiber, protein, and healthy fats. 
Ingredients: 
Beef

Broccoli

Peppers

Onion

Garlic

Coconut Aminos or Preferred Stir-Fry Sauce 

Brown Rice
Instructions: 
Step 1
Slice the veggies and beef into strips.
Step 2
Stir fry the meat in avocado oil until browned.
Step 3 
Add veggies and sauce and serve over brown rice.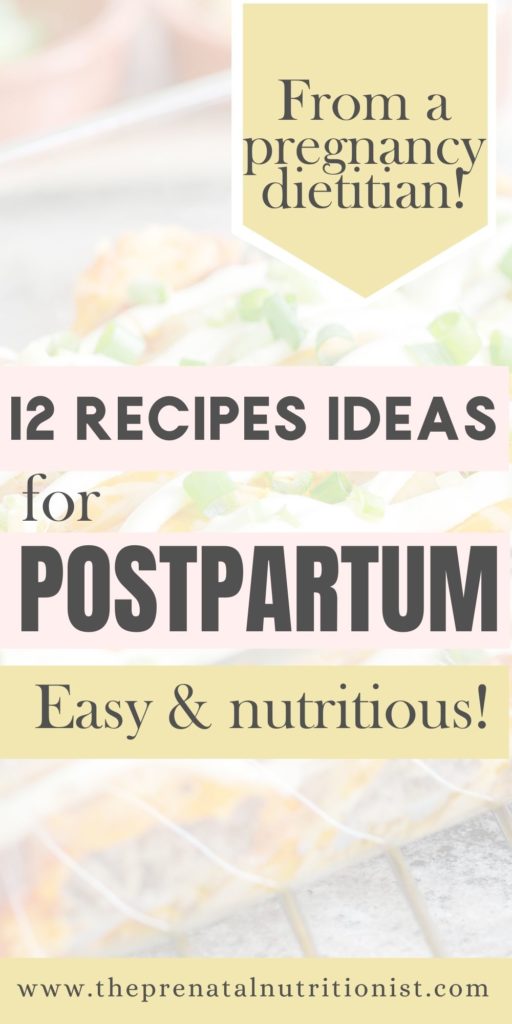 Lentil Soup
Lentils boost protein, non-heme iron, and fiber, aiding postpartum recovery and regularity. Simmered with nourishing carrots, celery, tomatoes, and garlic, this thick and hearty soup supports energy levels during demanding days. Plus, the comfort of a warm bowl of lentil soup in the fall and winter months is unmatched. 
Lentils require no pre-soaking. Layer ingredients in a pot and return to a hot home-cooked meal. 
Ingredients: 
Bone Broth

Dried Lentils

Veggies (like carrots, celery, tomato)

Garlic

Onions
Instructions: 
Step 1 
Sauté garlic and onion in a soup pot until it is softened. 
Step 2 
Add other ingredients like bone broth, lentils, carrots, celery, tomato, and other suitable veggies of your choice. 
Step 3 
Reduce the heat and simmer until lentils are tender. 
Shepherd's Pie
Comfort-defined, minced beef or turkey mixed with fiber-rich peas and carrots becomes even more soothing under a mashed potato crust. Layer the ingredients and bake, allowing extra portions to be frozen quickly for stress-free future meals. Postpartum women will benefit from the iron-rich meat and fiber-filled veggies that aid in regularity. Known for its heartiness, shepherd's pie satisfies and nourishes. 
Ingredients: 
Beef/turkey 

Veggies

Peas and carrots

Onion

Gravy

Potatoes
Instructions:
For specific instructions on preparing Shepherd's Pie, check out this Sweet Potato Shepard's Pie Recipe.  
Enchilada Casserole 
A meal that truly assembles itself! It's comforting, flavorful, and a breeze to make. Chicken, cheese, spices, tortillas, and enchilada sauce create a delicious enchilada casserole. There are plenty of variation options to help you make it a meal that you and your family will enjoy. Protein-rich, this recipe helps to support sustainable postpartum energy. And, of course, freezing a whole casserole beforehand saves busy new moms precious time in the kitchen when most needed.
Ingredients: 
Tomato sauce
Tomato paste
Broth
Spices
Chicken breast
Corn tortillas
Shredded cheese
Sour cream
Lime juice
Avocado
Instructions: 
For specific instructions on preparing a Chicken Enchilada Casserole, check out this recipe.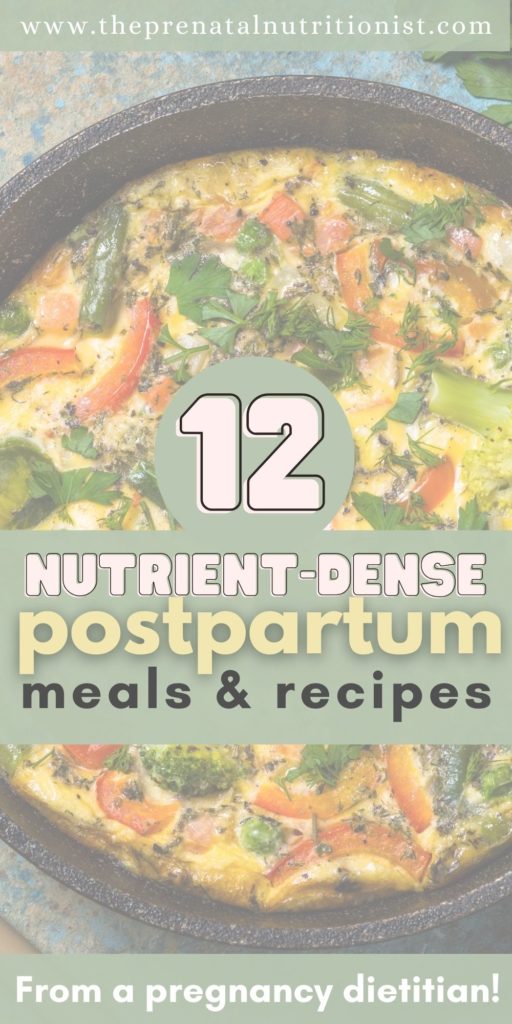 Tuna Salad Sandwich
Tuna mixed with salt, pepper, avocado, and some mayo makes for an easy-peasy lunch idea. Serve on top of sourdough bread to promote satiety. This is a simple meal that delivers balanced nutrition that postpartum mamas need with minimal effort. Tuna provides protein and omega-3s, while avocado provides healthy fats that keep you full. Choose a mayo-like Primal Kitchen that is avocado-oil-based. 
Ingredients: 
Tuna

Salt

Pepper

Avocado

Mayo

Sourdough Bread
Instructions: 
It's as easy as mixing a can of tuna and mashed avocado. Add mayo, salt, and pepper to taste.
Tuna Melt
This warm, cheesy meal delivers protein to support postpartum recovery and is easy to make. Canned tuna is convenient to keep on hand for easy meal prep. This quick meal can be whipped up in 10 minutes.
Ingredients:  
Canned tuna

Whole-Grain, Sourdough, or Sprouted Grain Bread

Cheese slices
Instructions:  
Step 1
Flake the tuna.
Step 2
Layer it on your bread with cheese.
Step 3
Toast open-faced until the cheese melts.
Chicken Parmesan
This classic bundles protein, flavor, and comfort into one skillet. Eggs whisked with Italian seasoning create a crispy crust around chicken cutlets baked with marinara sauce and melted mozzarella. Serve alongside steamed green beans for a balanced, nourishing meal. Prepared ahead of time, individual portions easily reheat from the freezer during demanding days with your new baby.  
Ingredients: 
Chicken

Marinara

Cheese

Pasta

Green Beans
Instructions: 
For more detailed instructions on how to prepare Chicken Parmesan, click HERE. 
Salmon Burger Patties
Form canned salmon into patties and pan fry or bake until cooked through. Then, serve on a whole-grain bun with sliced avocado. This simple yet powerful meal packs nutrients like omega-3s, which may play a role in reducing the risk of postpartum depression. 
Ingredients: 
Canned Salmon

Avocado

Bun
Instructions: 
Step 1 
Form patties from salmon. Add your preferred seasonings. 
Step 2
Cook patties until lightly browned and thoroughly cooked. 
Step 3
Assemble burgers.
Roasted Vegetable Frittata
A frittata makes a perfect addition to any new mom's postpartum meal plan. This dish can easily be enjoyed for breakfast, lunch, or dinner. It utilizes roasted seasonal veggies, which infuse maximum flavor and pack in the nourishment. 
The roasted vegetables provide vitamins, minerals, and fiber to support a new mother's nutrition needs. Eggs contribute high-quality protein, choline, and other nutrients for both postpartum and breastfeeding demands. Assembling the frittata ahead allows busy new moms to enjoy a homemade meal easily. 
Ingredients: 
Assorted veggies like zucchini, bell peppers, tomatoes 

Eggs

Shredded cheese

Salt and pepper
Instructions: 
Step 1
Preheat the oven to 400°F. Toss in the veggies with olive oil and roast for 20 minutes, stirring halfway until browned. 
Step 2
Whisk eggs with cheese and seasonings in a bowl. 
Step 3
Scatter roasted veggies into a 9-inch baking dish coated with cooking spray. Pour egg mixture over.
Step 4
Bake for 20-25 minutes until eggs are fully set.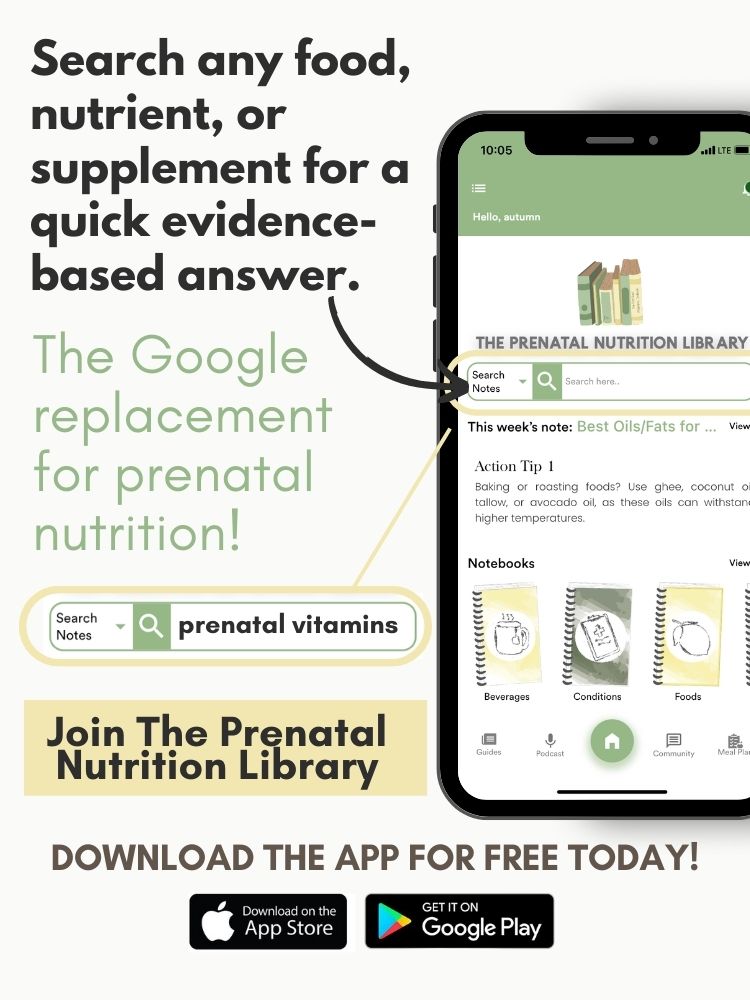 Coconut Chia Pudding
Layer chia seeds soaked in coconut milk overnight for a nourishing breakfast, supplying energy until lunchtime. Hydrating and high in plant-based calcium, non-heme iron, and protein to support postpartum demands, the pudding's thick consistency also helps satisfy hunger. Prepared in advance and portioned into jars, it requires only grabbing and shaking to enjoy a quick breakfast with the baby.  
Ingredients:
Coconut milk

Chia seeds

Maple syrup 
Instructions: 
For specific instructions on how to prepare Coconut Chia pudding, check HERE. 

Nurture your body, mind, and recovery with nourishing and simple meals like these. 
The recipes above provide balance and nourishment to help fuel postpartum recovery, leaving less room for worry about what to eat and drink after delivery. Aim to focus on staying hydrated and supporting balanced blood sugar levels with meals that contain protein, fat, and fiber and easy protein-rich snacks like cheese sticks and hard-boiled eggs.
As a new mom, it's essential to heal your body and nurture your mental well-being through good nutrition. A bit of meal planning and access to home-cooked, healthy meals makes caring for yourself alongside a new family member much more manageable in those early days and weeks. Don't hesitate to accept helpful meals from friends and family, too! Wishing you all the best with your postpartum recovery!
Get our Postpartum Nutrition Guide & Meal Plan to ensure you know what foods to focus on for a smooth recovery and replenishment of your body after pregnancy. You will receive a 30-day postpartum and breastfeeding-friendly meal plan and FIVE bonus downloads. Click here to learn more!
 Want to try a sample meal plan first? Grab your FREE 1-week meal plan here!