Who would have thought that ornate spreads of various kinds of cheese would be the latest trend making waves on and off of social media? Charcuterie boards and cheese boards are all the rage these days. The two terms, often used interchangeably, usually describe a board or platter of different cheeses and other appetizer foods served together.
These spreads are often served at parties and get-togethers or before a meal. Fortunately, you don't have to pass on a delectable charcuterie board just because you're expecting! However, being food-safe and food aware is essential during pregnancy. There are extra food safety items to remember when eating at parties and gatherings.
Today, I will help you put together a pregnancy-safe cheese board! Let's do it! 
Pregnancy-Safe Cheese Board
Pregnancy-Safe Cheese
Eating cheese during pregnancy is a tasty way to get many essential nutrients like calcium, protein, and vitamin D. Hard cheeses are generally considered safe, as are pasteurized cheeses made with pasteurized milk, like most soft cheeses, cream cheese, and cottage cheese sold in the United States. Check out your dairy products for the word "pasteurized" on the food label or ingredient list. 
Most cheese sold in the United States, including soft cheese, is pasteurized. Sometimes farmer's markets or health food stores sell raw or unpasteurized dairy. It's okay to ask questions or spend time checking the labels! And, remember, unpasteurized cheese is not "dangerous" just more likely to grow a germ that could result in a food borne illness. 
The following are examples of cheeses that are safe for pregnant women to eat:
American

Colby

Cheddar

Monterey Jack

Pepper jack

Colby Jack

Mozzarella

Muenster

Provolone

Swiss

Gouda

Parmesan

Romano

Pregnancy-Safe Deli Meat
If you want to add some deli meat to your cheese board, keep it pregnancy-safe by heating it to 165 ℉ or until "steaming hot" before serving. The same goes for cured meats. This is considered the best practice for food safety to reduce the risk of contracting listeriosis to the most significant degree. However, listeriosis is overall rare, including from deli meats.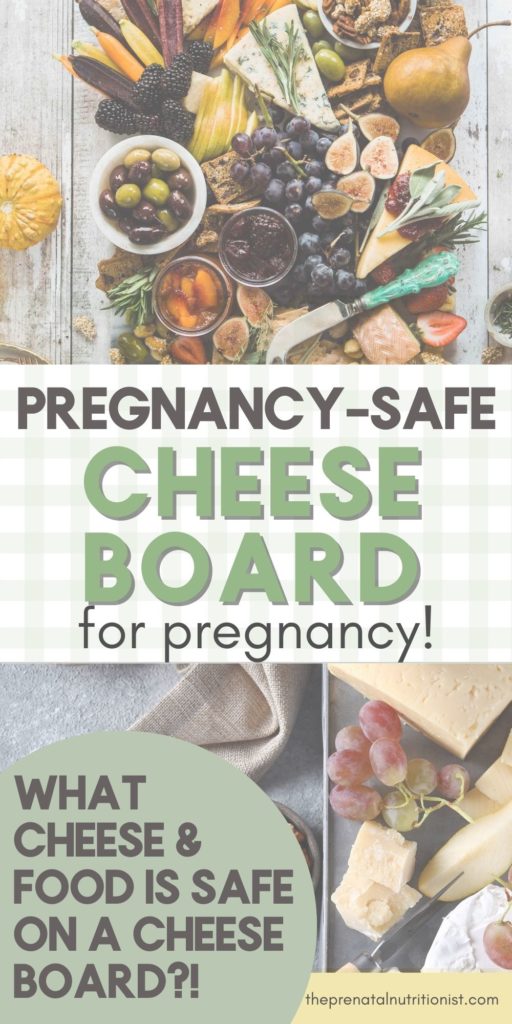 How To Make a Pregnancy-Friendly Cheese Board
One of the reasons cheese boards are so popular (besides looking so pretty) is that you can use just about any ingredients you want. There is no wrong way to make a charcuterie board. If you're craving cheese during pregnancy, here's how to make a safe and super delicious cheese board. 
Step 1: Prepare your cheese board.
Please wash and dry your cheese board or platter before arranging the ingredients.
Step 2: Slice and prep your ingredients.
You can use a separate cutting board to pre-slice your cheese and any other ingredients that need to be cut into bite-sized portions. It's ideal to have AT LEAST two cutting boards in your house. One for raw meats, seafood, and poultry and a separate one for other foods that won't be cooked before eating. 
Other delicious, healthy, and pregnancy-safe cheese board ingredients can include, but aren't limited to:
Fruit – strawberries, blueberries, raspberries, grapes, etc. (dried or fresh)

Vegetables – celery, carrots, cherry tomatoes, etc. 

Pickles

Walnuts

, almonds, pecans, etc.

Hummus 

Dark chocolate

Bread and crackers

Olives 
Step 3: Arrange your cheese board.
This is where you can be creative. On the board, arrange your cheese, meat, and other ingredients, like bread, crackers, dried fruits, pickles, and olives. Use as little or as much creativity as you'd like. Of course, you can add a few garnishes, like fresh flowers, but it's entirely up to you!
As a good rule of thumb, begin by placing your different cheeses. Next, place your meat and vegetables and any dipping sauces or hummus. Then, place the smaller items like nuts, olives, grapes, and blueberries to fill in smaller gaps. And finally, add any garnish. Viola – you now have a delicious and aesthetic cheese board to enjoy! 
Step 4: Enjoy!
Dig in! Try different combinations of cheeses and other ingredients for a delicious bite. Remember, food should be kept from sitting out on the counter for 2 hours or longer than 1 hour when it's hot outside. This is a key food safety practice for pregnancy (and outside of pregnancy).
And again, the best practice with deli meat is to heat it to 165 F before eating. Listeriosis is serious. However, it is rare to contract. So it's ultimately a personal decision weighing the risks to avoid, heat, or eat it cold.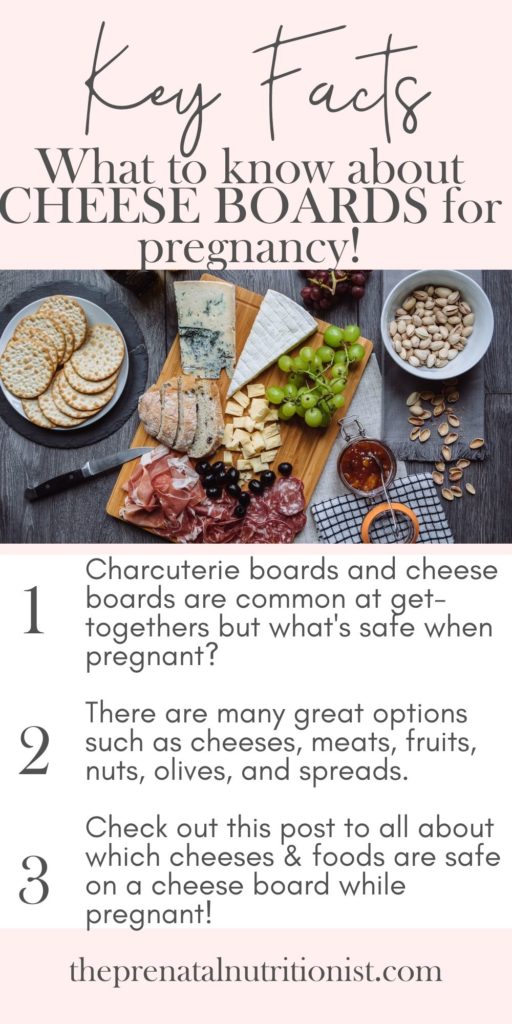 What ingredients would you include in your pregnancy-safe cheese board?
Which cheeses do you enjoy the most? What other ingredients would you add to your board? I'd love to hear what your pregnancy-safe cheese board would look like! Also, if you've already made your pregnancy-safe cheese board, I'd love to know how you put it together. Feel free to leave a comment!
Then, check out The Prenatal Nutrition Library (TPNL). It is the one place to go to find evidence-based nutrition answers to take the stress out of confirming what's safe and what is most optimal for you. So let's decrease stress and increase nutrients for you and your baby! Check out TPNL today.