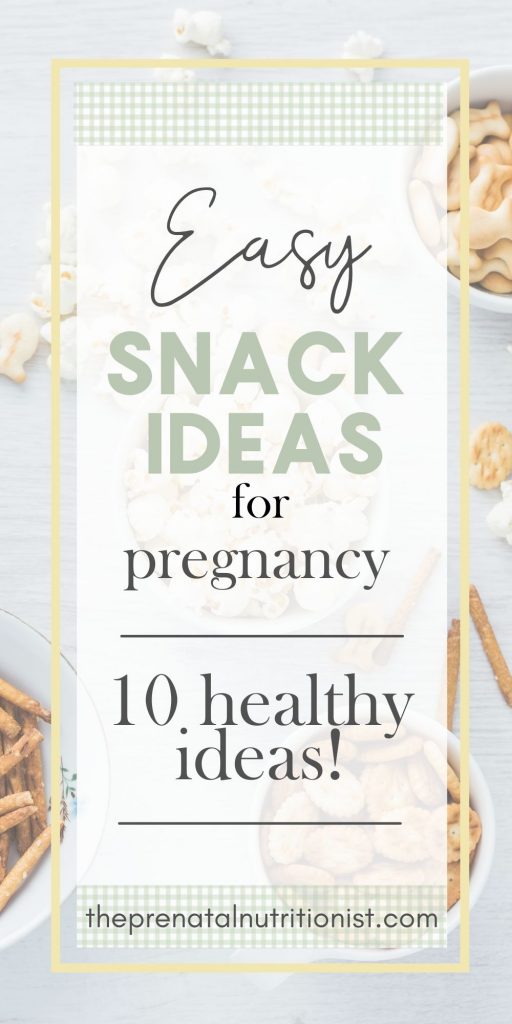 Eating a nutritious diet during pregnancy is so important. Pregnant women need the most nutrient-dense foods to nourish their growing baby. They also need to make sure to meet their daily caloric requirements, and sometimes eating just 3 meals a day isn't enough. A pregnant woman's nutrients go straight to their baby, so it's imperative that mom-to-be replenishes her body with nutrient rich foods. Here's where snacking comes into play! You heard me right, it's time to step up your snack game!  
Healthy snacking is essential for all moms to be. The right snack can help curb cravings, keep you energized throughout the day, minimize your sweet tooth, and minimize nausea. Not to mention many people need those extra calories to support the growing baby! It's no easy task to remain properly nourished while growing a baby. It's important to understand that every bite makes a difference!
Snacks should be just as nutrient-dense as meals hopefully containing protein, fats, and carbs. Of course, you want to make sure you are meeting all your nutrient needs to keep baby growing! If you are on the lookout for the perfect snack ideas, you are in the right place! Today's post is all about simple and healthy snack ideas for pregnant women. Let's dive in!

Snack Ideas For Pregnant Women
Red Apple and Peanut Butter
This is a dynamic duo! Not only is it absolutely delicious, but it also keeps you fuller for longer, thanks to the amount of fiber apples contain and the grams of protein found in peanut butter. It's such a classic for good reason! This snack helps keep you regular and controls blood sugar levels. Usually, a red apple with peanut butter equates to about 283 calories. You're getting a filling and nutrient packed snack here. There's also no need to worry if you have a peanut allergy, as you can easily swap the peanut butter for any other nut butter of your choice.
Homemade Trail Mix
I'm sure you know by now that healthy fats are key for your body to function properly. And, what's perfect about trail mix is that it's packed with enough good fats and nutrients to help pregnant moms sustain their energy! Plus, what's better than making your very own trail mix? You know exactly what's going into your mix.
You can get as creative as you want with this one. Your homemade mix can have cashews, almonds, peanuts, sunflower seeds, dried fruit, and even dark chocolate. It's an amazing way for you to get healthy fats, protein, and sugar all in the same snack. However, because this snack is so delicious we recommend you pay attention to how much you are snacking on. Trail mix is rich in nutrients, but it's also a high calorie snack and can have added sugar. Depending on the ingredients you choose to make your mix, ½ cup can be anywhere from 200-400 calories. However, it's still perfect for those days when you might need that bit of extra energy! 
Guacamole and Carrots
Let's talk dips! A nutritious option is guacamole. Since it is made from avocados, it's a good source of healthy fats, fiber, magnesium, folate, and more. Using carrots as the "dipper" of choice adds even more nutrients to this snack such as vitamin A, biotin, and vitamin B6. You can also eat tortilla chips with your guac, of course, but on a more consistent basis raw veggies like carrots or bell pepper slices are the way to go or maybe some of both.  One cup of carrots and one fourth cup of guacamole will be around 125 calories so you may want to add extra protein to it for a more well-rounded snack.
Greek Yogurt with Fresh Fruit
Hello, summer! Don't mind me, but this healthy snack idea gives me major picnic on a flower field type of vibes. It's refreshing, delicious, and delicate. Expectant mothers can really benefit from it, too! Greek yogurt is a fantastic source of calcium, iodine, potassium, protein, probiotics, and B12. Many studies show probiotic "milk" consumption has benefits during pregnancy like reducing childhood allergies. You can also try cottage cheese with fresh fruit if you don't like greek yogurt.
Plus, the fresh fruits provide lots of fiber and water. These are extremely good for you and your growing baby! Of course, the snack will change depending on which fruit you use, but you can expect to consume around 200 calories when eating it if you eat about 1 cup of fruit. 
Almond Butter Stuffed Dates
If you are one of those people who would much rather eat dessert than any other meal, this is the snack you've been looking for! This is a flavorful combination, perfect for an afternoon pick-me-up. It's super easy to make too. All you need to do is grab your favorite dates and stuff them with creamy almond butter, then sprinkle some sea salt flakes on top. As always, feel free to swap the almond butter with any nut butter of your choice. Trust me, the sweetness of this quick bite is unmatched! 
One almond butter stuffed date will have around 100 calories. It's a healthy alternative though because it lacks any refined sugar and provides a healthy amount of good fats! If you don't like almond butter, try another nut butter or cream cheese!
Hummus and Veggies
This combo is the trademark of a healthy snack. Hummus is always a terrific choice and the veggies give it a nice crunch! Vegetables are high in fiber and antioxidants, while hummus, made from chickpeas, is an excellent source of protein, iron, folate, and manganese. Talk about a way of getting plant-based protein! One serving of this snack is around 180 calories.
Dark Chocolate
Because who doesn't love chocolate? A piece of dark chocolate will always be there to curb your craving for something sweet. There are plenty of flavors to choose from too. Keep it classy with a square of your favorite dark chocolate or try exotic flavors like dark chocolate with chili flakes or dark chocolate seasoned with sea salt. 
No matter what kind you choose, dark chocolate is a powerful source of antioxidants and minerals. During pregnancy, it can help you increase your iron and magnesium levels. This low-sugar snack has multiple health benefits, so enjoy it with confidence on days when you're craving something sweet!
Avocado Toast
This snack is amazing for the first trimester, especially when morning sickness hits. It's simple and nutritious, with lots of healthy carbs, omega-3 fatty acids, and fats. Add a protein on top to make it more filling like eggs, chia or hemp seeds. Pick a real sourdough loaf or sprouted whole grain bread for the best of flavors and maximum nutritional benefits. Top the avocado with olive oil for additional flavor. Avocado toast has about 200 calories, depending on the toppings. It's just as delicious plain or with a boiled egg on top!  
Air-Popped Popcorn
Popcorn is always a fun snack and a crowd favorite. The best part is it's completely customizable. Plus, it's also the best excuse to binge-watch a new series. 
Popcorn is a low-calorie and high-density snack. So, if you're in the mood for a quick bite, popcorn is a great choice. It's high-fiber, easy to make, and only has 30 to 50 calories per cup. If you're craving something sweet and salty, you can even throw in a couple of dark chocolate pieces or chocolate chips like we mentioned above to get the ultimate flavor in one bite! If you're looking to make it a bit more filling, add in cashews or almond slivers. 
Hard Boiled Eggs
We may have saved the best for last, and also one of the easiest! If you are not loving eggs for breakfast, they are definitely worth working in to your snack routine. Eggs are one of the most nutrient-dense foods you can eat during pregnancy, just be sure not to leave out the yolk!
Eggs are a quality source of protein and provide healthy fats. Almost ALL of the micronutrients are found in the yolk so you and baby would be missing out on A LOT if you tossed the yolk. The ~ 126 mg of choline is entirely found in the yolk which is the best source out there. Choline, like folate, is essential for ensuring proper fetal development (i.e. brain and spinal cord development).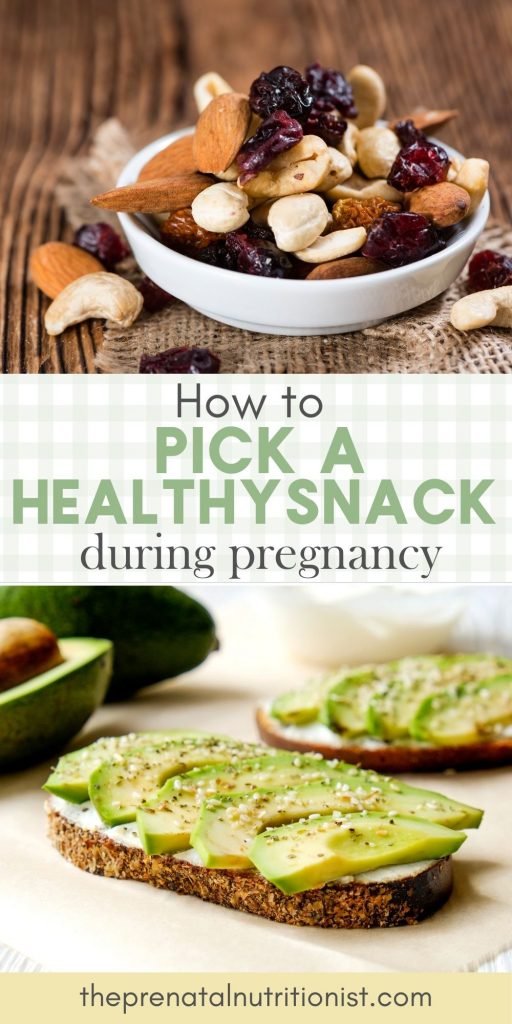 What is your favorite healthy pregnancy snack? 
Healthy snacking doesn't have to be complicated. In fact, it's pretty simple as you can see from my snack ideas. We know how important it is for expectant mothers to eat enough and consume the right nutrients to support fetal development. So we hope this post is a good starting point for you to step up your snack game and feel good about what you eat in between your main meals. Happy snacking! 
To ensure you are meeting your nutrition needs during every stage of pregnancy, we've crafted trimester meal plans that are pregnancy dietitian approved just for you! You can access these as a member of The Prenatal Nutrition Library! They include grocery lists and key foods to focus on per trimester, click here to get your simple yet tasty menu!