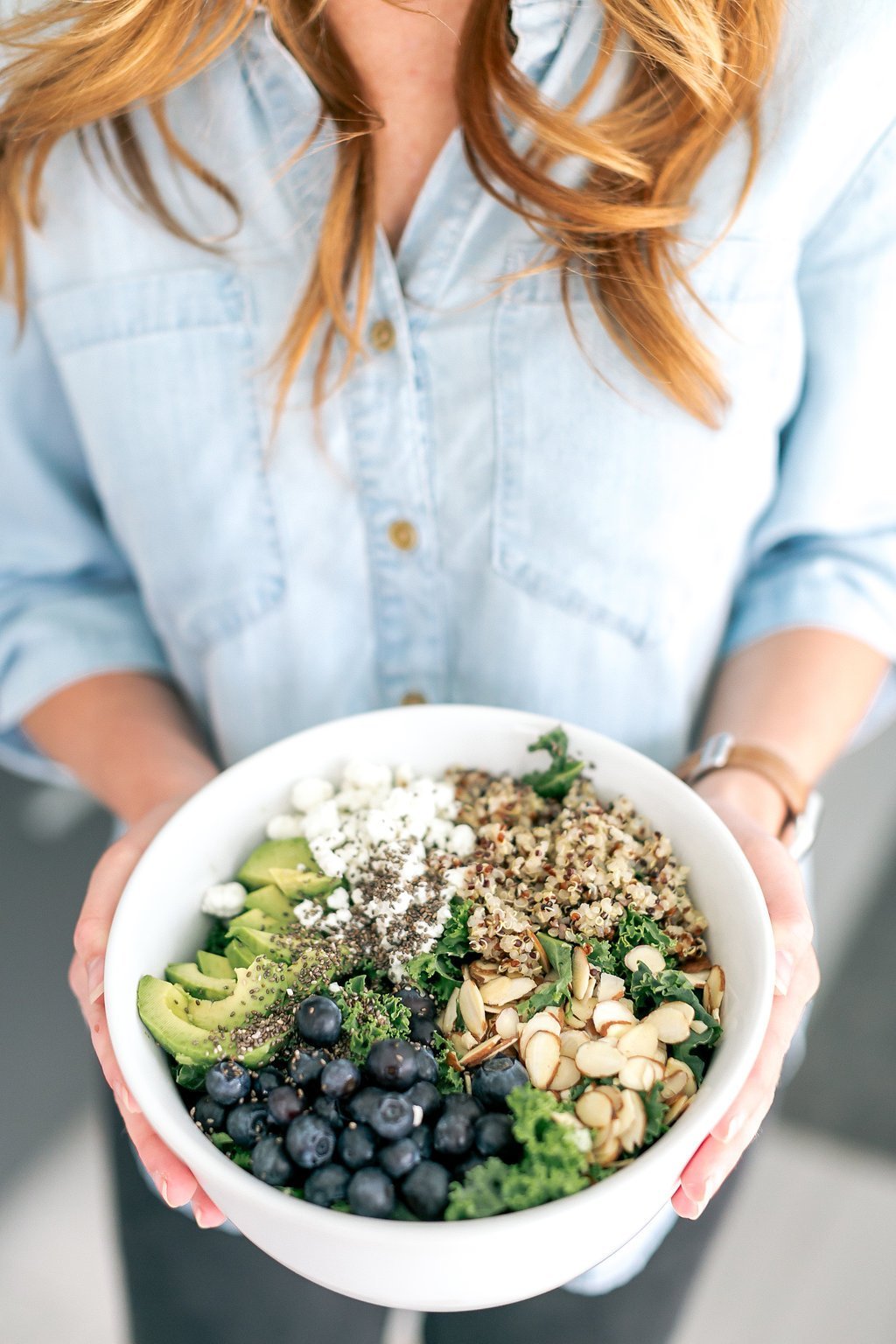 What's better than a colorful, nutrient-dense salad to kick off your summer?
This salad is jam-packed with antioxidants, fiber, and protein. It is also vegetarian & vegan if you remove the goat cheese. In addition, remove the goat cheese if you are currently pregnant or are unsure if you are pregnant or not. This dish is a perfect example of a salad that will keep you FULL and also not leave your stomach grumbling within the next hour.
KALE is a
superstar green
for many reasons. One is that it is high in Vitamin K, a nutrient that is important for growth, development, and maintenance of bones. While Vitamin K deficiency is rare, some medications can interfere with it (check with your doctor). Kale is also a great source of Calcium for those that do not consume dairy ( 2 cups = 160 mg Ca).
Summer Salad that will leave you FULL
Ingredients:
Makes 4 servings
1 bunch kale (around 6 cups)
1 cup quinoa, cooked
1 cup blueberries
1 avocado
1/2 cup goat cheese (optional, remover for vegan)
1/2 cup almond slivers
2 tablespoons chia seeds
Dressing:
¼ cup extra virgin olive oil
¼ cup lemon juice1 tablespoon honey
1 ½ teaspoons Dijon mustard
¼ teaspoon salt & a pinch of black pepper
Directions:
Cook quinoa.
Wash kale and blueberries.
Chop kale and then massage with lemon juice. Massaging kale for a few minutes helps it to be less rigid and not as bitter.
Whisk together dressing ingredients.
Combine salad items and enjoy! Great by itself or with some whole wheat crackers or whole wheat toast.
Nutrients:
Fiber: 11 g
Protein: 13 g
Iron: 4 g
Calcium: 241 mg
Potassium: 879 mg
Vitamin A: 834 mcg
Folate: 97 mcg
(calculations with goat cheese &
without dressing)