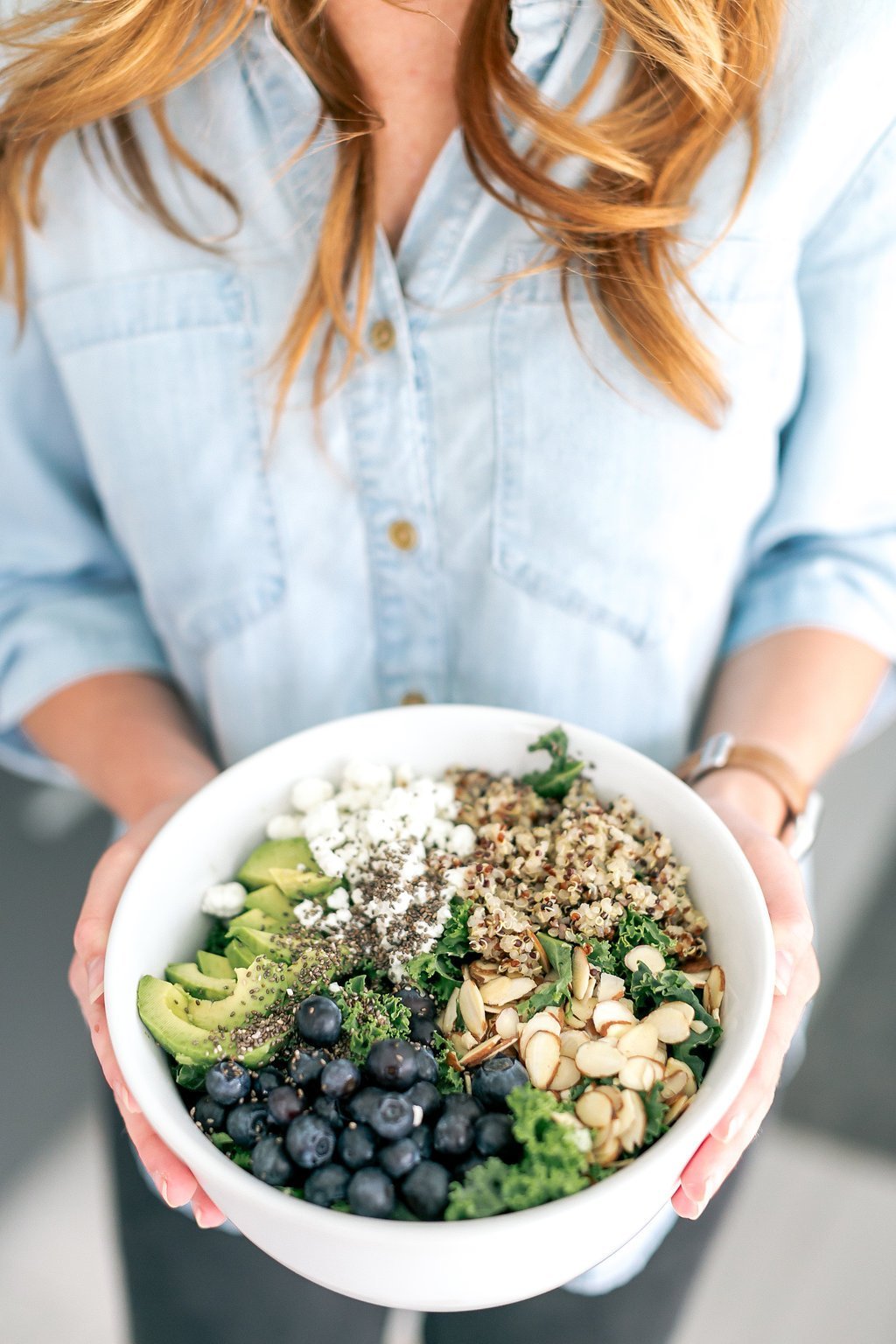 What's better than a colorful, nutrient-dense salad to kick off your summer?
This salad is jam-packed with antioxidants, fiber, and protein. It is also vegetarian & vegan if you remove the goat cheese. The goat cheese is safe for pregnancy if it is pasteurized. This dish is a perfect example of a salad that will keep you FULL and also not leave your stomach grumbling within the next hour. It is very versatile, and ingredients can be swapped easily. You may also want to consider adding a protein to the salad, such as grilled chicken or shrimp.
The main green for this pregnancy salad is kale. KALE is a 
superstar green
 for many reasons. One is that it is high in Vitamin K, a nutrient that is important for growth, development, and maintenance of bones. While Vitamin K deficiency is rare, some medications can interfere with it (check with your doctor). Kale is also a great source of Calcium for those that do not consume dairy ( 2 cups = 160 mg Ca). Check out the salad recipe for pregnancy below!
Summer Salad that will leave you FULL
Ingredients:
Makes 4 servings
1 bunch of kale (around 6 cups)
1 cup quinoa, cooked
1 cup blueberries
1 avocado
1/2 cup goat cheese (optional, remover for vegan)
1/2 cup almond slivers
2 tablespoons chia seeds
Salad Dressing:
¼ cup extra virgin olive oil
¼ cup lemon juice1 tablespoon honey
1 ½ teaspoons Dijon mustard
¼ teaspoon salt & a pinch of black pepper
Directions:
Cook quinoa.
Wash kale and blueberries.
Chop kale and then massage with lemon juice. Massaging kale for a few minutes helps it to be less rigid and not as bitter.
Whisk together dressing ingredients.
Combine salad items and enjoy! Great by itself or with some whole wheat crackers or whole wheat toast.
Nutrients: 
Fiber: 11 g
Protein: 13 g
Iron: 4 g
Calcium: 241 mg
Potassium: 879 mg
Vitamin A: 834 mcg
Folate: 97 mcg
(calculations with goat cheese &
without dressing)
What Do You Put In A Salad For Summer?
You can follow this summer salad recipe with the ingredients above or you can modify and make this your own salad for pregnancy. 
Consider adding these other ingredients to your summer salad recipes for other fresh flavors:
 White Bean
Black Bean
Red onion
Additional summer vegetables like green beans or squash
You can also change up the salad dressing, try a mustard vinaigrette or simple olive oil and lemon dressing
A salad does not just have to be leafy greens. Other healthy "salad" options or side dishes for pregnancy include:
Orzo Salad
Corn Salad
Chicken Salad
Pasta Salad
Potato Salad
Grain Salad
Vegetable Salad
Here at the Prenatal Nutritionist, we hope this salad recipe and other ideas take some of the stress out of maintaining a healthy pregnancy diet! 
Eating healthy shouldn't be a chore, especially during pregnancy. However, with everything else that comes with growing a new human, it can be hard to keep up a good diet. That's why we're here to help!
This healthy recipe is perfect for pregnancy, and we hope we've inspired you to give it a try! With plenty of weeknight and weekend options, we know you'll find at least a few options that you and your family will love. And if your looking for even more ideas and nutrition guidance, join TPNL with code 50off at checkout!
For more on prenatal nutrition, head over to our blog. And, if you're tired of conflicting Google answers, sign up for the Prenatal Nutrition Library today. The Prenatal Nutrition Library is a searchable database, so you will have peace of mind that what you are eating during pregnancy is safe and nutritious. According to one of our members, "TPNL takes away a lot of worry about what to eat, and I love that everything is backed by evidence!". Find more details here!