Who doesn't love receiving gifts, especially when those gifts are food? Here at The Prenatal Nutritionist, we love edible gifts. It means that someone took the time to remember our favorite food or snack. Plus, they are delicious! Giving the gift of something edible is thoughtful, and these types of gifts can mean so much more to the receiver.
Trying to decide what to purchase for your pregnant family member or friend can be hard. There are so many gift options out there like diaper bags, bath salts, baby clothes, blankets, body pillows, essential oils, and more. But, if there is one thing we know, it's that expecting mothers would absolutely love a gift that they can munch on especially close to her due date! Giving pregnant women a food gift can save them time and energy when creating their next meal. It can also provide them with something quick and easy to snack on if they feel tired and make them feel loved. And even help them incorporate new healthy foods into their diet! I like to think food gifts are on the top of a list of best gifts for expecting parents!
Whether your gift is a special surprise or even for the baby shower, a food gift is an awesome gift idea. With that being said, there are some things you should keep in mind when purchasing food gifts for expecting mothers. Of course, certain foods should be avoided completely during pregnancy (like alcohol). But, there are also a few other items to keep in mind to ensure that your food gifts are as nutritious and safe for the baby as possible! So, today we're sharing a roundup of delicious food gifts that are safe and healthy for pregnant moms! Keep reading for a list of eleven thoughtful gifts for pregnant women.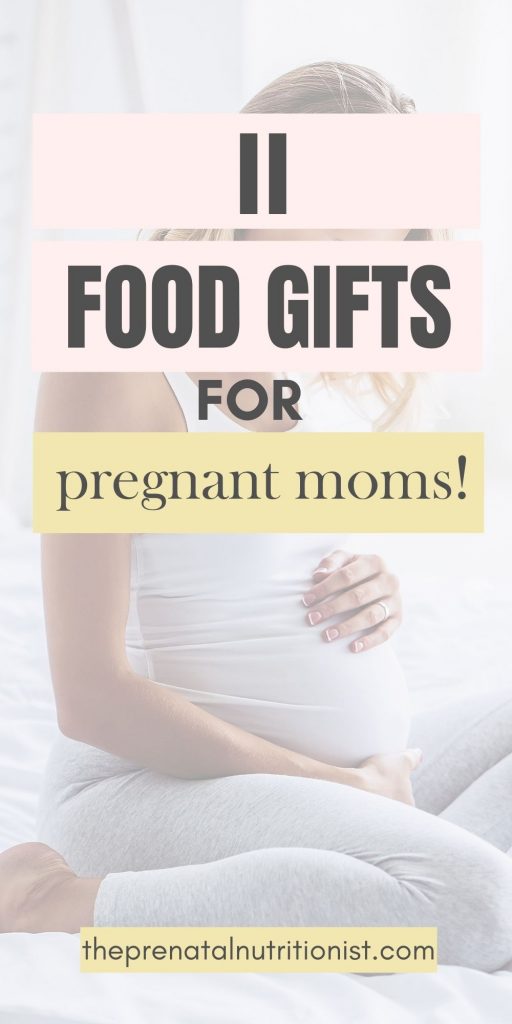 11 Food Gifts For Pregnant Moms
Pregnancy Safe Coffee
Coffee is often considered one of those drinks pregnant women need to give up altogether during pregnancy. This is not necessarily the case and is actually a common myth during pregnancy. Most experts agree eliminating caffeine entirely isn't necessary. However, it is important to watch intake. The American College of Obstetricians and Gynecologists advises caffeine intake of less than 200 mg per day is generally okay.
There are both great, safe for pregnancy, coffee alternatives out there, and even coffees made for expecting mothers with less caffeine per cup. When choosing a gift for your pregnant family member or friend, consider an option like Mommee Coffee or Mama Joe. Or even a lower caffeine tea option, like green or white!
Fruit Basket
Fruit baskets are a delicious gift and would be an awesome food gift idea for any expecting mom. Almost all fruit is chock full of vitamins and nutrients that can help support an expectant mother and growing baby. It also packs in some fiber! This is why fruit is one of the best snack ideas for pregnant women. Consider giving the expecting mom in your life a fruit basket with whole fruits like oranges, mangos, bananas, apples, lemons, pears, pomegranate, and more!
Guacamole
Guacamole is delicious, nutritious, and an excellent food gift for any expecting mother. Avocados are a good source of potassium and magnesium and can help reduce swelling. They are also a good source of folate, which is essential to help support fetal growth and development.
In addition, they are a good source of fiber, healthy fats, magnesium, and vitamin B6. Vitamin B6 has been shown to help reduce nausea. Win-win! Consider giving the expecting mom in your life the ingredients to make homemade guacamole and some sides to dip like whole-grain crackers, carrots, or chips.
Cheese Gift Basket
It is best practice to avoid unpasteurized cheeses during pregnancy. However, that does not mean avoiding all cheese! Pasteurized cheeses are a-okay to enjoy during pregnancy and even a healthy option! Cheese, like pepper jack, cheddar, Colby jack, and swiss, offer essential vitamins and nutrients to the mother and the baby.
Some of these key nutrients include protein, calcium, phosphorus, and vitamin D. When in doubt about what to give the expecting mother in your life, throw together a cheese basket! This is a food gift that will surely please the taste buds. Feel free to spruce up your cheese basket with jams, fruit, crackers, cherry tomatoes, and other foods that pair well with cheese.
Air-popped Popcorn
Who doesn't love some good old-fashioned popcorn? Popcorn is an excellent snack for pregnant women because it contains some extra fiber due to it being a whole grain! It is also a healthier alternative to many other snacks that might be loaded with added sugar. Air-popped popcorn is a great option!
It's easy to find at the grocery store and can be quickly made right on your stovetop. There are also some healthier pre-made options available, like Trader Joe's Organic Air-Popped Popcorn. Popcorn can also be made into a delicious sweet treat for pregnancy any expecting mother is sure to love with the addition of cocoa powder. To make your popcorn gift even sweeter, feel free to add a package of slivered almonds, cocoa powder, maple syrup, or dark chocolate for popcorn toppings.
Dark Chocolate
Mhmmm…chocolate! Chocolate is a yummy treat that many people enjoy. Like most things, moderation is key, but it is a safe option for pregnancy. Dark chocolate, consumed in moderation, can actually have benefits during pregnancy! Dark chocolate contains flavonoids, which are powerful antioxidants.
These flavonoids have been linked to improved blood flow, positive pregnancy outcomes, and reduced risk of preeclampsia. Dark chocolate is also a great treat to help expecting mothers curb those pesky sugar cravings. You really can't go wrong giving the gift of dark chocolate!
Trail Mix
Nuts are a great food to consume during pregnancy. They contain healthy omega-3 fatty acids, protein, fiber, and many essential micronutrients. Research has even shown that intake during pregnancy has been linked to better long-term memory for the baby after birth.
For an awesome food gift idea for the pregnant women in your life, consider buying or making a homemade trail mix that includes nuts, dried fruits, and dark chocolate chips. You can include nuts like almonds, cashews, pecans, walnuts, and macadamias and dried fruits like dates, apricots, oranges, prunes, figs, and raisins – feel free to mix it up!
Nut Butter Variety Sampler
For expecting mothers that love peanut butter, consider gifting a mix of nut butter. Peanut butter is a totally safe option for pregnancy and even has benefits! You can also grab the expecting mom in your life a variety of other nut butters like almond butter, cashew butter, and walnut butter. You can easily pick up a variety pack or DIY-it and purchase them individually. To round out your gift, you could also consider gifting apples, celery, bananas, or other food items that pair well with nut butter!
Assorted Teas
Another awesome gift for an expecting mother is a box of assorted teas. Herbal teas are calming, delicious, and one of the best drinks for early pregnancy. There are indeed some teas recommended avoiding during pregnancy, including licorice root and ginseng. However, many herbal teas can actually be safely enjoyed during pregnancy. Some may even offer benefits like feelings of relaxation, easing stomach aches, and soothing nausea. Pregnancy-safe herbal teas that could be included in your gift include ginger, mint, lemon, peppermint, and green tea.
Food Gift Cards
If you want to get your favorite mama to be a flexible gift that can be used before or after birth, choose a gift card! You can get her a gift card to her favorite smoothie shop, cafe, restaurant, or even her favorite grocery store! I know sooo many mama's that would LOVE a Trader Joe's gift card. Many mamas have also told me a restaurant gift card was a life-saver for an easy meal or two once the baby came home. This can be a fun way to show your pregnant friends that you care and gives room to let them choose foods that fit any cravings or aversions.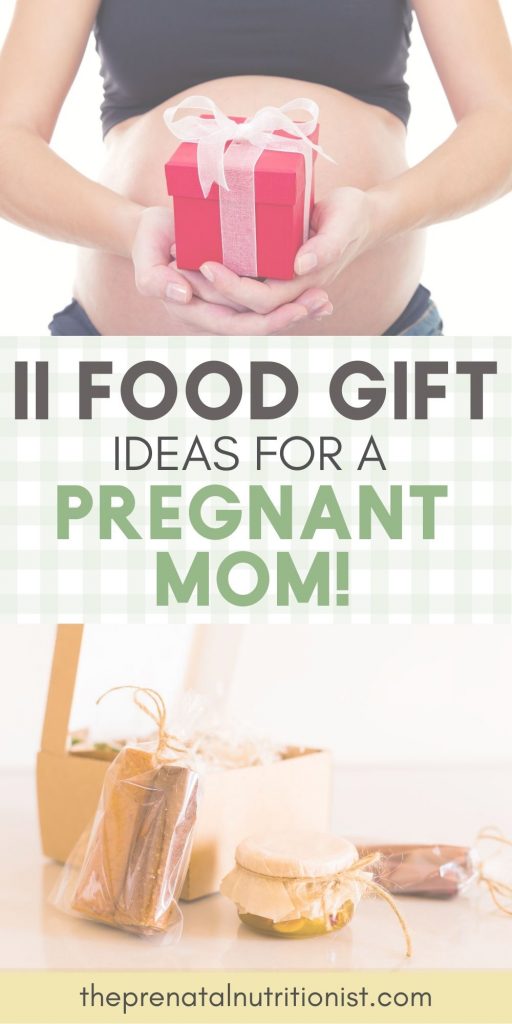 Food gifts are the best gifts for expecting mamas!
Food gifts are the best gifts during this exciting time! Giving the gift of food is thoughtful, considerate, and can be immediately used by the receiver. Any of the food gifts listed above are excellent gift choices for the expecting mother in your life and can easily be personalized to match the mother's palette such as a plant based diet.
As with any food gift, be sure to keep food safety in mind! As you prepare and package any of the above food gift items, be sure to properly wash any fruits or vegetables and use clean utensils and packaging. Taking these precautions will help to reduce the risk of harmful bacteria that could be harmful to the mother or baby.
Learn more about what to eat to have a healthy pregnancy inside The Prenatal Nutrition Library and download our app too! The library is an all-in-one searchable online hub for up-to-date guidance directly from a pregnancy-registered dietitian! You can always gift The Prenatal Nutrition Library as well. An awesome way to help your family or friend decrease anxiety and stress surrounding meals during pregnancy.