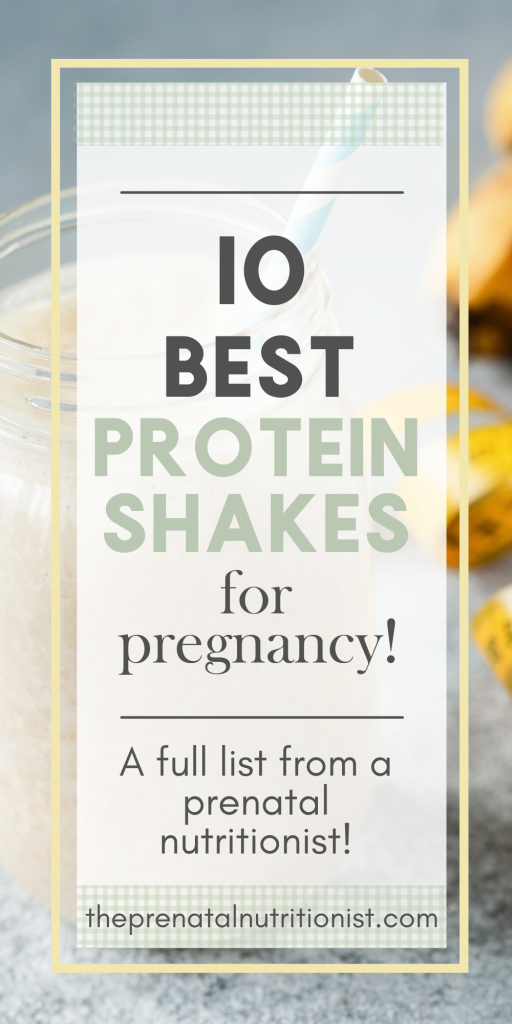 Throughout pregnancy, expecting mothers require extra protein. First and foremost, to support the healthy development of your growing baby and help your body as it goes through the many changes associated with pregnancy. 
There are plenty of protein sources available that are totally safe to consume during pregnancy. Think meat, fish, plant-based proteins, and even DIY protein shakes (or smoothies).
YES – protein shakes can be safe to consume during pregnancy! 
Protein shakes are one of the easiest and most convenient ways for pregnant people to consume enough protein each day. Plus, some protein shakes contain other essential nutrients that can help support a healthy pregnancy. 
However, not all protein shakes are created equal, and there are some precautions pregnant women should take before consuming just any shake, mainly if it includes protein powder. Read this article for a comprehensive guide on choosing the right protein powders for pregnancy. 
If you'd rather skip the hassle of research and get straight to the point, The Prenatal Nutrition Library has got you covered! It will answer all your burning protein powder questions and you won't have to search any longer. Sign up today with an exclusive offer (get 50% OFF your first month with code 50OFF)  and you can learn how to calculate your specific protein needs, and get a complete list of the best pregnancy-safe protein powders and SO MUCH MORE.
All that being said, we love sharing as much prenatal information with our readers as possible. And, we think ALL expectant mothers should have access to a roundup of pregnancy-safe protein shakes. Not only to make meeting nutritional needs easier but to take some of the stress out of maintaining a healthy pregnancy diet. 
So, let's dive right in and discuss the ten best protein shake recipes (and smoothies) for pregnancy!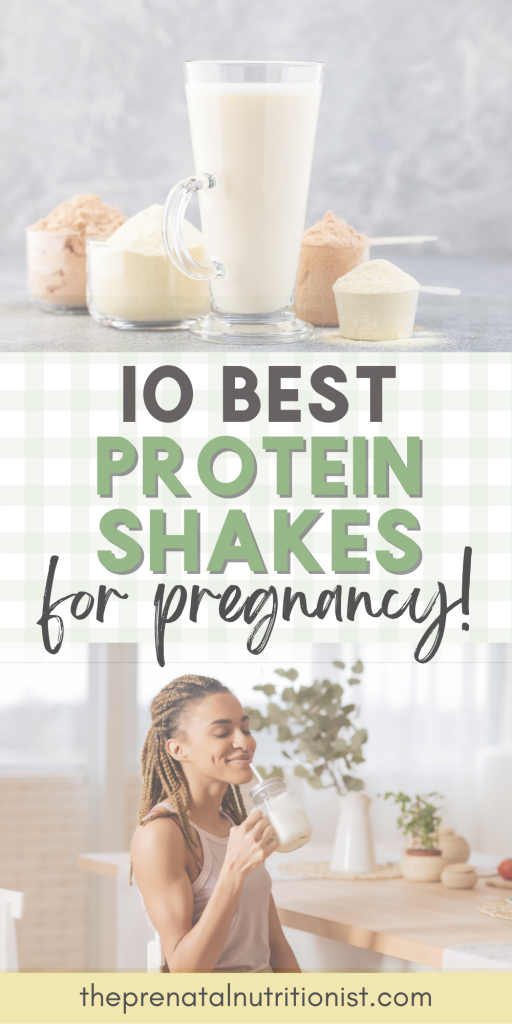 10 Best Protein Shakes For Pregnancy
Let's start with a quick and simple shake. This strawberry chia seed shake is perfect for pregnant women on the go. With only four ingredients, whipping this shake up takes almost no time at all. Plus, you might already have everything you need! Ingredients include unsweetened almond milk, strawberries, organic vanilla protein powder, and chia seeds.
The addition of chia seeds has many benefits for pregnancy, including boosting energy levels, fiber to help combat constipation, and iron to help reduce the risk of anemia. 
Protein: 22.5 grams
We LOVE this protein punch pregnancy smoothie. It's dairy free, takes less than 10 minutes to prepare, and is full of delicious ingredients. It makes a great smoothie choice for those that need additional calories or weight gaining more weight during pregnancy. Plus, it contains more protein than any other smoothie or shakes on this list.
You'll need bananas, cashew milk, peanut butter, soaked chia seeds, and cinnamon to make this smoothie. One of our favorite things about this recipe is that it can easily be stored for later, making it a great meal prep recipe for busy moms-to-be.
Protein: 33 grams
This green smoothie is chock full of nutrient-dense ingredients that are sure to fill your tank and keep you energized all day long. The ingredient list includes spinach, apple, banana, avocado, ginger root, flax seed meal, turmeric, chia or hemp seeds, and collagen peptides powder. Yes, collagen peptides powder is safe during pregnancy too.
Collagen is one of the most abundant proteins in the body. Protein, including collagen, is excellent for a baby's bones, skin, organs, blood vessels, corneas, and teeth. For more green smoothie inspiration, click here. 
Protein: 23 grams
Peanut butter, flax seeds, and Greek yogurt are all excellent food sources of protein. And they are all found in this delicious flaxseed protein shake. Aside from those ingredients, you'll also need one ripe banana and 1/2 a cup of your favorite milk. We love this recipe because it is super versatile.
You can feel free to substitute the Greek yogurt for another protein, like chia seeds, whey powder, collagen peptides, etc. and it will still maintain its yummy flavor. 
Protein: about 22 grams, depending on the type of milk you use. 
Looking for a shake that can also satisfy that sweet tooth? Look no further than this chocolate-peanut butter protein shake. Ingredients include unsweetened vanilla soy milk, frozen bananas, organic cocoa powder, Greek yogurt, and natural peanut butter. YUM! These ingredients work together to create a delicious shake that's chock full of protein, calcium, potassium, and vitamin B12. 
Protein: 26 grams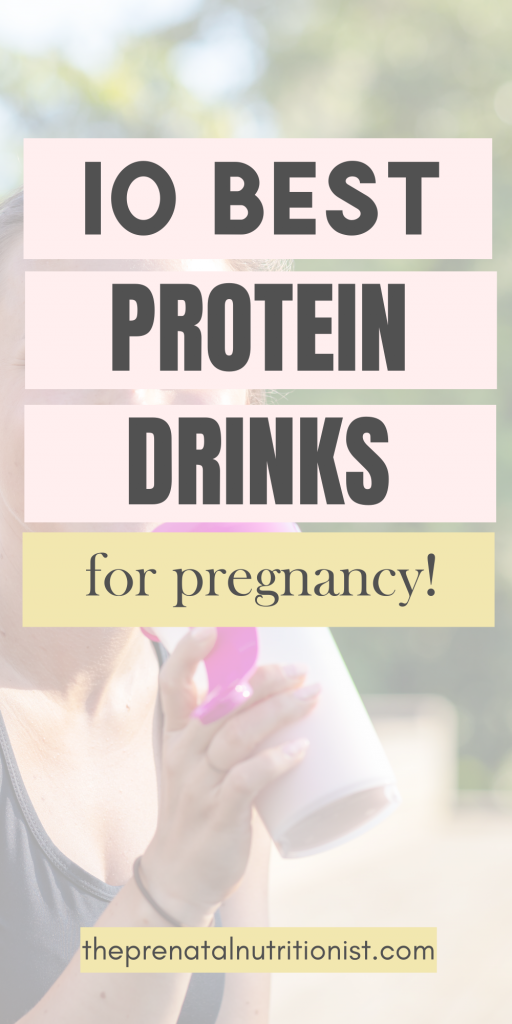 If superfoods were actually a scientific thing, blueberries and kale would both be pregnancy superfoods, making this smoothie a nutritional powerhouse. Dark leafy greens, like kale, provide a plethora of essential nutrients for expecting mothers, and blueberries are chock full of antioxidants.
For this recipe, you'll need plain yogurt (feel free to choose full-fat), blueberries, bananas, kale, pregnancy-safe protein powder, flax seed meal, and cinnamon. Throw all these ingredients in your blender, add ice for texture, and drink up!
Protein: 17 grams
This pregnancy smoothie is excellent for pregnant women during any trimester, even preconception and postpartum. It includes organic berries, bananas, organic virgin coconut oil, flax seeds, hemp hearts, your choice of dark leafy greens, and unsweetened vanilla almond milk. From this smoothie, you'll get plenty of fiber, complex carbs, antioxidants, and calcium.
To bump up the protein, feel free to choose a cow's milk or add in a scoop of your favorite pregnancy-safe protein powder. 
Protein: 7.7 grams
This strawberry-banana high-protein shake is the perfect way to start your day or cool off on a sunny afternoon. It combines soy milk, orange juice, flax seeds, whey protein powder, bananas, strawberries, and flax oil for an ultra nutritious and refreshing drink. Other than protein, this shake is a good source of potassium, fiber, antioxidants, and vitamin C to support a healthy pregnancy diet. 
Protein: 26 grams 
Craving pumpkin? Fall or not, this pumpkin pie protein smoothie is sure to hit the spot. This smoothie packs in flavor and tons of nutrients with its list of ingredients, including greens, cinnamon, pumpkin, banana, coconut milk, and more. This means it boasts healthy fat, potassium, and lots of antioxidants.
It also includes the addition of your favorite pregnancy-safe protein powder. While pumpkin might seem like a weird smoothie ingredient, it has many health benefits during pregnancy, including strengthening your immune system. 
Protein: 23 grams 
To close out, here's another green protein smoothie that is perfect for pregnancy. Especially when it comes to soothing the stomach and replenishing the body after morning sickness. Although it only contains 7 grams of protein, it's easy to bump this up with the addition of ingredients like Greek yogurt, milk, protein powder, or collagen peptides powder.
Ingredients include red grapefruit juice, kale or baby spinach, apples, cucumbers, celery, hemp hearts, frozen mango, fresh mint, virgin coconut oil, and ice. 
Protein: 7 grams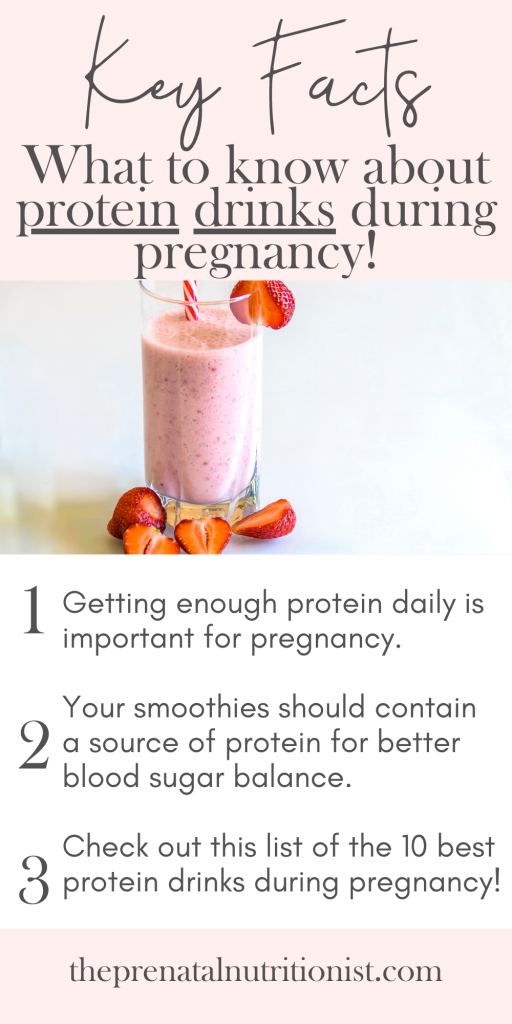 Need a protein boost? Try one of these protein shake smoothies for pregnancy!
Adequate protein intake is essential during pregnancy for a variety of reasons. Protein needs are individualized and depend on factors like weight and activity level. Most pregnant people need at least 75 grams per day. Protein needs do increase throughout pregnancy too. To ensure you're meeting your needs, feel free to incorporate some of these delicious protein shake smoothie recipes! 
Keep in mind that protein powder is safe for pregnancy, but only when you are aware . When choosing protein powders, make sure to select a type of protein that is safe for pregnant women. If you're in search of a pregnancy-safe protein powder brand for pregnancy or wondering if your go-to choice is safe during pregnancy, join The Prenatal Nutrition Library (get 50% OFF your first month with code 50OFF). We review protein powder brands, have a FULL SMOOTHIE GUIDE, and a pregnancy Registered Dietitian answers your questions every week inside the library community forum!
For more tips on prenatal nutrition, head on over to The Prenatal Nutritionist Blog and follow on Instagram. We hope this list of pregnancy-safe protein shake recipes has inspired you, and we encourage you to mix it up and create one of your own!