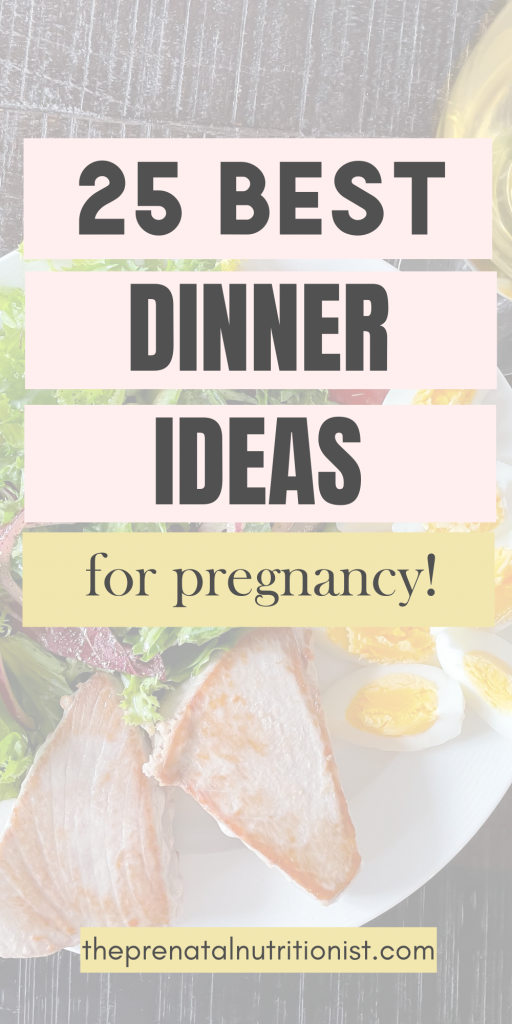 Nutrition should be of the utmost importance during pregnancy – but since you're here, I'm guessing you already knew that! Choosing a variety of nutrient-packed foods can help your baby grow healthy AND help you maintain a healthy weight gain during the pregnancy journey. 
A healthy pregnancy diet can also reduce the risk of unwanted pregnancy complications, as well as many common symptoms of pregnancy, like swelling, heartburn, indigestion, and constipation. 
However, despite our best efforts, for most people, pregnancy brings on fatigue, nausea, and more. This can make it even harder to focus on maintaining a healthy diet. But, if we can find a way to get into a routine of cooking dinner, as well as getting the nutrients you need can help ensure that you are feeding yourself and your baby well. The foods and pregnancy recipes you eat during pregnancy are crucial to your energy and baby's growth. 
So, to make cooking healthy meals a little less daunting, we're sharing a roundup of dinner ideas packed with the nutrients you and your baby need for a happy and healthy pregnancy! And a plus, most only take 20 minutes to 30 minutes!
BUT FIRST, don't miss this deal: 50% OFF your first month of The Prenatal Nutrition Library (code: 50OFF), the first searchable app for food during pregnancy, so you know what you eat is safe and nutritious for you and your baby. Plus, get access to trimester-specific meal plans (with even more dinner ideas) so you know you are meeting your needs!
Let's go!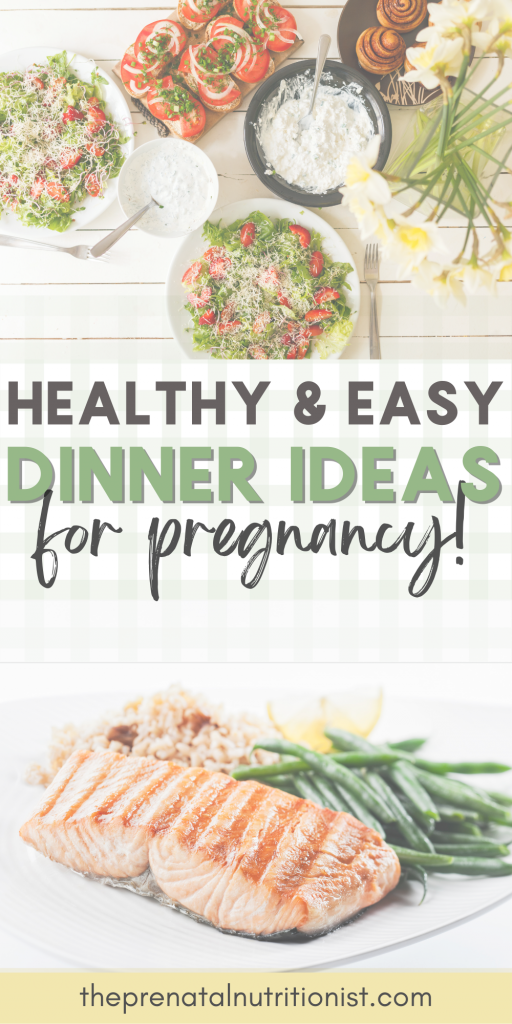 25 Best Dinner Ideas For Pregnancy
Just because summer is ending doesn't mean you can't enjoy this refreshing summer salad. It includes kale, quinoa, blueberries, chia seeds, avocado, almonds, and goat cheese – an absolute nutritional powerhouse.
With ingredients that will leave you feeling full and satisfied, this salad is also a great meal option for those dealing with gestational diabetes. 
Beets have a TON of benefits during pregnancy. To name a few, beets promote good digestive health, help prevent neural tube defects, and may reduce the risk of anemia. It can be hard to come up with recipes that include this nutritious vegetable, so we included this yummy beet salad.
In addition to beets, this salad includes arugula, feta cheese, pecans, and cranberries. 
This creamy roasted pumpkin soup is the perfect dinner-time comfort food for the fall season. Because it takes just over an hour to prepare, we recommend whipping up enough soup for the whole week.
Meal prep for the win! In addition to sugar pie pumpkin, you'll need olive oil, yellow onion, garlic, cinnamon, nutmeg, honey, cloves, vegetable broth, coconut milk, and more – YUM! 
This is a great weeknight recipe with only 10 minutes of prep time and 25 minutes of cooking time. This baked cod and mashed potatoes dish is chock full of iodine (as well as a plethora of other nutrients). Iodine supports thyroid health and function, which is critical for a healthy pregnancy.
To prepare the cod, you'll need olive oil, lemon, cherry tomatoes, salt, and pepper. And for the mashed potatoes, you'll need greek yogurt, whole milk, salt, pepper, and Italian seasoning.  
Salmon is one of the best low-mercury fish options for pregnancy. It is an excellent source of protein during pregnancy. Plus, it's loaded with healthy omega-3 fatty acids and plenty of other vitamins and minerals—so many wins when it comes to salmon. Incorporate more salmon into your pregnancy diet with this Napa Valley-inspired salmon dish.
Ingredients include honey, dried thyme, dijon mustard, lemon zest, white pepper, and salmon. Serve with the recommended leeks and beans, or add your sides! 
We are looking for a nutritious recipe that can easily feed the whole family? Look no further than this instant pot beef stew! The recipe provides around eight people and takes only one hour to prepare – perfect for moms or moms who are busy.
With stew meat, acorn squash, carrots, bone broth, and shallots, this beef stew is chock full of protein, iron, fiber, potassium, magnesium, and carotene. It's also a great source of vitamins A and C and several B vitamins. 
Your pregnancy diet doesn't have to be boring! Mix things up with this Mexican-inspired dish that will satisfy your taste buds while helping you maintain your healthy meal plan. To whip up this delicious seafood entree, you'll start by making a savory salmon paste that includes coconut oil, chili powder, garlic powder, smoked paprika, salt, and lime juice.
Coat your salmon evenly and toss them in the oven. While your salmon is baking, you'll saute your corn with olive oil, garlic, chili powder, salt, cilantro, lime juice, greek yogurt, and cotija cheese. Then, combine and serve! 
Did you know that organ meat is especially beneficial during pregnancy? Well, it is! Organ meat is more nutrient-dense than other cuts of beef and is an excellent source of DHA, iron, zinc, magnesium, phosphorus, selenium, and more. That's why we highly recommend this delicious liver and onions recipe.
You can whip this dish up in only 25 minutes, and all you'll need is sliced beef liver, Vidalia onions, butter, milk, flour, salt, and pepper. A few ounces of liver per week does the trick!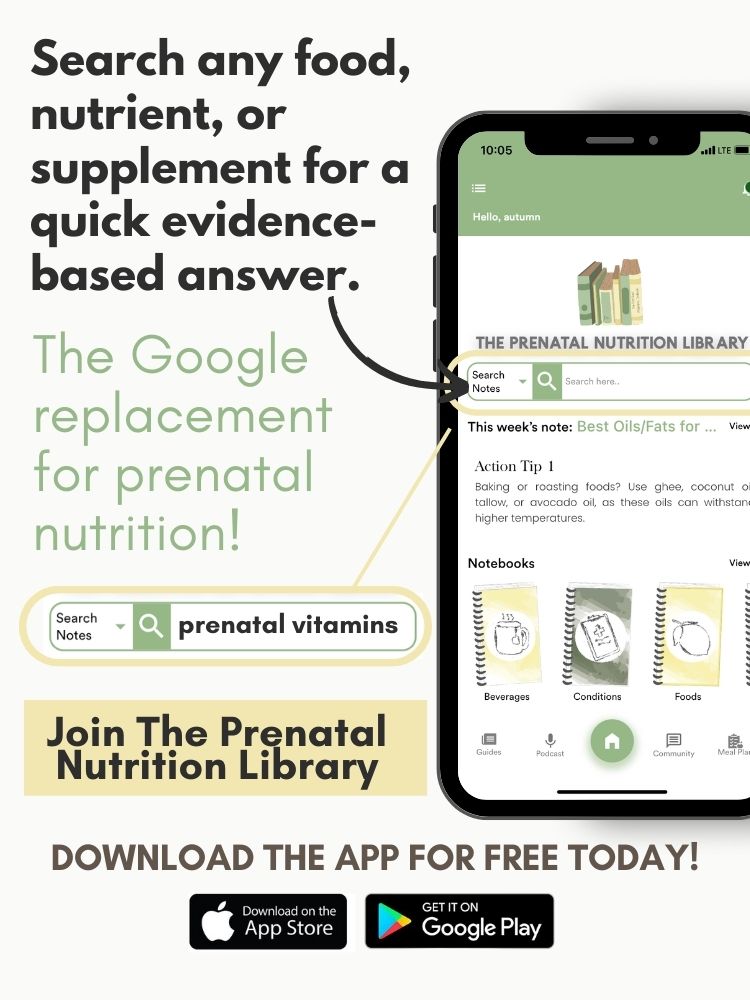 With B12, omega-3 fatty acids, calcium, iron, zinc, and protein (and very low levels of mercury), sardines are one of the best seafood to consume during pregnancy. You'll love this creamy sardine pasta even if you're not a big fan of sardines.
Ingredients include canned sardines, linguine or fusilli, olive oil, garlic cloves, rosemary, parsley, black olives, passata, and dried bread crumbs – all topped with some parmesan cheese. YUM!
Pumpkin is a must-have addition to any pregnancy diet! This fruit (yes, FRUIT) is an excellent source of antioxidants and contains many nutrients, including potassium, fiber, and vitamins C, K, and E.
This hearty pumpkin risotto recipe calls for pureed pumpkin, quinoa, butter, shallots, veggie stock, cremini mushrooms, fresh sage, parmesan cheese, salt, and pepper. It makes 4-6 servings and takes only 40 minutes to prepare, making it an excellent option for any night of the week. 
Here's another delicious salmon recipe that's perfect for your pregnancy diet! With only four steps and minimal ingredients, you can whip up these salmon cakes in no time. For this recipe, you can use fresh or canned salmon, depending on your preference.
First, you'll combine salmon, bread crumbs, red onion, fresh dill, egg, mayo, and horseradish into a large mixing bowl. I'd opt for a full-fat, regular mayo. Once thoroughly mixed ingredients, you'll make 4-6 patties and fry them in a large skillet until both sides are golden brown. Serve with a light side like salad, asparagus, or Brussel sprouts.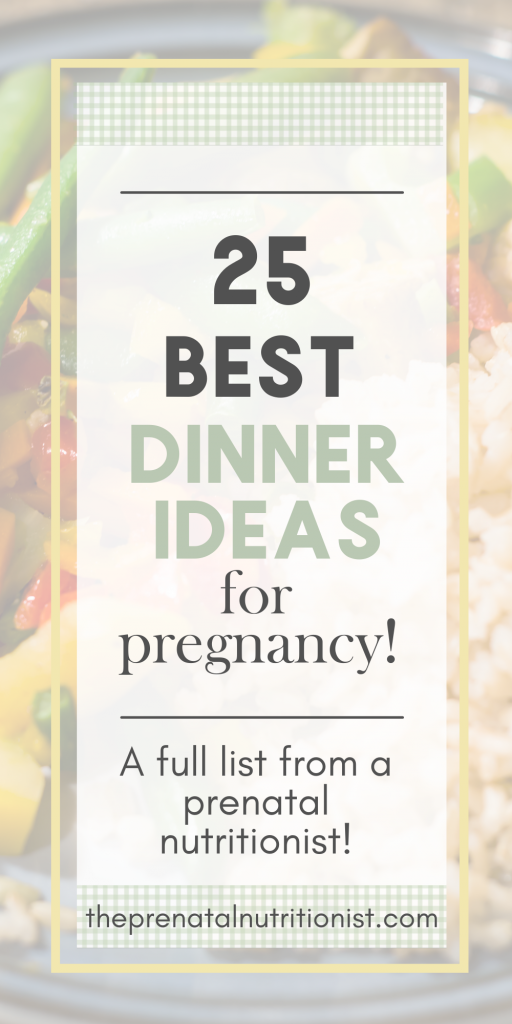 Nachos for dinner? Yes, please! But not just any nachos…baked sweet potato nachos! This is one the whole family can get behind. Start by choosing your protein – chicken, beef, pork, or fish. Then, between layers of yummy sweet potato chips, you'll add your protein, black beans, salsa, cheese, diced tomatoes, fresh cilantro, green onions, sliced jalapenos, black olives, and diced avocado. Bake and enjoy!   
Are you looking for another organ meat recipe? Try this delicious chicken liver pate. Because pate is served chilled, this dish is an excellent option on those warm summer nights. This recipe is super simple to make, takes only 35 minutes to prepare, and feeds 6-8—so many wins. To whip up this nutrient-dense dinner plate, you'll need chicken livers, onion, garlic, bay leaf, thyme, butter, salt, pepper, and toasted baguette slices. It is important to note, that pate is considered a slightly higher risk food choice during pregnancy for the potential to cause food borne illness. The risk is minimal, and liver is a super nutrient-dense food, but ultimately a personal decision! 
Salmon, sweet potatoes, and asparagus are some of the most recommended foods for pregnancy. So, why not combine them all for an ultra-healthy pregnancy dinner? We think YES! To make this yummy dinner entree, you'll bake the salmon and asparagus together while you prepare the sweet potatoes separately. Besides these three main ingredients, you'll need butter, lemon juice, garlic cloves, garlic powder, parsley, rosemary, paprika, cornstarch, salt, pepper, and oil. 
Liver again? YES – the benefits of organ meat are too many to ignore, especially in moderation during pregnancy! If you're tired of basic liver and onions, you must try these BBQ liver meatballs. Ingredients include minced beef, liver, onion, garlic, paprika, salt, pepper, olive oil, and your favorite BBQ sauce. This recipe is gluten-free, dairy-free, and nut free for those with food allergies. Plus, it contains a whopping 26 grams of protein and plenty of fiber, magnesium, and potassium. 
Here's another salmon recipe, but with a Mexican cuisine-inspired twist. Take your Taco Tuesday to the next level with this colorful and hearty dish that's chock full of protein, omega-3s, folate, niacin, iron, and more. You'll need salt, pepper, cajun seasoning, and olive oil for the salmon. And for the salsa, you'll need pineapple, avocado, red onion, small red tomatoes, cilantro, and lime juice. Combine and serve with warm tortillas. 
We're big fans of sweet potatoes and for good reason! Sweet potatoes are chock full of complex carbs, which means they support a healthy digestive system and provide more energy for expecting mothers. Not to mention, they contain potassium, fiber, and vitamins B6 and C. For a twist on the basic sweet potato, try this sweet potato noodle stir fry! This dish contains many Asian cuisine-inspired ingredients that combine to make a sweet and savory entree – sure to please the whole family. 
It takes only 15 minutes to whip up this delicious pan-seared tilapia, making it the perfect weeknight meal. Tilapia is safe to consume during pregnancy and is even recommended due to its low mercury content and high nutrient content. To make the tilapia, you'll need flour, olive oil, butter, parsley, thyme, lemon juice, salt, and pepper. Pair with your favorite healthy sides and serve! We recommend broccoli, asparagus, brown rice, or sweet potatoes! 
This meat stew is the last organ meat recipe on our list today. It's gluten-free and dairy-free for those with food allergies and chock full of vitamins and minerals that all support a healthy pregnancy. Ingredients include beef heart, beef kidney, some low-carb veggies (such as mushroom, onion, garlic, and cauliflower), parsley, whole peppercorn, and bone broth. We love slow-cooked stews like these because they are SO EASY to meal prep, saving you time and energy. You will have lunch or dinner for the whole week in just a couple of hours! More lunch options here. 
With only four steps and five ingredients, dinner doesn't get much easier than this tilapia scampi. You'll, of course, need some tilapia, as well as butter, lemon juice, garlic, and parsley. (We love herbs like garlic and parsley because they have many benefits during pregnancy. Check out other pregnancy-friendly herbs here.) While your tilapia is baking, whip up some yummy side dishes like brown rice, carrots, or salad. Combine and serve! 
Here's another fall favorite. This gluten-free and grain-free meal is perfect for those who love to prepare meals ahead of time. Even re-heated, this chili maintains its mouth-watering flavor. With many yummy spices, including oregano, cumin, cinnamon, cayenne, and chili powder, this meal is sure to please the taste buds. Plus, the chicken broth, pumpkins, and tomatoes bring a variety of vitamins and minerals to the table. For an extra little something, top with avocado, cilantro, green onions, and shredded cheese. 
Are you looking for another quick weeknight meal? You've found the perfect recipe! This spaghetti with sardines recipe contains 21 grams of protein and 5 grams of fiber, folate, plenty of complex carbs, and even omega-3s. This recipe is a nutritional powerhouse. To whip up this Italian-inspired dish, you'll need spaghetti, olive oil, garlic cloves, chili flakes, tomato, sardines, black olives, capers, and parsley! 
The last seafood recipe on our list today is this lemon rosemary tilapia. Trust us when we say the citrus compliments the taste of tilapia PERFECTLY. Other than lemon and rosemary, you need salt and pepper. To prepare this recipe, season your tilapia and throw it in the oven for 15-20 minutes. Such an easy recipe – both nutritious and delicious. Pair with your favorite sides and serve!
Some dinners require an appetizer, right? That's why we've included this onion and bacon liver pate. It consists of a ton of healthy ingredients like garlic, apple cider vinegar, olive oil, chicken liver, and onions – all of which provide a plethora of essential vitamins and minerals. Serve with bell peppers and other fresh veggies. Other than an appetizer, you can enjoy this pate as a sandwich spread! Liver is best consumed in moderation. Learn more about eating liver during pregnancy inside The Prenatal Nutrition Library. 
Breakfast for dinner, anyone? The last recipe on our list today is for some delicious plant-based pancakes. Made with zucchini, soy milk, eggs, blueberries, almonds, and a pre-made pancake mix, these pancakes are a super nutrient-dense choice. They are delicious and can help ensure you're consuming plenty of fruits and veggies in your pregnancy diet. Plus, they can even help you fight those pesky sugar cravings!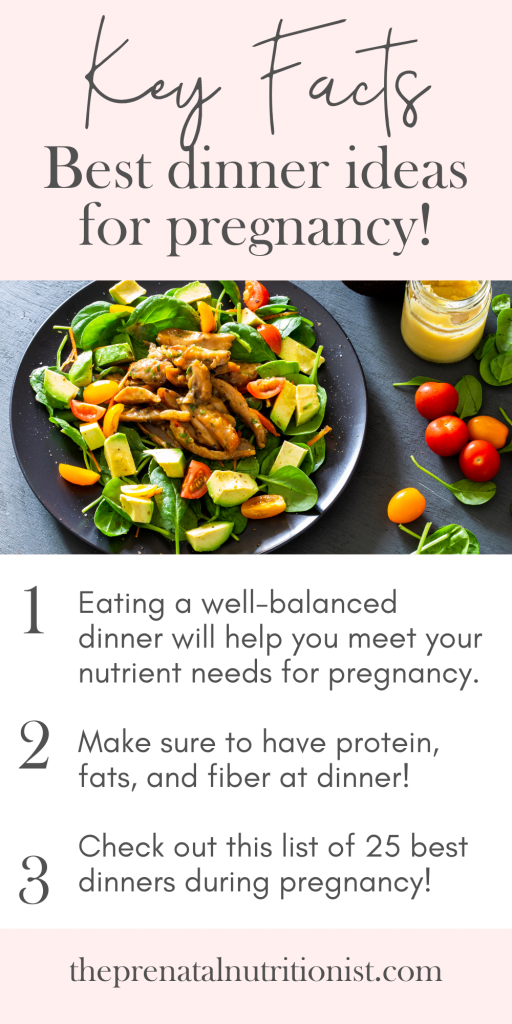 Here at the Prenatal Nutritionist, we hope this roundup of pregnancy meals takes some of the stress out of maintaining a healthy pregnancy diet! 
Eating healthy shouldn't be a chore, especially during pregnancy. However, with everything else that comes with growing a new human, it can be hard to keep up a good diet. That's why we're here to help so choose a healthy pregnancy recipe to make this week!
These healthy dinner recipes are perfect for pregnancy, and we hope we've inspired you to give some of them a try! With plenty of weeknight and weekend options, we know you'll find at least a few options that you and your family will love. And if your looking for even more ideas and nutrition guidance, join TPNL with code 50off at checkout!
For more on prenatal nutrition, head over to our blog. And, if you're tired of conflicting Google answers, sign up for the Prenatal Nutrition Library today. The Prenatal Nutrition Library is a searchable database, so you will have peace of mind that what you are eating during pregnancy is safe and nutritious. According to one of our members, "TPNL takes away a lot of worry about what to eat, and I love that everything is backed by evidence!". Find more details here!