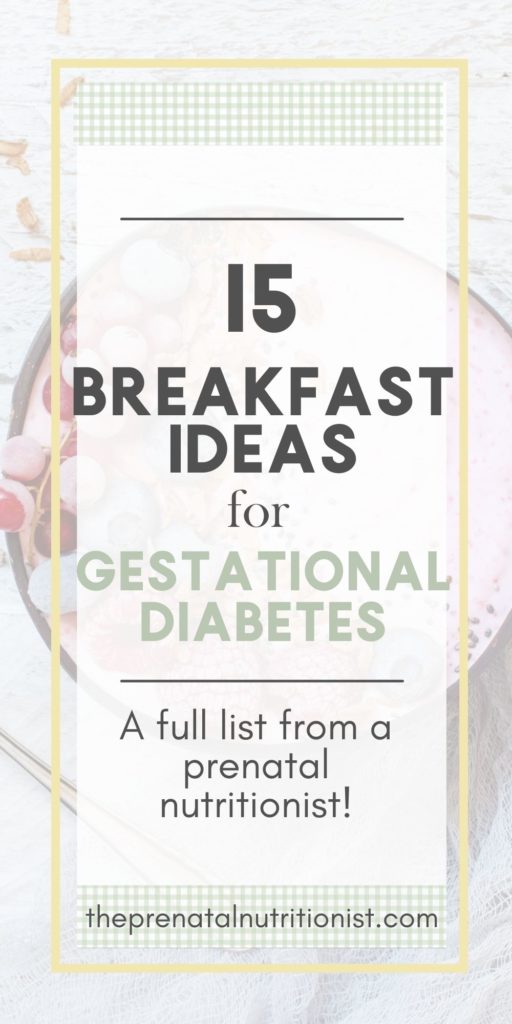 Pregnancy brings about a lot of changes and, unfortunately, sometimes, some unexpected curve balls. One of the more common pregnancy complications is gestational diabetes. An estimated 2% to 10% of pregnancies in America are affected by gestational diabetes. It is actually on the rise right alongside diabetes. Keeping your blood sugar levels within the normal range is important for maintaining your health as well as the health of your unborn baby. The best way to do that is to eat healthy, balanced meals, starting with breakfast. And, if you are ready to learn exactly what to eat to lower your blood sugar and deliver a healthy baby with gestational diabetes, join our feel-good GD course here (join through this link and get a BONUS 4-week meal plan). 
Here is a round-up of healthy breakfast ideas that are super tasty and good for women with or at risk of gestational diabetes:
15 Breakfast Ideas For Gestational Diabetes
What Is Gestational Diabetes
?
There are several types of diabetes. Gestational diabetes is different from type–1 and type–2 diabetes because it is specific to pregnancy. Your body goes through a lot of changes during pregnancy. You will gain weight, and your body will produce more hormones. Sometimes, those changes cause insulin resistance, which is when your body doesn't react appropriately to insulin. 
Insulin is a hormone that is a key player in blood sugar regulation. When hormones from pregnancy make insulin less effective, your blood sugar levels can rise dangerously high.
Several risk factors put you at an increased risk of gestational diabetes during pregnancy, including:
being overweight

family history of type

-2

diabetes

having high blood pressure before pregnancy

being over the age of 35

being pregnant with multiple babies

having gestational diabetes or a large for gestational age baby during a previous pregnancy
Diet impacts blood sugar levels, so it's important to learn how to manage your blood sugar through a healthy diet. Good management of gestational diabetes can also prevent further complications. One of the best ways to do that is to stick to low-glycemic + balanced breakfasts, lunches, and dinners with plenty of protein. 
Breakfast is generally a time when we are more insulin resistant; for this reason, protein is very important in the morning! Although everyone's needs differ, your breakfast should be between 20-30 grams of protein. Join the Prenatal Nutrition Library here to calculate how much protein you need per day in your pregnancy's first and second half. 
With that in mind, here are some of the most delicious, easy-to-make morning meals you can enjoy, even with gestational diabetes. 
Note: some of the recipes below contain affiliate links at no additional cost, I will make a profit if you click on the link and purchase something from that website.
Magnesium Filled Breakfast Smoothie
This green seedy smoothie is a great option if you prefer something liquid and easy to eat on the go for breakfast. It's surprisingly filling and very nutritious. This recipe makes 1 serving. Each serving provides an abundance of dietary fiber, vitamin A, vitamin C, calcium, magnesium, folate, and potassium. The recipe includes 1 large handful of spinach, 2 tbsp almond butter, 2 tsp sunflower seeds, 1/2 avocado, 1-2 scoops of vanilla collagen powder (use discount code: RYANN15), 1 cup almond milk, 6 ice cubes, 1 tsp of vanilla (if using non-flavored protein powder). Now, all you have to do is blend!
Of note, smoothies aren't generally a good choice for gestational diabetes since they are fruit-heavy, i.e., carb-heavy. Two important components are healthy fats and protein in all of your smoothies.
Breakfast Tostada
Here's a tasty, savory, Mexican-inspired option! This Breakfast Tostada has 365 calories and 40 grams of carbohydrates. It also contains 15 grams of protein and 11 grams of fiber, and many other nutrients, including vitamins A, B3, B12, C, D, E, and K, folate, magnesium, potassium, iron, and more. It'd be important to add extra protein to this meal to make it blood sugar friendly. Two more eggs would do the trick!
Broccoli And Cheese Crustless Quiche
Quiche is a great breakfast option that can easily be customized to include your favorite vegetables. This Broccoli and Cheese Crustless Quiche recipe is delicious, but if you're not a fan of broccoli, you can swap it for your preferred veggie. With each 160-calorie serving of this tasty recipe, you get 11 grams of protein, 12 grams of fat, 10 grams of carbs, and 3 grams of fiber. 
Cherry-Chocolate Chip Granola Bars
For an easy, gestational diabetes-friendly, on-the-go breakfast recipe, look no further than these Cherry-Chocolate Chip Granola Bars. They're more nutritious than store-bought granola bars, and you can easily make a big batch at a time to have breakfast for the whole week! 
Each granola bar is 162 calories with 3.1 grams of protein, 24.4 grams of carbohydrates, and 2.3 grams of fiber. Each bar also contains vitamins A and C, folate, calcium, magnesium, and potassium. You'll want to pair these with protein and healthy fat to make this a gestational-diabetes-friendly breakfast. For example, eggs, jerky, cottage cheese, Greek yogurt, or a homemade protein shake with protein powder. 
Healthy Zucchini Bread
If you're used to having carbs in the morning, you don't have to give them up. Just swap them for healthier options like in this recipe! This Simple Healthy Zucchini Bread is super tasty yet more nutrient-rich than traditional zucchini bread. The recipe makes 12 slices, each containing 6 grams of protein, 14 grams of fat, 13 grams of carbohydrates, and 3 grams of fiber. This isn't enough protein for a full breakfast, so top it with Greek yogurt or eggs for a complete breakfast!
Vanilla-Cranberry Overnight Oatmeal
Overnight oats are a popular breakfast because they're easy to make and take with you. Plus, it's a super nutritious way to start your day! This recipe Vanilla-Cranberry Overnight Oatmeal is the perfect way to fuel your morning.
Each serving contains one cup of oatmeal and ⅓ cup of berries. One serving is 422 calories and contains 16 grams of protein, 44 grams of carbohydrates, and 9 grams of dietary fiber. I'd opt for full-fat yogurt versus non-fat and consider Greek yogurt to increase the protein. Adding a scoop of collagen peptides powder would also be great to kick up the protein.
Blueberry-Almond Chia Pudding
Try chia pudding instead if you're not a fan of overnight oats! This Blueberry-Almond Chia Pudding recipe is the perfect way to fuel up in the morning without feeling weighed down. Plus, it's super delicious! 
Each one-cup serving has 229 calories, 5.7 grams of protein, 30.3 grams of carbohydrates, and 10.2 grams of fiber. It's also a great source of vitamins A and C, folate, calcium, magnesium, potassium, and non-heme iron. Add 1-2 scoops of collagen peptide powder (discount code: Ryann) to boost the protein content of this breakfast. 
Farro, Almond, & Blueberry Breakfast Cereal
Are you the type to munch on cereal every chance you get? I urge you to try this recipe as a great gestational diabetes-friendly cereal swap. This recipe for Farro, Almond, and Blueberry Breakfast Cereal is tasty.
Each ⅔ cup serving is 226 calories with 7.7 grams of protein, 32.9 grams of carbohydrates, and 4.4 grams of dietary fiber. It also contains vitamins A and C, folate, magnesium, iron, and potassium. To make it blood-sugar friendly serve over full-fat Greek yogurt or cottage cheese, which are rich in protein and healthy fats!
Mushroom Freezer Breakfast Burritos
Here's a tasty breakfast recipe that is high in protein and will satisfy you. These Mushroom Freezer Breakfast Burritos are gestational diabetes-friendly, easy to make, and can be made ahead and then frozen so you can warm them up for a quick and easy breakfast. If you don't love mushrooms, you can easily swap them with zucchini, asparagus, or another vegetable. Choosing a low-carb, high-protein tortilla is an option to reduce carbs and boost protein in this recipe. 
Each burrito has 385 calories, 28 grams of carbohydrates, 4 grams of fiber, 20 grams of protein, and an impressive amount of vitamin A, vitamin C, potassium, calcium, and iron.
Spinach & Egg Scramble With Raspberries
This Spinach and Egg Scramble with Raspberries are loaded with flavor and protein, so you'll stay full and energized for hours after eating. One serving includes two eggs, a slice of bread, and ½ cup of raspberries, proving that you don't have to give up bread completely to control your blood sugar. Feel free to add an extra egg or a slice of bacon to increase the protein in this meal.
Each serving of Spinach and Egg Scramble with Raspberries has 296 calories, 17.8 grams of protein, 20.9 carbohydrates, and 7 grams of fiber. It's also a good source of vitamin A, vitamin C, calcium, iron, magnesium, potassium, folate, and thiamin. 
Pineapple-Grapefruit Smoothie
As mentioned above, a smoothie is another great breakfast idea for busy, on-the-go mornings. This Pineapple-Grapefruit Smoothie is loaded with fiber, vitamins, minerals, electrolytes, and water for hydration. A great way to make this smoothie even tastier is to freeze coconut water into cubes ahead of time and then blend them into the smoothie for a slushy texture. 
A 1 ½ cup serving has 102 calories, 2 grams of protein, 25.2 grams of carbohydrates, and 2.9 grams of dietary fiber. It also contains a good amount of vitamin A, vitamin C, folate, calcium, iron, potassium, magnesium, and thiamin. To make this more blood sugar-friendly add a scoop of protein powder. Be sure to test your blood sugar numbers and adjust the amount of fruit or coconut water as needed to lessen the number of carbs. 
Coconut Flour Pancakes
A gestational diabetes diagnosis doesn't have to mean giving up pancakes, either. These Coconut Flour Pancakes are a great replacement for regular pancakes and won't spike your blood sugars!
This recipe makes six small pancakes. Each serving has 67 calories, 3 grams of carbohydrates, 3 grams of protein, and 1 gram of fiber. Pair with scrambled eggs and breakfast meat for a complete breakfast.
Breakfast Salad with Egg & Salsa Verde Vinaigrette
Before you immediately snub the thought of having a salad for breakfast, consider that with this recipe, you can start your day with three cups of vegetables.
Each serving of this Breakfast Salad with Egg & Salsa Verde Vinaigrette includes three cups of salad, one egg, and five tablespoons of vinaigrette. One serving has 527 calories, 16 grams of protein, 37 grams of carbohydrates, and 13 grams of dietary fiber. You'll also get a good amount of potassium with this recipe. I'd recommend adding an extra egg or two to boost the protein further!
Breakfast Beans with Microwave-Poached Egg
Breakfast Beans with a Poached Egg are called Gallo pinto in Costa Rica. It means spotted rooster and refers to how the dark beans look with the light-colored rice. For this recipe, however, you'll want to choose a higher-fiber grain, like barley.
One serving includes ¾ cup of the bean mixture, one egg, one tablespoon of cheese, and ¼ an avocado. Each serving has 364 calories, 16 grams of protein, 32 grams of carbohydrates, and 10 grams of dietary fiber. As I mentioned, add an extra egg or two to bump up the protein (and choline)!
Scrambled Eggs With Sausage
You can't go wrong with scrambled eggs for a protein-rich breakfast. This recipe for Scrambled Eggs With Sausage is loaded with flavor and nutrients and is surprisingly easy to make to start your day on the right foot. I would opt for full-fat cheese versus reduced fat. Also, choose any sausage you like, and eat at least 1 link, depending on the brand. Two eggs are between 12-14 grams of protein, and one sausage link can be up to 10 grams. 
Scrambled eggs and sausage is a great high-protein, low-carbohydrate breakfast for every day of the week if you don't get bored of eating it, of course! To add fiber, include the whole grain English muffin or mix veggies with scrambled eggs, like cooked spinach, mushrooms, or bell peppers.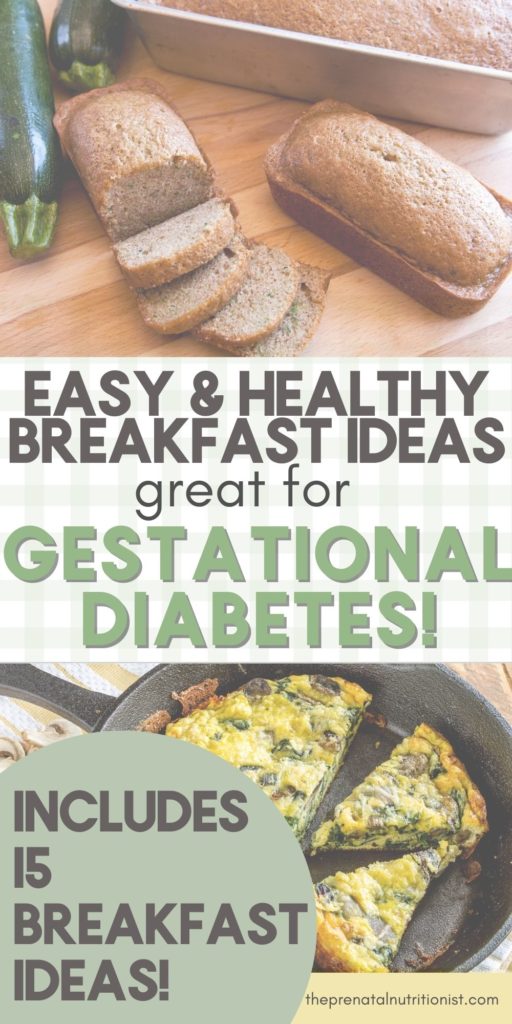 Gestational Diabetes Risks
In people who have gestational diabetes, the baby is at a higher risk of:
Excessive birth weight

Preterm (early) birth

Respiratory distress syndrome (difficulty breathing)

Low blood sugar (hypoglycemia)

Obesity

Development of type 2 diabetes later in life

Stillbirth
Having gestational diabetes will increase your risk of:
High blood pressure and preeclampsia

Having a surgical delivery (C-section)

Type 2 diabetes in the future
Precautions For Gestational Diabetes 
While it's not always possible to prevent gestational diabetes, there are several things you can do to reduce your risk. 
Maintain a healthy weight gain. 
First, weight gain during pregnancy looks different for everyone. I'm a proponent of focusing on nourishing foods plus the baby's growth versus the scale. With that said, high rates of weight gain during pregnancy may increase the risk of gestational diabetes. Focus on eating balanced meals that contain a good amount of protein, fiber, and healthy fats most of the time. 
Get regular exercise.
Regular exercise is a great way to manage blood sugar levels and reduce your risk of several pregnancy complications, including gestational diabetes. However, talk to your doctor before you begin a new exercise regimen.
Test your blood sugar regularly. 
A glucose monitoring kit can be useful, even when you don't have gestational diabetes because it can help you keep track of your blood sugar levels. It will also give you an idea of which foods cause your blood sugar levels to spike, so you know where to adjust. 
Limit your intake of added sugars.
One thing that will spike blood sugar levels is a high intake of added sugars. Added sugars cause your glucose levels to rise dramatically. Keep added sugars to a minimum.  
Include fiber in every meal. 
People who eat more fiber have a reduced risk of developing gestational diabetes. Research has found that people who increased their daily fiber by just 10 grams reduced their gestational diabetes risk by 26%. In contrast, people who eat a low-fiber diet are more likely to be diagnosed with gestational diabetes. 
Don't skip meals.
It may seem like skipping meals is the solution to lower blood sugar levels, but that is not the case. Skipping meals could lead to increased blood sugar levels. Not to mention leaves you feeling hungry and low on energy! To maintain healthy blood sugar during pregnancy, eat regularly. Also, remember to focus on balanced meals that include protein and healthy fats.
Attend regular checkups with your doctor.
Getting proper prenatal care is important for reducing your risk of gestational diabetes. By attending all doctor-recommended visits, you'll undergo necessary screenings that will help prevent pregnancy complications.
Get enough rest.
As if you needed another reason to get more rest, there is a link between the amount of sleep you get and your risk of developing gestational diabetes. One study found that women who get less than six hours of sleep per night were more likely to develop gestational diabetes.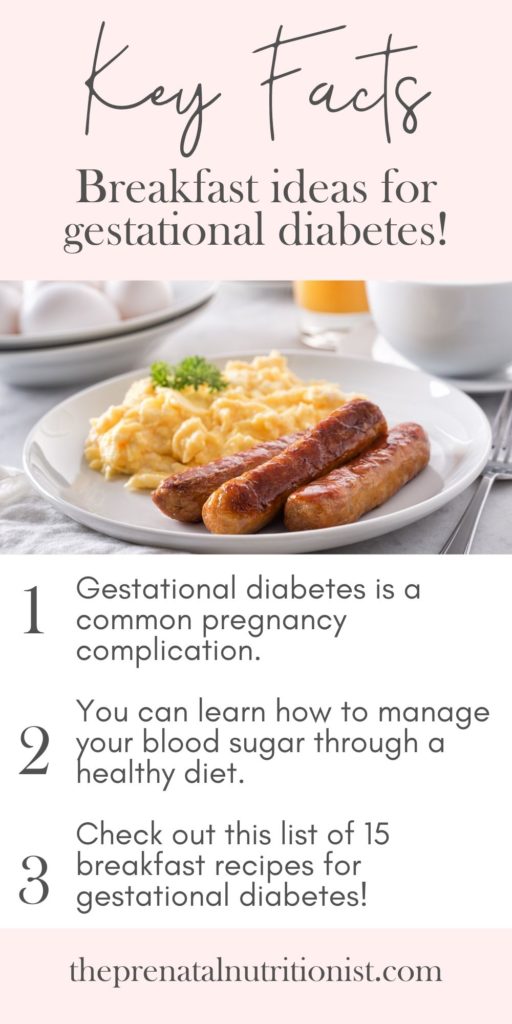 What are some of your favorite recipes for gestational diabetes? 
Did any of the recipes for gestational diabetes breakfasts stand out to you? If so, which ones? Or perhaps you have a breakfast recipe that you'd like to share. I would love to hear from you!
Then, join The Prenatal Nutrition Library to learn how to confidently manage gestational diabetes so you can meal plan easier and support your growing baby! It's the most comprehensive library of prenatal nutrition information available and the first searchable app for food during pregnancy. There is even a gestational diabetes meal plan included with an annual membership to the library, or you can purchase it as a monthly member. Download the app here!!