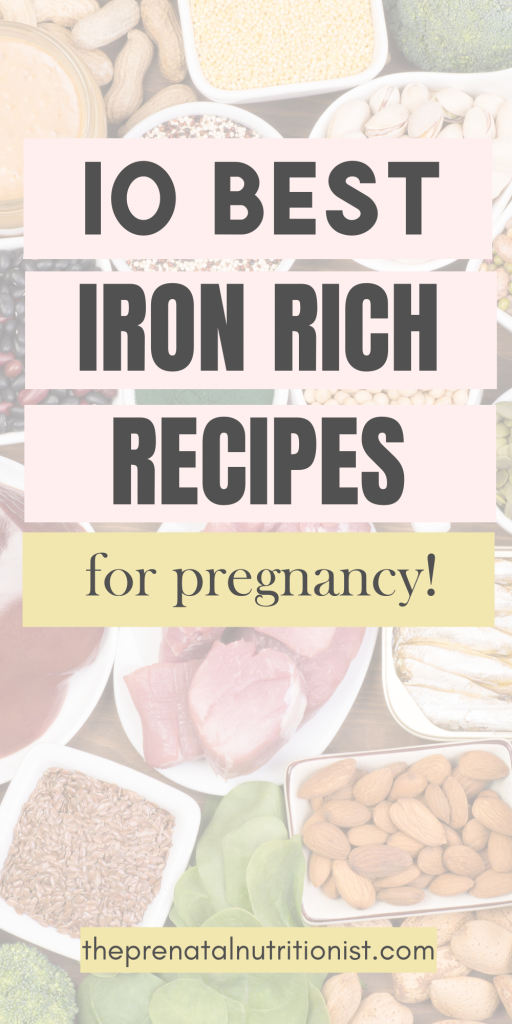 10 Iron Rich Recipes For Pregnancy
According to The National Institute of Health, iron is an essential mineral our bodies need to complete routine, day-to-day functions. It is a necessary component of hemoglobin (Hgb) and myoglobin, which are both involved in the spread of oxygen throughout the body. 
Iron is important for women during their reproductive years for various reasons. It supports immune health and cognitive function, promotes the creation of red blood cells, and regulates metabolism. But the roles of iron don't stop there. 
This mineral plays a significant role in the body during pregnancy as well. During the gestational period, the body is tasked with supplying new red blood cells to both mother AND baby. This means the body must amp up its production of red blood cells. Thus, the body needs more iron. Pregnant women should consume around 27 mg of iron/day, whereas women who are not expecting should consume about 18 mg. 
Low iron levels or iron deficiency anemia is widespread in pregnant women. This pregnancy complication can make you tired, dizzy, weak, nauseous, and so on. NOTHING any expectant mother wants to deal with while also getting used to the various other changes accompanying pregnancy. 
If you find that you are anemic due to a lack of iron, boosting your food intake and taking an iron supplement can help. Always speak to your doctor, midwife, or dietitian before starting any new supplements. 
Increasing your intake of iron-rich foods before deficiency occurs can help prevent anemia in pregnancy and even after birth. So, today, we're sharing a roundup of recipes that are not only rich in iron but are also quick and easy to make!
10 Iron Rich Recipes For Pregnancy
Start your day off right with this delicious tropical green smoothie. With only 5 minutes of prep time, this recipe is perfect for expectant mothers on the go. Plus, because it contains all whole food ingredients and plenty of green leafy vegetables, this is an excellent choice for anyone dealing with fatigue, morning sickness, or upset stomach. Find more green smoothie recipes here. 
With kale, spinach, a mandarin orange, orange juice, lemon, and pineapple, this smoothie is chock full of non-heme iron, vitamin C, folate, and potassium. Vitamin C helps improve the absorption of non-heme iron by your body.
Although water is the recommended base, you can substitute coconut water for an extra boost of electrolytes. When preparing this smoothie, take care to wash all ingredients thoroughly. This smoothie has about 4 mg of iron. 
This sweet potato turkey sausage egg bake provides a powerhouse of nutrition that doesn't compromise on taste and flavor. This recipe takes about 33 minutes to prepare from prep to finish, making it an excellent choice for those relaxed weekend mornings or brunch. It is also a great make-ahead meal prep recipe.
Ingredients for the egg bake include eggs, sweet potato, turkey sausage, red onion, red bell pepper, spinach, salt, pepper, and avocado – yum! With this mixture of ingredients, you can expect a mix of heme and non-heme iron, vitamin C, and a protein boost to help you get through your day. The recipe reviews information on how to use it as a make-ahead weekend meal prep staple to have breakfasts ready for the whole week.
Are you looking for an entirely plant-based breakfast or snack idea? Look no further than this iron-rich granola mix. This heart-healthy recipe makes six servings, making it an excellent recipe for those who like to plan and meal prep. Plus, with naturally sweet ingredients, this is one the whole family can get behind. More snack ideas for pregnant women can be found here. 
To whip up this recipe, you'll need rolled oats, almond meal, unsweetened coconut flakes, pumpkin seeds, dried cherries, cinnamon, sea salt, blackstrap molasses, and vanilla. If you're not a big fan of pumpkin seeds, you can substitute sunflower or sesame seeds. And if cherries aren't your thing, choose raisins or cranberries instead. No matter which seeds or fruit you go with, you'll gain plenty of plant-based iron, protein, and fiber from this yummy granola mix.  The iron content is about 2 milligrams per 1/2 cup granola
Try these iron bites for a sticky-sweet snack that's also super filling. They take only 20 minutes to prepare, and the recipe yields around 16 balls. Just a little prep time can provide a whole week's worth of snacks. Besides iron, these balls are also a great source of much-needed energy, especially for expecting mothers experiencing tiredness and fatigue. 
You'll use molasses as the base to hold all your other ingredients together. Opt for an organic version and avoid added sugars and preservatives when choosing molasses. Other ingredients include dates, apricots, dark chocolate, flax seeds, pumpkin seeds, rolled oats, cashews, almonds, and unsweetened coconut flakes. The nuts found in this mix are a good boost of healthy omega-3 fatty acids and protein, while you'll find iron in the fruits, pumpkin seeds, and oats. 
Green, hearty, fresh, and filling are all words that can be used to describe this green wrap with chicken and veggies. This recipe requires about 45 minutes of prep and cooking time, making it an easy choice for any lunch or dinner plate when you have more time. Inspired by Indian cuisine, you will love this mix of delicious flavors and spices. Plus, meat is recommended during pregnancy to get in more heme iron, the form of iron more easily absorbed by the body!
The combination of chicken, beetroot, carrots, spinach, and dill leaves makes this recipe super high in iron and vitamin C. Not to mention protein-rich, beta-carotene-rich, AND folate-rich. Add some other ingredients like tomatoes, garlic, barbecue sauce, Worcestershire sauce, and onion, and you have a mouth-watering wrap ready to be devoured by all family members.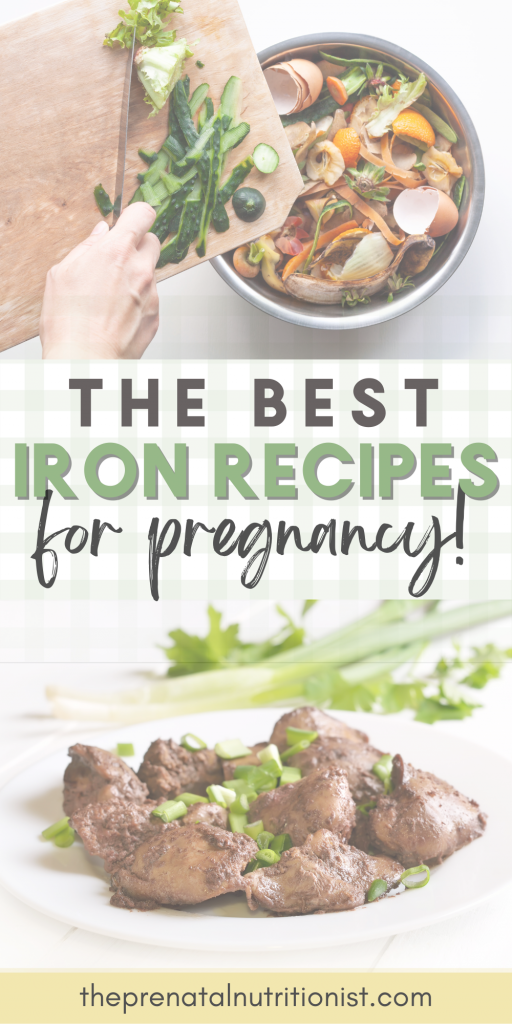 In the mood for a salad? We've got you covered! Salads are an excellent choice for brunch, lunch, or dinner, depending on your preference and your taste buds. What we love most about this salad is its good source of non-heme iron and other nutrients. Plus, adding lemon juice (vitamin C) not only softens the salad, making it more easily digestible, but also helps the body absorb iron more efficiently. 
As the name implies, this kale and tofu salad are chock full of nutrition. Think vitamins A, K, B6, and C, fiber, potassium, copper, AND manganese. Plus, adding tofu provides an extra 22 grams of protein – WOW! Besides kale and tofu, you'll need broccoli, avocado, ground cumin, pumpkin seeds, extra virgin olive oil, and a lemon (juiced). 
With Fall weather right around the corner, warm hearty soups are back in season. And this Indian cuisine-inspired red lentil soup is ideal for cold weather. With ingredients that boost the immune system, promote heart health, AND please the taste buds, you can't go wrong with this recipe. It takes just 30 minutes to prepare and feeds four. 
Cooked red lentils are an excellent source of iron, with 6.6 milligrams in just one cup. Add onions, carrots, and tomatoes, introducing many other essential vitamins and minerals. Tip: If you're feeding more than four or want to make enough for the whole week, you can change the serving size on the website. Then, the recipe will update with the correct amount of ingredients for your chosen amount of servings. Easy peasy! 
Ready to mix things up with a seafood dish? Try this Latin-American-inspired plate, perfect for lunch, dinner, snack, or appetizer. While this meal sounds and tastes luxurious, it requires minimal ingredients and only 25 minutes of prep time. That's a win-win for busy moms-to-be. And don't worry, as long as your mussels are fully cooked, they are entirely safe to consume during pregnancy. Click here for more tips on which kinds of seafood are safe during pregnancy. 
Cooked shellfish, like mussels, are an excellent source of iron. Just 3 ounces of this shellfish contains over 5.5 milligrams of iron. Add the beans and lemon juice, and you've got an iron-packed meal rich in vitamin C and fiber. Besides mussels, beans, and lemon juice, you'll also need to grab shallots, parsley, garlic cloves, chorizo, olive oil, and cavolo nero. 
Organ meat? Your first thought might be something along the lines of "ew, gross." But, in reality, organ meat is both delicious AND nutritious and highly recommended in moderation during pregnancy. Organ meat is prized as traditional beef. One of the main reasons for this is that animal liver is chock full of iron, zinc, vitamins B12, C, A, E, folate, niacin, and more. 
Grab some chicken liver, extra virgin olive oil, garlic, yellow onion, bone broth, lemon, and fresh parsley to whip up this recipe. As for the seasonings, you'll need sea salt, dried oregano, and garlic salt. Cook and serve with your favorite side dish. For an extra boost of nutrition, we recommend serving with asparagus, brown rice, or beans. 
You might have seen this recipe in some of our other blog posts – for a good reason! Not only is this recipe super delicious, but it's very nutritious AND yields enough for the whole family. So many wins. Plus, it's the perfect meal for Fall and Winter and those chilly months that will be here before we know it! 
This soup is a nutritional powerhouse with stew meat, white potatoes, baby carrots, acorn squash, shallots, broth, tomato paste, flour, salt, pepper, paprika, and bay leaf. Perfect for replenishing the body after morning sickness. Specifically, the iron will come from the stew meat, the skin on the potatoes, and the broth. This stew contains other vitamins and minerals: A & C, protein, fiber, iron, vitamin B12, folate, and more.
Add these recipes to your pregnancy meal plan to ensure you're consuming enough iron for you AND baby!
Eating iron-rich foods is the best way to ensure you're consuming plenty of iron – for the health of yourself AND your baby. When preparing these recipes, consider food safety best practice guidelines and ensure all meat is cooked thoroughly. Need a food safety refresher? Click here!
For a more comprehensive breakdown of iron during pregnancy, click here. 
Until next time, bon appetit! And keep in mind that a balanced diet doesn't mean you have to compromise on fun and flavorful meals; for more recipes and pregnancy tips and tricks, head on to The Prenatal Nutritionist Blog.
If you're interested in creating a healthy meal plan all nine months long, check out our trimester meal plans inside The Prenatal Nutrition Library. There, you'll find 30-day meal plans that include grocery lists for every trimester, so you don't have to stress over figuring out how to meet your nutrient needs during pregnancy or creating new meal ideas.